Amazon (AMZN) can't seem to get a foothold these days.
Why?
After sifting through the data, I determined it comes down to three key reasons:
Borrowing costs

Increased competition

Government action/inaction
I can monitor these if I know where to look.
And it's crucial I do since I think Amazon is one of the companies that helped the market off the March lows.
Over the summer, while the indexes struggled to find a bottom, shares of Amazon turned higher days before everything else.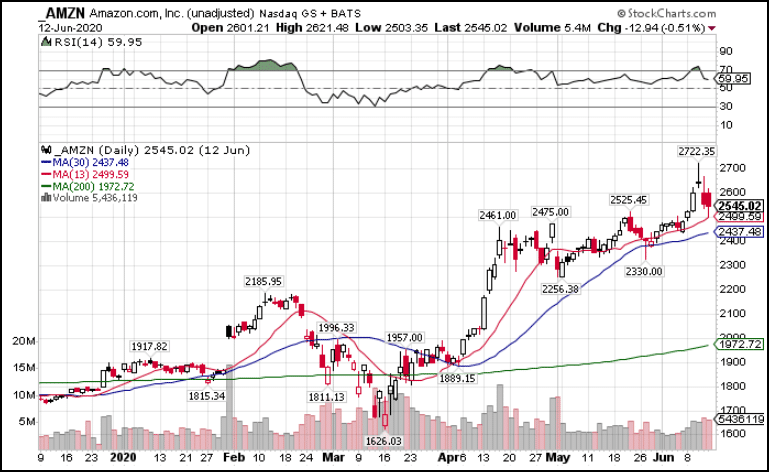 AMZN Daily Chart
While the SPY didn't bottom until the 23rd, Amazon found a low on the 16th, 
Yet, since the September peak, shares struggled.
They faced everything from anti-trust talks to loss of market share.
I want to walk you through all the developments so you can keep track of them as well.
What's the lowest interest rate you ever paid?
Most of us never get below 1% unless it's some sort of promotional deal.
When The Fed dropped rates to zero and began buying up debt, borrowing costs for companies plummeted.
While they aimed to help small businesses as well, larger ones benefited the most.
For example, Amazon issued $10B in debt at a paltry 0.4%,
That took their total long-term debt from ~$20B to ~$30B.
Rising interest rates make things tricky for the retail who waffles between losses and profitability regularly.
To be fair, they only appear to have $1B coming due this December, another $1B in December 2021, $1.25B in 2024, and then nothing for 10 years.
So fears are a bit overblown. 
However, the difference between 0.4% and a normal 2.0% on debt could cost them $16M a year in interest expense, which is nothing to sneeze at.
All of this boils down to treasuries.
You see, corporate debt markets take their cues from U.S. treasuries.
If you remember back in your Econ class days, they referred to U.S. treasury bills as the 'risk-free' rate. 
While there's no such thing as risk-free, if the U.S. government defaults on debt, a crappy pricing model will be the least of your concerns.
In general, debt markets add a premium to the U.S. treasury yields based on risk. The premium can and will fluctuate.
So, when the Fed came in and vacuumed up treasury and corporate debt, it allowed companies like Amazon to borrow at insanely low rates.
You can see the relationship in the chart below.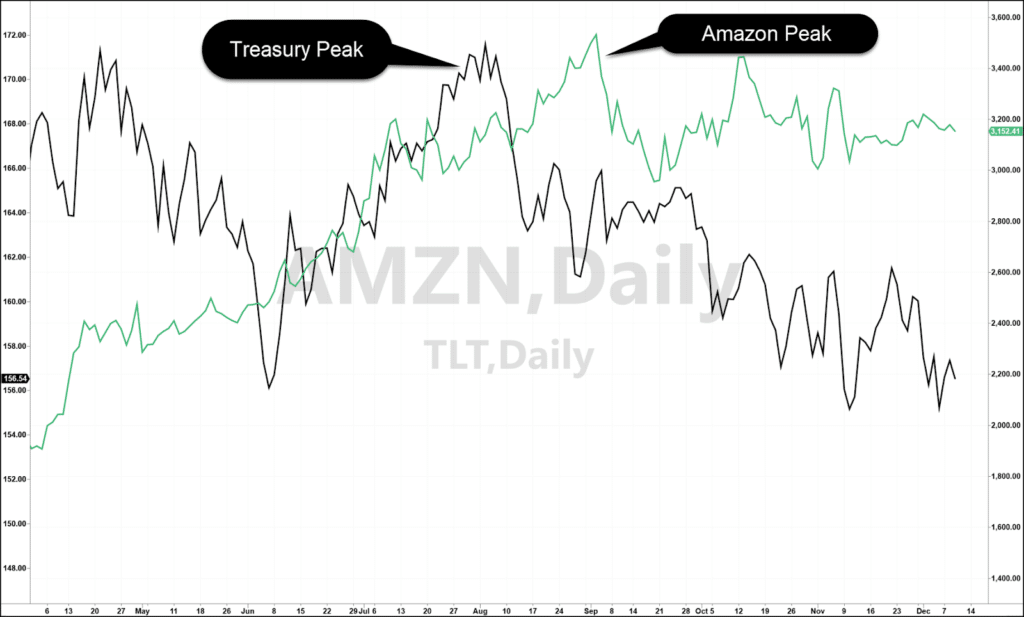 AMZN (green) vs TLT (black) Daily Chart
What we need to realize is that treasury prices will eventually drop if and when the Fed steps back. So, this headwind isn't going away. 
However, the real question is whether Amazon can offset it with growth.
Increased competition
The pandemic changed the way we live our lives, no doubt about it.
I certainly ordered more online this year than ever before.
A sea change to e-commerce over brick and mortar was already in place. The pandemic just accelerated it.
Companies who stepped up their direct-to-consumer supply chains survived while we watched countless retailers file for bankruptcy.
To emphasize this point, I want to highlight two data points.
First, Wal-Mart introduced its own delivery service, meant to compete with Amazon Prime,  which includes groceries.
Second, although Amazon increased revenues by 39.3% in Q3, its percentage of online dollars spent by shoppers declined slightly from 23.6% to 23.1%.
That might not seem like a lot, but consider it's the second quarter in a row where their percentage decreased in 3 years.
Granted, much of that was brought on by an inordinate shift to online purchases across the spectrum
But, it shows they aren't the only player in town anymore.
Government has the final say
Politicians don't agree on much. But they don't seem to like big tech these days.
While most of their ire is focused on social media companies, Amazon isn't immune.
Multiple investigations will open next year into Amazon's marketplace practices. Even if nothing comes out of it, the headache it causes will jam them up for months if not years.
On the flip side, with our economic recovery stalling out, much of the market's hopes for another leg higher rest on a stimulus that may or may not happen. If it does come to fruition, it's unlikely to be as large as investors might hope.