Crude oil futures, and energy related stocks have benefited from positive vaccine news. 
And its creating a slew of trading opportunities….
So much so it makes me dance just thinking about it…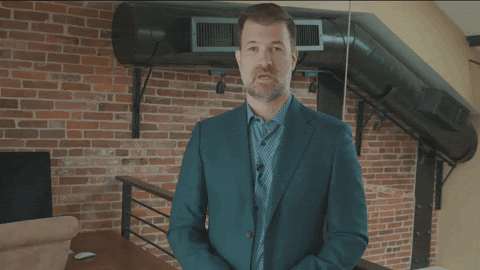 I use my favorite chart pattern to narrow down which plays I'll take. 
And in a few moments I'll explain what they are, but first, let me break down the sector as I see it, along with what my top plays are. 
Oil companies fall into one or more of the following categories:
Upstream

– These are your oil and gas drillers that find and extract the oil

Midstream

– Once oil comes out of the ground, pipelines carry it to market

Downstream

– Companies refine oil into gas or other usable products and then send those to market.
Upstream companies feel the boom and bust of oil prices the most. They sell their products at the prevailing market prices. Higher oil prices = higher profits. 
This segment also includes all support operations such as rig operators. Again, higher oil prices means higher demand for production.
Midstream companies act like toll roads. They transport the oil and often pay hefty dividends. Most Master Limited Partnerships (MLP) are midstream operators.
Refiners, marketers, and fuel sales form downstream operations. Think of companies like Valero (VLO) that refine oil and then sell it to us at gas stations.
Some companies like Exxon Mobil (XOM) encompass more than one area of operations. This helps them stabilize income when one segment underperforms compared to others.
A word of caution
Before we get to some trade ideas, I want to explain why I NEVER own oil or natural gas ETFs like USO or UNG. 
These ETFs don't own any of the assets. Instead, they attempt to track the price of oil using futures and other derivatives.
As we saw when oil crashed earlier in the year, it destroys the value of these companies disproportionately to the drop in oil prices.
I'm actually surprised that USO didn't disappear.
While these might be good ways to take short-term trades on price swings, I only do it through options. I never expose myself to the straight risk of owning these ETFS.
Basic oil plays
There are hundreds of companies in the oil and gas industry. Before you start trading one, be sure to understand which part of the stream they operate in.
For example, ConocoPhillips (COP) is a great company that now operates in the upstream segment.
In 2012, they spun off their downstream operations into a new company, Phillips 66 (PSX).
Big, well-known companies like these offer great trading opportunities given their liquidity and options.
On the other hand, there are two major ETFs that work great.
The S&P Energy ETF (XLE) provides exposure to all areas of the oil sector. However, Chevron (CVX) and Exxon Mobil (XOM) make up 20% of the ETF's holdings each. This heavy concentration doesn't give a super clean exposure to the overall sector.
S&P's Oil Exploration ETF (XOP) owns companies focused on upstream operations. That means they're much more sensitive to the price of oil and natural gas. This ETF is much more balanced with no single company making up more than 4% of the portfolio.
Alerian's MLP ETF (AMLP) is my favorite for playing midstream operations. And with a +12% dividend yield, it's one I often look at for my investing portfolio.
I often go with ETFs for these trades because there is no earnings date to contend with. That way, I can structure the options trades however I want without worrying about event-based risk.
My favorite ways to trade
When the selloff took down these companies earlier this year, I knew a time would come when they would bounce back.
Using chart pattern analysis, I look to time my entries into these trades, letting the pattern itself dictate how to structure the trade.
For example, here's a great setup I found in EOG Resources (EOG).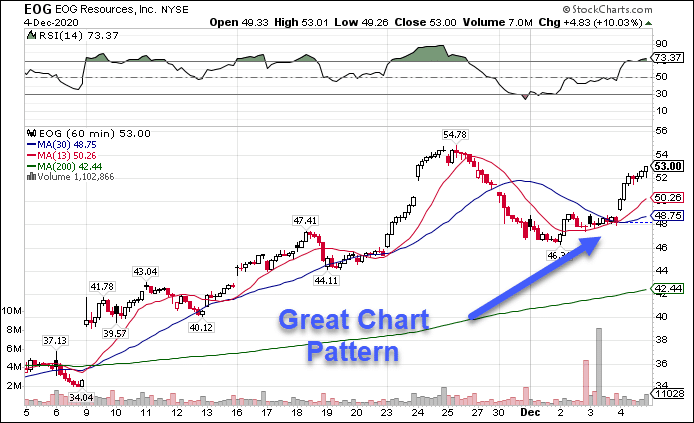 EGO Hourly Chart
This is a perfect example of how one of my favorite chart patterns preceded a +5% move in the stock.
Using chart patterns gives me an edge to enter hot stocks with a well-defined trading plan. I know exactly where my entry, stop, and potential targets might be before I enter the trade.
Learn as many patterns as you can
The more chart patterns you learn, the more opportunities you create.
That's why I want to show you one of my favorites.
Join my upcoming seminar and learn the one pattern I use over and over to trade the markets.
Don't miss your chance to add a powerful weapon to your trading arsenal.