Today I'm going to break down a winning options trade I had in Zoom (ZM), it's something you should pay close attention to for a few good reasons. 
First, if you want to fast track your success, you want to study winning trades. Too many people focus on improving their weaknesses. But the reality is, you will make the most progress by doubling and tripling down on your strengths. 
If you don't have any strengths at the moment, this trade breakdown is even more valuable to you. 
Because I'm going to walk you through step-by-step how I approached it from entry to exit. 
I'm also going to share the setup with you as well. 
If you're interested in learning new ways to profit then you'll really enjoy today's lesson.
When I put together my plan on Sunday evening, this is what I came up with.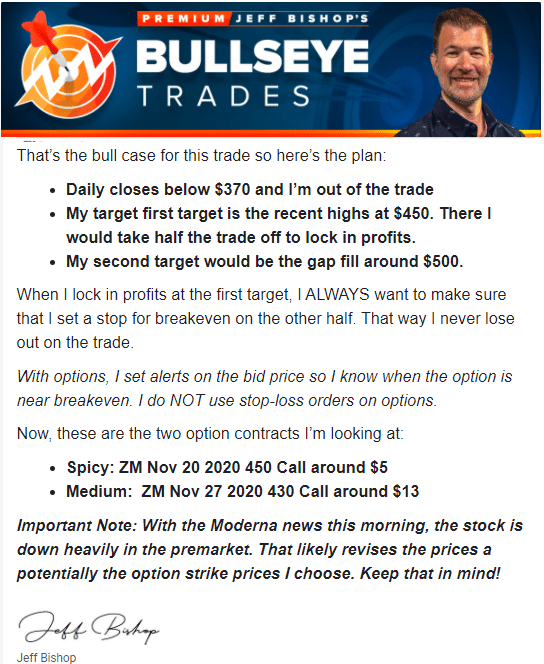 This was the chart I sent out as well.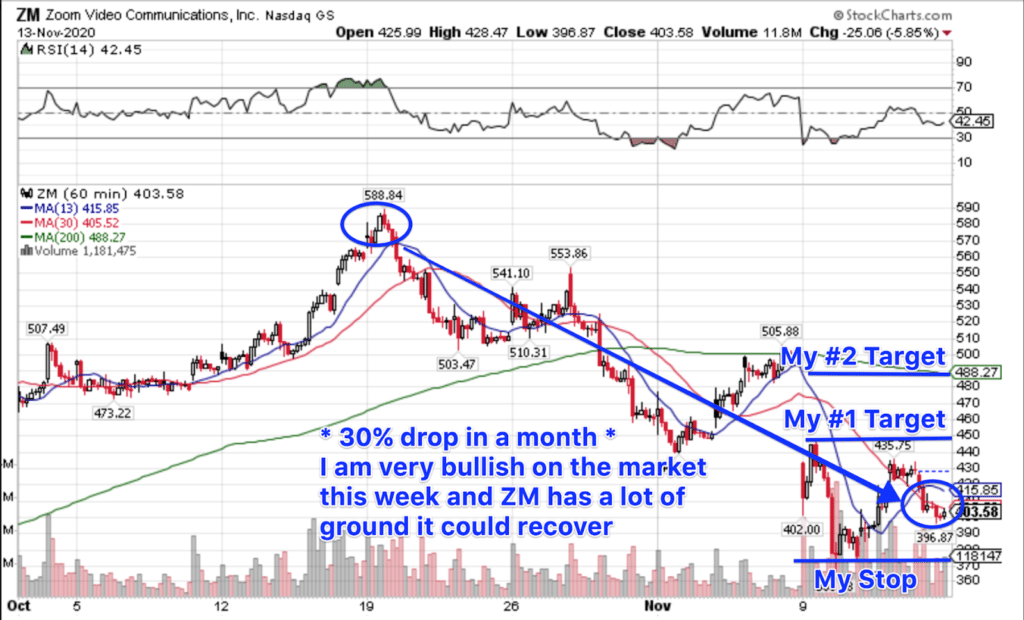 ZM Hourly Chart
Every trading plan I put together identifies several critical items:
My entry price

The contract I want to trade

Profit targets

Stop-loss areas
One thing I teach about options trading is I use the stock's price to determine my actions.
For example, I set the target for my option based on the price level. However, shares could get there in one day or four days. Depending on when that happens the price of the option could be completely different.
You see, option prices lose value over time, known a time decay. And since I don't know exactly when it's going to hit, I can't know exactly what the option's price will be.
This is a frustrating point for many new members.
And I get it.
It would be easier if I could just list out the option prices and limit orders.
Sometimes I can, sometimes I can't. 
Now, I want you to note that I offered two different contract choices. 
Successful trading over the long-haul comes down to risk management.
Many newer traders get so caught up in what's the perfect options contract that they ignore the obvious…
You can make money with different options contracts on the same trade.
Monday Morning
I also want to point out the note I put at the bottom.
This was added on Monday morning as news hit the wire about another vaccine, sending futures all over the place.
Ultimately, it changed the way I executed the trade.
Some members got into the options at dirt cheap prices off the opening selloff.
I chose to wait for the market to settle down before I entered the trade.
This next chart takes you through the path of the trade.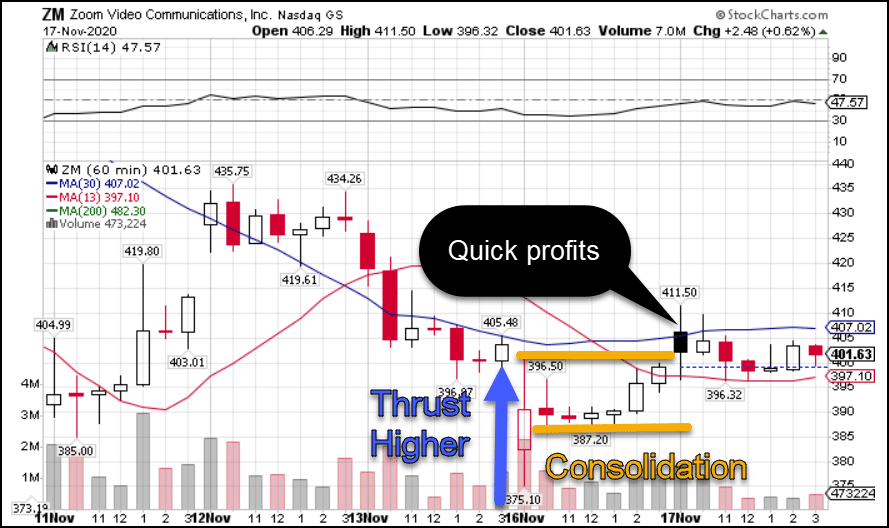 ZM Hourly Chart
The 'thrust higher' shows you how things started off on Monday. I chose to wait until I saw a consolidation channel before I entered the trade.
My thinking was this.
The week before, vaccine new from Pfizer hit the wire and completely changed he direction of the market. We saw a rotation out of 'stay-at-home' stocks like ZM and into small caps and beaten-down names.
I wanted to see if this would play out again or not.
Waiting until it found its footing gave me some confidence that it wasn't going to fall apart.
I was able to enter the trade just under $5 on the $450 contract I spotted.
As the afternoon wore on, shares floated higher into the close.
By the bell, my position showed a 40% gain on the options.
Tuesday's dilemma
My original target was to get this stock running back up to $450.
However, the stock was set to open higher out of the gate.
My quick math said that I'd get pretty close to double my entry with a $9.00 limit order.
So, I took a shot and dropped it in at the open.
Keep in mind, I only did this for half of my position. I wanted to lock in profits and try to let the rest ride towards my target.
Well, the order got filled pretty quickly.
And then the stock sank.
Anyone trying to exit the trade had about a 15-minute window to do so. Otherwise, they were out of luck.
And that brings us to a second reason many traders failed to see gains on the trade.
The audible I had to call on this was within the minutes of the opening bell.
Because after those first 15 minutes, the price of the option sank below $4.
Even I missed getting out of the rest of my trade at breakeven. That's how quickly the market moved.
You see, even with the best-laid plans, markets can and will change.
And in this particular case, I even noted for members that I expected to be in and out of the trade by Wednesday.
Opportunities abound
One thing you will learn – there is always another trade around the corner.
That's why you need to sign up for Bullseye Trades before next Monday's open.