Amazon's recent selloff created a buying opportunity for me.
With the holiday season coming up and a vaccine in the wings, sentiment is shifting.
There's one major money-making opportunity most traders are missing.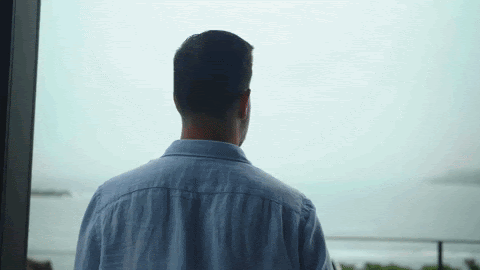 But I'm going to share it with you.
The idea combines fundamental and technical analysis.
I see a chart pattern setting up as well as the story behind this company.
To boost my returns, I want to deploy my favorite options strategies.
That includes buying calls, credit spreads, and even cash-covered puts.
If all that sounds overwhelming, then start by checking out my Ultimate Options Guide for Beginners right here.
However, timing will be key to maximize my potential.
I'll start by addressing the most pressing question – why the pandemic doesn't matter.
When the pandemic hit, people around the globe sheltered in their homes. Their interactions were limited to grocery store visits and restaurant takeout.
Enter Amazon.
They became the defacto lifeline for many.
People locked in their homes and apartments ordered everything from groceries to Gucci. And Amazon was more than happy to deliver them.
I can personally attest to days where boxes showed up at our doorstep and no one knew who ordered them or what they contained.
The assumption now is with economies reopening, Amazon won't see the volume and growth it once did.
That's where we have to disagree.
One thing people fail to realize is how the pandemic permanently changed our habits and behaviors. 
Just take a look at movie and streaming content.
Looking out to next year, I'd be hard-pressed to find anyone that thinks AMC theatres are definitely going to survive.
Even Disney took activist advice and began to focus more on their content than theme parks.
The same thing holds true for our workforce.
People got a taste of working from home. Plenty of silicon valley companies plan to let their employees continue for the foreseeable future.
And guess who benefits from all that?
Amazon Web Services (AWS).
Look at who the top customers are in monthly spend:
Netflix: $19 million

Twitch: $15 million

LinkedIn: $13 million

Facebook: $11 million
Their AWS business does $40B in sales alone, second only to their 3rd party selling at $63B.
So, why the recent selloff?
It's nothing more than traders raising money to drop into the most beaten-down names. That's why we've seen small caps (IWM) outperform lately.
Remember, Amazon may have just hit all-time highs in the last few months. Some airlines may take decades to recover.
Technical chart
Now that I made my case for the company's story (and why pundits are wrong), let's turn to the chart.
I want to go to the daily timeframe to give myself a broad picture of where it might head in the coming months.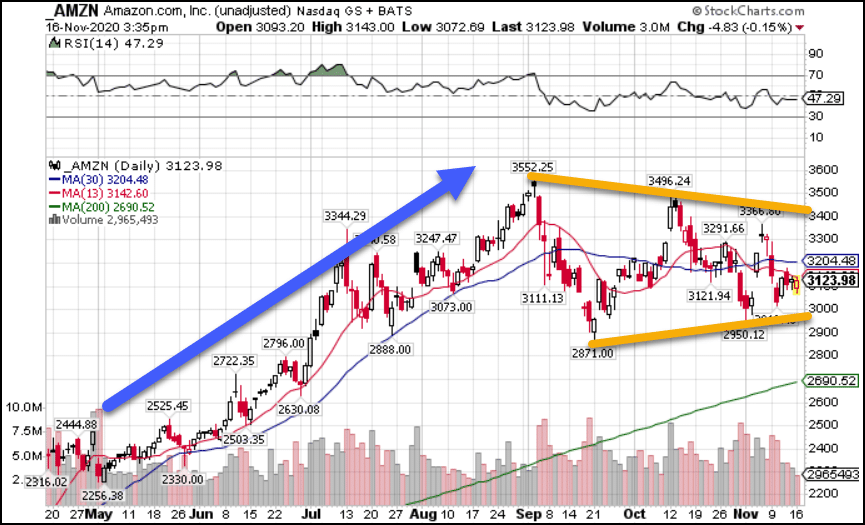 AMZN Daily Chart
This is a textbook continuation pattern that I want to trade to the up side.
Let me explain what I'm looking at.
Continuation patterns come after a significant move higher or lower. We call them 'continuation' patterns because they precede the trend resuming.
Following the blue arrow, you can see how price steadily and consistently climbed from the lows in March all the way until September.
It was only when the Nasdaq 100 topped out that it saw a meaningful pullback.
What happened after that is what's interesting.
Each time price would swing lower and reverse, it would make a pivot point at higher values.
The first one was at $2871 followed by $2950.
On the upper side, price made lower highs each time.
When you connect these peaks at the highs and the lows with a trendline (orange), it forms a triangular shape where the lines converge on one another.
This is a depiction of price action going on that says every time there's a selloff, buyers step in sooner and sooner.
The same thing happens when they try to rally. Sellers step in.
This battle goes on until one of them wins out.
Generally, that's the side that goes with the trend.
My plan of attack
Here's where the rubber meets the road.
Using the chart, I note that the all-time high is $3552 and the recent lowest point is $2871. That puts the midpoint around $3210.
If I stop out of the trade at the low and target the high, then buying below the midpoint gets me a better reward compared to my risk.
The specific options strategy I use depends on the context at the time; how the market is overall, option prices, etc.
If you want to take advantage of all the opportunities out there, I need you to watch this exclusive training video on my top 10 Tips for a Post-Covid World.