I don't know about you but I am fired up for this week!
After a stunning reversal, markets ripped higher, stuffing the bears back into hibernation.
And man it created some ridiculous moves.
Aurora Cannabis (ACB) shot up over 130%, while the MJ Cannabis ETF gained more than 25%.
Remember the PLTR IPO last month? How about a wicked 35% move last week.
What if you were just lazy and wanted to trade a leveraged ETF like the TQQQ aims for 3x the Nasdaq 100's daily moves.
Nothing big, just a whopping 26%.
That helped me smash some awesome freaking trades in Total Alpha this week…*to the tune of $45,000!
*See disclaimer below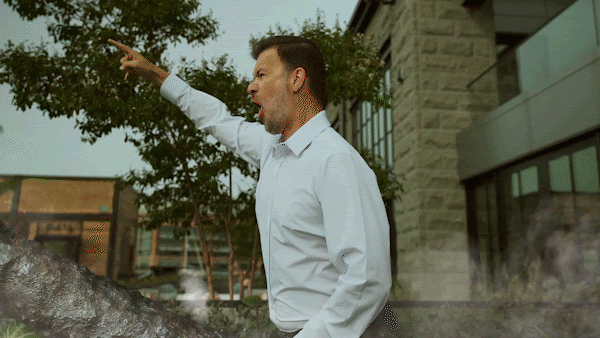 I do this after every big week. It really annoys the building owners.
So if someone tells you there's nothing out there to trade you smash their face into the computer screen and get them to read this.
Because if you thought last week was good, just wait until you see what's in store for this one!
And I want to start with an election-based Bullseye Trade that faked me out last week, but still has room to run.
Solar power say what??!!
National punditry currently puts Joe Biden as the winner for the Presidential election. One of his first tweets was about climate change.
My opinion of climate change doesn't matter.
Your opinion of climate change doesn't matter.
Markets tell us what its opinions are if you listen.
And right now, it's saying that solar stocks have a lot farther to run in the coming months.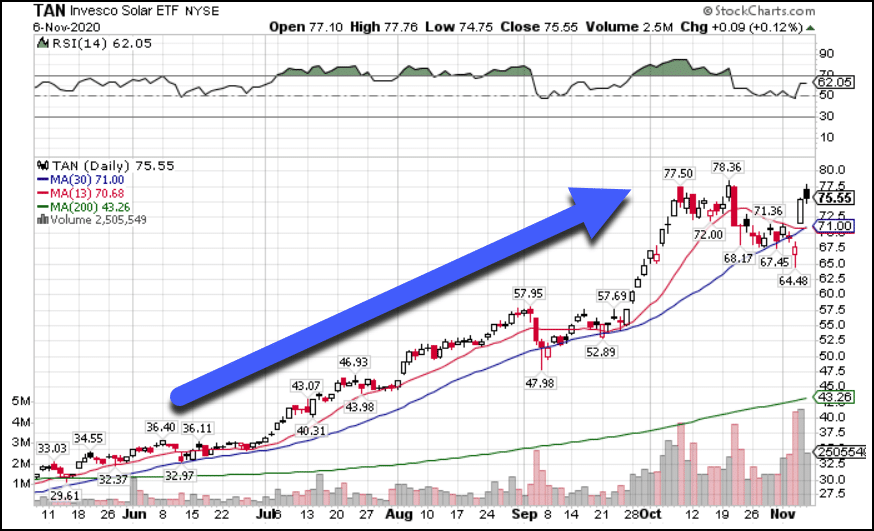 TAN Daily Chart
If you don't look at this chart and see an uptrend you've got a screw loose.
I even drew a helpful arrow for you!
Did I muck up the execution of my Bullseye Trade in the TAN solar stocks ETF?
Yes I did.
Was the trade plan and idea sound?
Most definitely.
As I pointed out in my recent newsletter, if I hadn't dropped the trade early, ignoring my stop-loss rules, I would have come out on top.
Instead, I did what I normally do when I mess up a trade…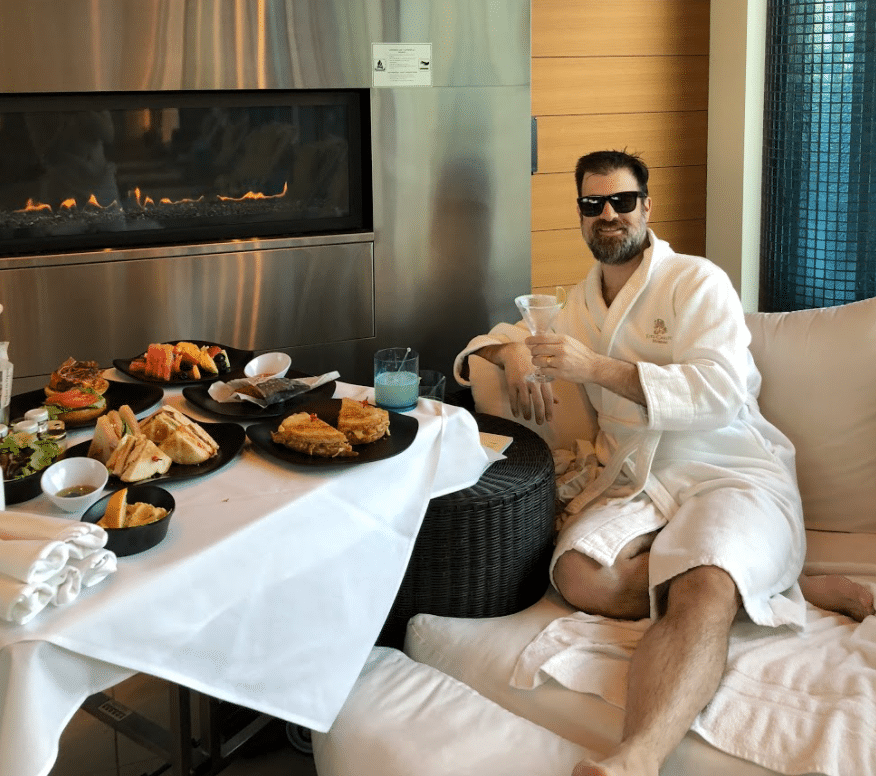 Order room service and watch myself get fat!
After I pull myself out of the pity party this weekend, I'm going to sit down and write out a trading plan for my High Octane members around some of these stocks.
Names like SPWR, RUN…these swing in wide ranges making them ideal for some clever swing trades.
But it's not all sunshine…you see what I did there?
There's plenty of risk until all the legal battles around the election are settled.
And more importantly, the senate elections in Georgia if they go to a runoff (which looks likely right now).
Which is why I'll be on the lookout for any headlines that might derail this recent run.
That said, there's one sector that stood out from the rest last week.
Smile for the semis
Tech did well last week. But semiconductors took center stage.
The Nasdaq 100 ETF QQQ finished up just over 8%, while the semiconductor ETF SMH turned in over 11%.
And one caught my eye in particular because it showed up on my High Octane Scanner.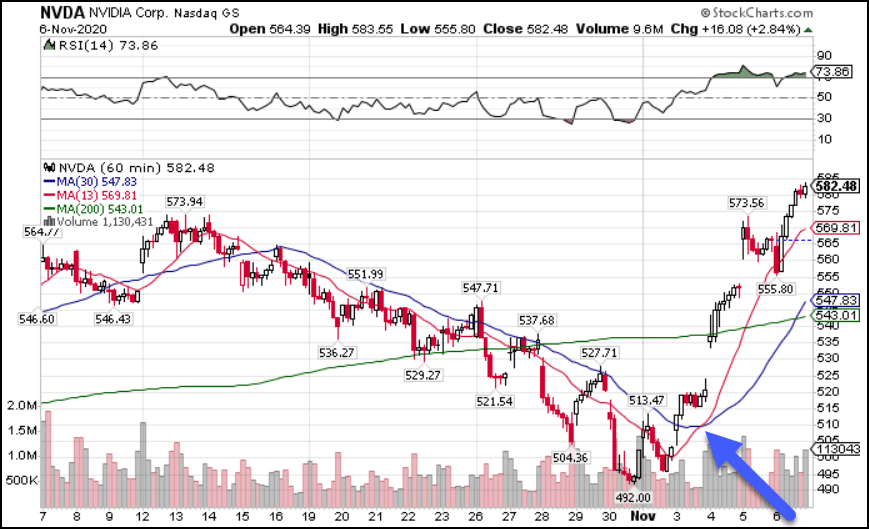 NVDA Hourly Chart
Check out how this money-pattern crossover, where the 13-period moving average jumped over the 30-period moving average on the hourly chart, preceded a gain of over 16% on the week.
And my scanner saw that in real-time!
You don't need 1500 indicators and stochastics to come up with great trade ideas.
All you need are a few basic tools and some knowledge.
If I had to pick one stock for this week…
Obviously, I'd share it with my Bullseye Members!
But let me give you a little preview.
Markets are at an inflection point. They ran hard last week and might want to retrace some of that move.
So, I may not buy into the market right out of the gate Monday morning.
I need to wait and see how things shape up before making that decision.
Then, I'll put together my trading plan and get it over to Bullseye Members so they have plenty of time to digest.
Look, I can't stop you from trading without a plan.
But if you want one from a multi-millionaire trader with two decades of experience in trading and riding cannons, then I suggest you check out what Bullseye Trades is all about.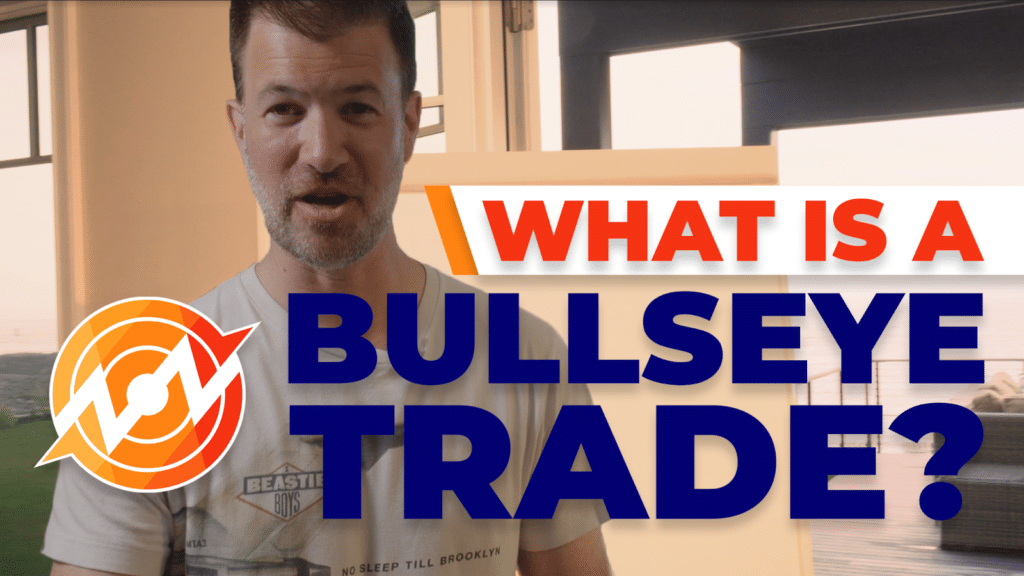 Stocks I'm watching this week
GOOS, RNG, COST, ZEN, CRSP, NVDA, YETI, SPOT, DPZ, ADBE, EXPE, FB, MSFT, ECL, FSLY, SHOP, TAN, SPCE, RTX, PETS, IWM, RUN, TWTR, MTCH, TDOC, TSCO, ESTC, OSTK, GSX, CHWY, RKT, LULU, ZS, WKHS, SNOW, WMT, DG, FIVE, NDAQ, XOP, CHTR, MJ, CGC, DOCU, NFLX, LVGO, IAC, BNTX, ENPH, PTON, ROKU, LMND, BNTX, ENPH
This Week's Calendar
Monday, November 9th
Major Earnings:  Biohaven Pharma Hldg Co Ltd (BHVN), Black Knight Inc (BKI), Peabody Energy Corp (BTU), Cars.com Inc (CARS), Clear Channel Outdoor Hldgs (CCO), Callaway Golf (ELY), GoGo Inc (GOGO), Hecla Mining (HL), Intercept Pharmaceuticals Inc (ICPT), Invesco Mtge Cap Inc (IVR), Kosmos Energy Ltd (KOS), McDonald's Corp (MCD), Macquarie Infra Co Corp (MIC), Mersana Therapeutics Inc (MRSN), New Age Bev Corp (NBEV), Plug Power, Inc. (PLUG), Party City Holdco Inc (PRTY), TEGNA Inc (TGNA), TherapeuticsMD Inc (TXMD), Workhorse Group Inc (WKHS), Xeris Pharmaceuticals Inc (XERS), Air Lease Corp (AL), Ambac Finl Grp Inc (AMBC), Pfd Apt Communitie (APTS), Arena Pharmaceuticals Inc (ARNA), Atara Biotherapeutics Inc (ATRA), Beyond Meat Inc (BYND), ChemoCentryx Inc (CCXI), Catalyst Pharma Inc (CPRX), FS KKR Capital Corp (FSK), Granite Pt Mort Tr Inc (GPMT), GreenSky Inc (GSKY), Ideanomics Inc (IDEX), Intra-Cellular Therapies Inc (ITCI), Mueller Water Products (MWA), Myriad Genetics (MYGN), Norwegian Cruise Line Hldg (NCLH), Occidental Petro Corp (OXY), PDL BioPharma Inc (PDLI), Pacific Ethanol Inc (PEIX), LiveRamp Holdings (RAMP), The RealReal Inc (REAL), Ring Energy Inc (REI), Ringcentral Inc (RNG), Repay Holdings Corp Class A (RPAY), Senseonics Hldgs Inc (SENS), Synchronoss Technologies Inc (SNCR), Simon Ppty Grp (SPG), Extended Stay America Inc (STAY), Taubman Centers Inc (TCO), Uniti Grp Inc (UNIT), Veritone Inc (VERI), Energous Corporation (WATT), Boingo Wireless Inc (WIFI), Xperi Corp (XPER), Zagg, Inc. (ZAGG), Zogenix Inc (ZGNX), Zix Corp (ZIXI).
Tuesday, November 10th
7:45 AM EST – ICSC Weekly Retail Sales

4:30 PM EST – API Weekly Inventory Data

Major earnings: Advance Auto Parts Inc (AAP), Altimmune Inc (ALT), D.R. Horton (DHI), Hain Celestial Grp Inc (HAIN), RumbleON Inc (RMBL), Rockwell Automation (ROK), Adaptive Biotech Corp (ADPT), Ashland Glbl Hldgs Inc (ASH), Avinger Inc (AVGR), Brooks Automation (BRKS), Curis Inc (CRIS), CTI BioPharma Corp (CTIC), Datadog Inc (DDOG), Amdocs Ltd (DOX), Gevo Inc (GEVO), Grocery Outlet Holding Corp (GO), HTG Molecular Diagnostics Inc (HTGM), Eastman Kodak Co (KODK), Lyft Inc (LYFT), 1Life Healthcare Inc (ONEM), Purple Innovations Inc (PRPL), Perspecta Inc W/I (PRSP), 10x Genomics Inc (TXG).
Wednesday, November 11th
7:00 AM EST – MBA Mortgage Applications Data

10:30 AM EST – Weekly DOE Inventory Data

Major earnings: Adient plc (ADNT), Air Products & Chem Inc (APD), API Group Corp (APG), Atmos Energy Corp (ATO), Fossil Grp Inc (FOSL), Growgeneration Corp (GRWG), Hillenbrand Inc Com (HI), OpGen Inc (OPGN), Reynolds Consumer Products Inc (REYN), Revolve Group Inc (RVLV), Salarius Pharma Inc (SLRX), SpartanNash Co (SPTN).
Thursday, November 12th
8:30 AM EST – Weekly Jobless & Continuing Claims

8:30 AM EST – Consumer Price Index (CPI) October

10:30 AM EST – EIA Natural Gas Inventory Data

Major earnings:  BIO-key Intl Inc (BKYI), Energizer Hldgs Inc (ENR), Edgewell Personal Care Company (EPC), Meritor, Inc. (MTOR), Sally Beauty Hldgs Inc (SBH), Stratasys Ltd (SSYS), TransDigm Grp Inc (TDG), Urban One Inc Cl 'D' (UONEK), Agile Therapeutics Inc (AGRX), Applied Materials (AMAT), Aspira Woman's Health Inc (AWH), Brikell Biotech Inc (BBI), Biocept Inc (BIOC), Blink Charging Co (BLNK), Beazer Homes USA (BZH), Cisco Systems (CSCO), Disney (Walt) Co (DIS), NovaBay Pharma Inc (NBY), Salem Media Grp Inc Cl A (SALM).
Friday, November 13th
8:30 AM EST – Producer Price Index (PPI) October

10:00 AM EST – University of Michigan Consumer Sentiment November

1:00 PM EST – Baker Hughes Rig Count