Let's get straight to the point.
This week will be dominated by the U.S. election.
That's why I want to focus on the most important indicators to watch because they can help you navigate what can be a wild trading week.
I also want to game out various scenarios and show you how I would play them.
We're going to hit this with the Boy Scouts' motto in mind – Always be prepared.
Reading the VIX
Let's start with the VIX. The VIX measures option demand on the S&P 500. Or put another way, it's a gauge of 'fear.'
Traders assume the more put contracts folks buy against the S&P 500, the more fear exists.
What makes this unusual is where the VIX has been the last few months.
Prior to the pandemic, the VIX often sat below 15. Its historical average is between 15-18.
Since the crash in March, we haven't seen the VIX spend much time bel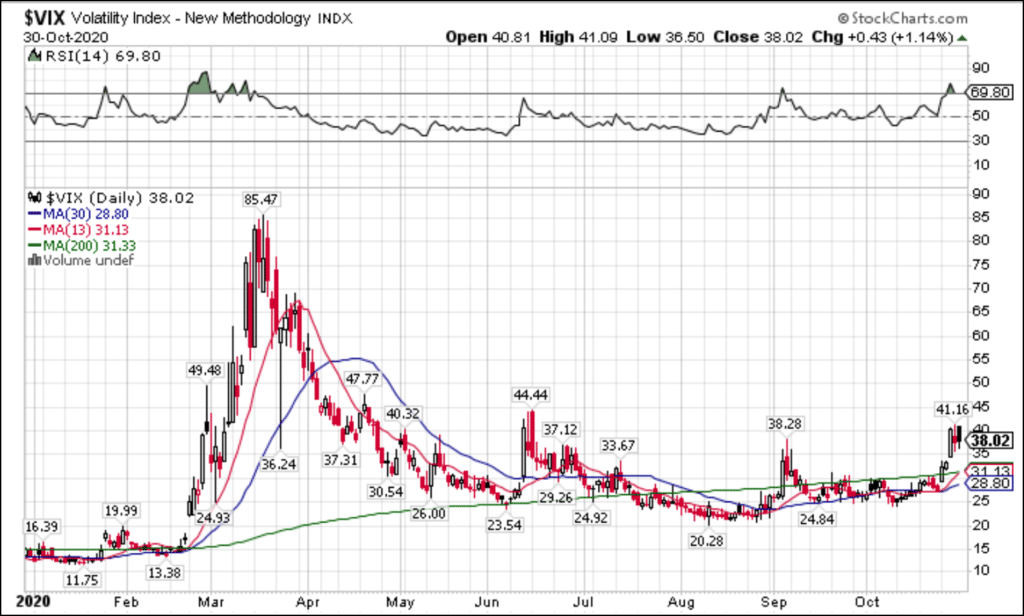 VIX Daily Chart
We need to look at the current levels in context because if we saw the VIX at 38 normally, I'd think that the market was crashing day after day.
Now, it's high, but rightfully so.
I believe it's pricing in two key items: pandemic cases rising along with fresh lockdowns and a contested election.
If we get a decisive outcome on election day, I don't know that we'll see the VIX collapse meaningfully.
That's why I'm going to watch to see how this instrument trades immediately after the election.
As I see it now, without the VIX pulling back, the market cannot take off.
The bond market is the 'smart money'
Traders look at bond market investors to get an outlook for equities that goes beyond a few days and weeks.
Since treasury investors tend to hold positions for longer, they aren't as likely to worry about short-term movements.
For the last few months, the Fed's involvement distorted bond prices, making it difficult to gauge what bond investors really thought.
As the Fed curtailed their involvement, we started seeing a clearer picture of their involvement.
Lately, that's meant a significant selloff in the past several weeks.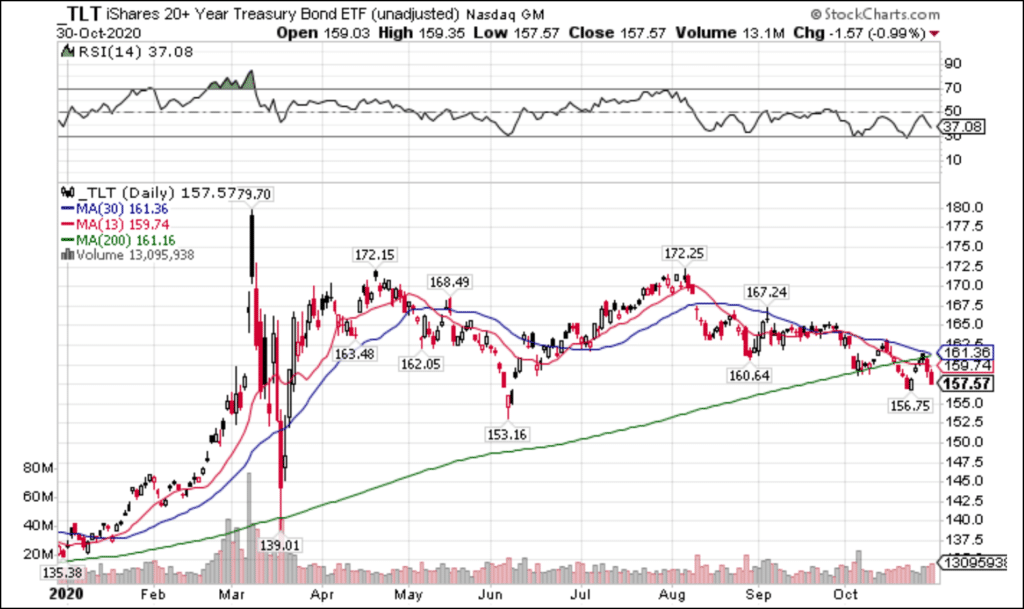 TLT Daily Chart
While we're nowhere near the levels prior to the pandemic, bonds sold off below the 200-period moving average on the daily chart.
Unless I see the TLT recapture this level, I expect bonds to continue their selloff.
Yen safety trade
The last market I'm watching is the Japanese Yen.
Traders shove money into this currency when all else fails.
It's considered a 'safety' play, and one of the few left that still acts like one.
Normally, gold, bonds, and the U.S. dollar fall into this category.
As you probably figured out by now, this market is anything but normal.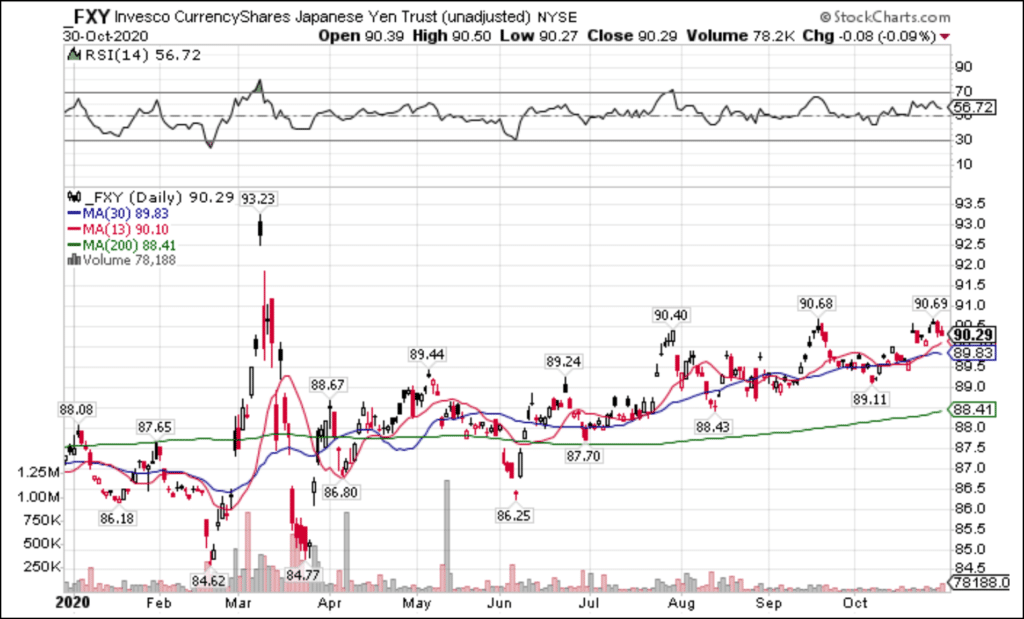 FXY Daily Chart
With the Yen, we're seeing price steadily rise over the 200-period moving average on the dailly chart, making a series of higher highs and higher lows, a very bullish formation.
We aren't likely to see stocks head higher without the Yen selling off.
Now that we have the key indicators laid out, let's put together our gameplan.
The election day gameplan
Monday is a big question mark for me at the moment.
The recent lockdown announcements will probably push futures lower and stocks leading into the Monday open.
Otherwise, I would expect a little bit of a relief rally (albeit small) after some shakeout early on Monday, kind of like what we see on Fridays.
In either case, I want to see how the VIX trades. I suspect it will float higher Monday and Tuesday, which could offer some quick trades in the VXX and UVXY ETFs.
For the most part, I don't plan to be exceptionally active during these days.
Even with volatility elevated, I don't want to be a seller of options. Right now, volatility is higher in the front months than the back months. That means traders are pricing in more volatility in the short-term, say 30 days, than 90 days out.
This isn't normal, and not a great environment to sell options, long or short term.
On Tuesday, stocks should trade in a range for most of the day, at least early on. We could certainly see volatility if rumors hit the Twittersphere, so it's worth lowering risk.
The morning after
We've got three outcomes possible come Wednesday morning: A clear with for either Donald Trump or Joe Biden, or no winner.
In my view, markets will sell off no matter who wins, or even if it's unknown.
Here's my reasoning.
Markets are worried about the election and cases of the deadly virus. Just because we resolve one question doesn't clear up the other.
Now, if Joe Biden wins, I expect a harder selloff as investors position themselves for a change in taxes on corporate entities.
I believe it's more likely we won't know the outcome for the Senate on Wednesday. It comes down to a variety of factors across various states, all of which increase the odds we simply won't know.
However, I don't know that markets will care much. So even when that question gets resolved, I wouldn't expect stocks to move one way or another.
Happy Thanksgiving
At some point, I expect the selling to stop for several reasons.
First, November through January are some of the most bullish months for stocks historically.
Looking at the SPY, if you bought the open of the first day of November and sold the close of the last day of November, you'd win almost 75% of the time in the last 20 years!*
Second, and more importantly, regardless of the election outcome, we should see stimulus or at least get an idea of when we'll see it in the next 60 days.
Lastly, and by far the most significant – a vaccine.
We're getting to that time where trials finish up, and we likely see approval of one or more.
Once that happens, I expect it to create a floor in stocks, much like the Fed did.
What I plan to do
As equities sell-off, I'm looking for long-term investments in companies I love for my Portfolio Accelerator. Stocks like Apple, Amazon, Shopify…there's so many to choose from my mouth is watering just thinking about it.
Second, looking out into 2021, I expect volatility to start contracting. If we see major extremes in the VIX, I'm talking 60-80, then I'm going to start looking at some serious swing trades in the VXX and UVXY.
Cause let's face it – I'll have history on my side.
Now, one great way to get yourself set up for these opportunities is by creating a trading plan.
And I want to teach you how to do it the right way.
That's why my Bullseye trade of the week doesn't just deliver my best options trade idea.
It lays out my full trading plan.
You see everything from why I like the trade to which contracts I want, where I plan to stop out, and my targets.
Not to mention you learn some killer setups as well.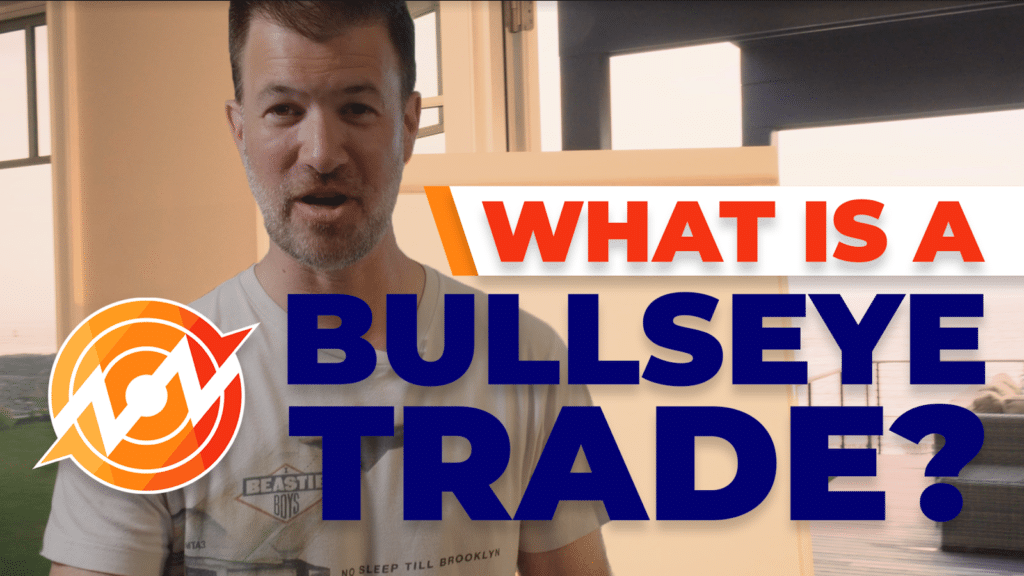 Click here to learn more about Bullseye Trades
Stocks I'm watching this week
GOOS, RNG, COST, ZEN, CRSP, NVDA, YETI, SPOT, DPZ, ADBE, EXPE, FB, MSFT, ECL, FSLY, SHOP, TAN, SPCE, RTX, PETS, IWM, RUN, TWTR, MTCH, TDOC, TSCO, ESTC, OSTK, GSX, CHWY, RKT, LULU, ZS, WKHS, SNOW, WMT, DG, FIVE, NDAQ, XOP, CHTR, MJ, CGC, DOCU, NFLX, LVGO, IAC, BNTX, ENPH, PTON, ROKU, LMND
This Week's Calendar
Monday, November 2nd
10:00 AM EST – Construction Spending September

10:30 AM EST – ISM Manufacturing PMI October

Major Earnings: AMC Networks Inc Cl A (AMCX), BWX Technologies Inc (BWXT), CDW Corp (CDW), Clorox Co (CLX), Camping World Holdings Inc (CWH), Lauder (Estee) Co (EL), FirstEnergy Corp (FE), Henry Schein Inc (HSIC), Horizon Therapeutics PLC (HZNP), Loews Corp (L), Leidos Hldg Inc (LDOS), Lumentum Hldgs Inc (LITE), Lumber Liquidators Hldgs Inc (LL), MPLX LP (MPLX), Nisource Inc (NI), National Retail Properties Inc (NNN), Insperity Inc (NSP), ON Semiconductor Corp (ON), Par Pacific Hldgs Inc (PARR), Regis Corp (RGS), Tenneco Inc (TEN), US Foods Hldg Corp (USFD), Wingstop Inc (WING), Waste Mgt Inc (WM), Xtant Med Hldgs Inc (XTNT), AMC Entertainment Hldg Inc (AMC), Arista Networks (ANET), Bruker Corporation (BRKR), CDK Glbl Inc (CDK), CNO Finl Grp, Inc. (CNO), Callon Petro (CPE), Cirrus Logic (CRUS), Esperion Therapeutics Inc (ESPR), Everi Hldgs Inc (EVRI), Diamondback Energy Inc (FANG), FMC Corp (FMC), GENPACT LIMITED (G), Intl Paper (IP), Ingersoll-Rand Plc (IR), J2 Global Communications, Inc. (JCOM), Karyopharm Therapeutics Inc (KPTI), Leggett & Platt (LEG), Mondelez Int'l Inc Cl A (MDLZ), NeoPhotonics Corporation (NPTN), Realty Income (O), Owens & Minor Inc (OMI), Plains All American Pipeline (PAA), Premier Inc Cl A (PINC), ProPetro Hldg Corp (PUMP), PayPal Hldgs Inc (PYPL), TransOcean Ltd (RIG), Rambus Inc (RMBS), SBA Communications'A' (SBAC), STERIS plc (STE), Skyworks Solutions (SWKS), Trex Co Inc (TREX), Viper Energy Partners LP (VNOM), Williams Companies (WMB), WPX Energy Inc (WPX), YRC Worldwide Inc (YRCW).
Tuesday, November 3rd
US Elections

7:45 AM EST – ICSC Weekly Retail Sales

11:00 AM EST – Factory Orders September

4:30 PM EST – API Weekly Inventory Data

Major earnings: Agco Corp (AGCO), Avient Corp (AVNT), Bausch Health Companies Inc (BHC), Catalent Inc (CTLT), Emerson Electric Co (EMR), Eaton Corp (ETN), Exelon Corp (EXC), Expeditors Intl of Washington (EXPD), Twenty-First Century Fox Inc A (FOXA), Gannett Co Inc (GCI), Harsco Corp (HSC), Humana Inc (HUM), Gartner Inc (IT), Johnson Controls Intl Plc (JCI), JELD-WEN Hldg Inc (JELD), Kopin Corp (KOPN), Louisiana-Pacific Corp (LPX), McKesson Corp (MCK), R1 RCM Inc (RCM), Spirit Aerosystems Hldgs Inc (SPR), Sysco Corp (SYY), Tetra Technologies Inc (TTI), Vishay Intertech (VSH), Wayfair Inc (W), Welbilt Inc (WBT), WEC Energy Group Inc (WEC), Westlake Chemical Corp (WLK), Acorda Therapeutics Inc (ACOR), Acadia Realty Trust (AKR), Berry Corporation (bry) (BRY), The Chemours Company (CC), Eversource Energy (ES), Healthcare Trust of America (HTA), Summit Hotel Properties Inc (INN), KAR Auction Svcs Inc (KAR), Nabors Industries Inc (NBR), NexTier Oilfield Solutions Inc (NEX), Newpark Resources (NR), Plains GP Hldgs L.P Cl A (PAGP), Prudential Finl (PRU), Supernus Pharmaceuticals Inc (SUPN), Vornado Realty Trust (VNO).
Wednesday, November 4th
7:00 AM EST – MBA Mortgage Applications Data

9:30 AM EST – September Trade Balance

10:30 AM EST – Weekly DOE Inventory Data

11:00 AM EST – ISM Non-Manufacturing PMI October

Major earnings: Conformis (CFMS), NOW Inc (DNOW), Enable Midstream Partners LP (ENBL), Cedar Fair L.P. (FUN), Haemonetics Corp (HAE), Holly Energy Partners (HEP), Hilton Worldwide Hldg Inc (HLT), Ionis Pharma Inc (IONS), Performance Food Grp Co (PFGC), Sinclair Broadcast Grp'A' (SBGI), Trimble Navigation Ltd (TRMB), Vistra Energy Corp (VST), The Wendy's Co (WEN), ACADIA Pharmaceuticals Inc (ACAD), Albemarle Corp (ALB), Allstate Corp (ALL), Ansys Inc (ANSS), Apache Corp (APA), American Water Works Co Inc (AWK), Brookdale Senior Living Inc (BKD), Brixmor Ppty Grp Inc (BRX), CF Industries Hldgs Inc (CF), Change Healthcare Inc (CHNG), Mack-Cali Realty (CLI), Comstock Res Inc (CRK), CoreCivic Inc (CXW), DCP Midstream LP (DCP), Delek US Holdco Inc (DK), e l f Beauty Inc (ELF), EPR Properties (EPR), Equitable Holdings Inc (EQH), Energy Transfer L.P. (ET), Expedia Grp Inc (EXPE), Fitbit Inc (FIT), Fidelity Natl Finl Inc (FNF), Frontdoor Inc (FTDR), GoDaddy Inc (GDDY), Green Dot Corporation (GDOT), Genworth Finl Inc (GNW), Hyatt Hotels Corporation (H), Hologic Inc (HOLX), Host Hotels & Resorts Inc (HST), Henry(Jack) & Assoc (JKHY), Kennedy-Wilson Hldgs, Inc. (KW), Lannett Co (LCI), Lincoln Natl Corp (LNC), MDU Res Grp Inc (MDU), Metlife Inc (MET), Marathon Oil Corp (MRO), Match.com (MTCH), MGIC Inv (MTG), NU Skin Enterprises'A' (NUS), Orasure Technologies (OSUR), Outfront Media Inc (OUT), Paycom Software Inc (PAYC), Ping Identity Holding Corp (PING), Insulet Corporation (PODD), Pioneer Natural Resources (PXD), Qualcomm Inc (QCOM), Qualys Inc (QLYS), Radian Grp (RDN), Royal Gold Inc (RGLD), Rapid7 Inc (RPD), Rayonier Advanced Mats Inc (RYAM), Sangamo Therapeutics Inc (SGMO), Scientific Games Corp (SGMS), Sunoco LP (SUN), Tutor Perini Corporation (TPC), Two Harbors Inv Corp (TWO), Marriott Vacations WorldWide (VAC), Voya Finl Inc (VOYA), Cimarex Energy (XEC), Zynga Inc Cl A (ZNGA).
Thursday, November 5th
8:30 AM EST – Weekly Jobless & Continuing Claims

8:30 AM EST – Non-Farm Productivity & Unit Labor Costs Q3

10:30 AM EST – EIA Natural Gas Inventory Data

Major earnings: Atlas Air Worldwide Hldg (AAWW), AmeriSourceBergen Corp (ABC), Agios Pharmaceuticals Inc (AGIO), Alnylam Pharmaceuticals (ALNY), Amyris Inc (AMRS), Axsome Therapeutics Inc (AXSM), Biocryst Pharm'l (BCRX), Ball Corp (BLL), Bristol-Myers SQUIBB (BMY), Cardinal Health Inc (CAH), Cincinnati Bell (CBB), Cigna Corp (CI), Clovis Oncology Inc (CLVS), Cinemark Hldg Inc (CNK), Centerpoint Energy (CNP), Corteva Inc W* (CTVA), Dominion Energy Inc (D), Discovery Inc Ser A (DISCA), Duke Energy Corporation (DUK), ChannelAdvisor Corporation (ECOM), Endurance Intl Grp Hldg (EIGI), Evergy Inc (EVRG), Natl Vision Hldgs Inc (EYE), Amicus Therapeutics Inc (FOLD), General Motors Co (GM), Gray Television (GTN), Hanesbrands Inc (HBI), HollyFrontier Corporation (HFC), II-VI Inc (IIVI), Incyte Corp (INCY), Iron Mountain Inc REIT (IRM), Kala Pharma Inc (KALA), Kimco Realty Corp (KIM), Lamar Advertising Co Cl A REIT (LAMR), Laureate Education Inc (LAUR), Liberty Media Corp A SiriusXM (LSXMA), Liberty TripAdvisor Hldgs A (LTRPA), Lexington Realty Trust (LXP), Macerich Co (MAC), Meredith Corp (MDP), Murphy Oil Corp (MUR), Nielsen Hldgs Plc (NLSN), Nexstar Media Grp Inc Cl A (NXST), New York Times'A' (NYT), Office Depot (ODP), Parker-Hannifin Corp (PH), PPL Corp (PPL), Papa John's Intl (PZZA), Regeneron Pharmaceuticals (REGN), Sage Therapeutics Inc (SAGE), SeaWorld Entertainment Inc (SEAS), Stericycle Inc (SRCL), Sempra Energy (SRE), STORE Cap Corp (STOR), Starwood Ppty Trust Inc (STWD), Carrols Resteraunt Grp Inc (TAST), Triumph Grp (TGI), TreeHouse Foods Inc (THS), Titan Intl (TWI), Vonage Hldg Corp (VG), Vulcan Materials (VMC), Vista Outdoor Inc (VSTO), Wesco Intl (WCC), Westrock Co (WRK), Wolverine World Wide (WWW), Dentsply Sirona Inc (XRAY), YETI Holdings Inc (YETI), Zoetis Inc (ZTS), Applied Optoelectronice Inc (AAOI), Ameren Corp (AEE), Amer Intl Grp (AIG), Apollo Inv Corp (AINV), Alarm.com Hldgs Inc (ALRM), ANGI Homeservices Inc CL A (ANGI), Appian Corp Cl A (APPN), Avalara Inc (AVLR), Alteryx Inc (AYX), Bright Horizon Family Solution (BFAM), Brighthouse Finl Inc (BHF), Bill.com Holdings Inc (BILL), Benefitfocus Inc (BNFT), Continental Resources Inc (CLR), Americold Realty Tr (COLD), Castlight Health Inc (CSLT), Cornerstone OnDemand Inc (CSOD), Caesars Entertainment Corp (CZR), Dropbox Inc (DBX), 3D Systems Corp (DDD), Deluxe Corp (DLX), Electronic Arts, Inc. (EA), Emergent Biosolutions Inc (EBS), EOG Resources (EOG), Everbridge Inc (EVBG), Evolent Health Inc (EVH), Fluidigm Corporation (FLDM), Flowers Foods Inc (FLO), Federal Rlty Inv Tr Sbi (FRT), Guardant Health Inc (GH), Glaukos Corp (GKOS), Glue Mobile Inc (GLUU), GoPro Inc Cl A (GPRO), Hannon Armstrong Sustainable (HASI), Herbalife Ltd (HLF), Infinera Corp (INFN), Luminex Corp (LMNX), Livent Corp (LTHM), Microchip Tech (MCHP), MACOM Tech Solutions (MTSI), MaxLinear Inc (MXL), CloudFlare Inc (NET), New Relic Inc (NEWR), Nortonlifelock Inc (NLOK), NRG Energy Inc (NRG), Paylocity Hlldg Corporation (PCTY), Park Hotels & Resorts Inc (PK), Pluralsight Inc (PS), Peloton Interactive Inc (PTON), Roku Inc Cl A (ROKU), Sunrun Inc (RUN), SailPoint Tech Hldg Inc (SAIL), Sunstone Hotel Investors Inc (SHO), Virgin Galactic (SPCE), Square Inc (SQ), Synaptics Inc (SYNA), Teradata Corp (TDC), Tandem Diabetes Care Inc (TNDM), Take-Two Interactive Software (TTWO), Tivity Health Inc (TVTY), Hostess Brands Inc Cl A (TWNK), Uber Technologies Inc (UBER), Viavi Solutions Inc (VIAV), XPO Logistics, Inc. (XPO), Zillow Grp Inc Cl A (ZG).
Friday, November 6th
8:30 AM EST – October Jobs Data

10

:00 AM EST – September Wholesale Inventories

1:00 PM EST – Baker Hughes Rig Count

3:00 PM EST – September Consumer Credit

Major earnings: AES Corp (AES), Colony NorthStar Inc (CLNY), Coty Inc (COTY), CVS Health Corp (CVS), Physicians Realty Trust (DOC), Elanco Animal Health Inc (ELAN), Essent Grp Ltd (ESNT), Hawaiian Electric Industries (HE), HMS Hldg (HMSY), The Hershey Co (HSY), Immunogen Inc (IMGN), Cheniere Energy (LNG), Marriott Int'l Cl A (MAR), MEDNAX Inc (MD), Natl Fuel Gas (NFG), Northern Oil and Gas Inc (NOG), Sabre Corp (SABR), SunCoke Energy Inc (SXC), Interface Inc (TILE), TripAdvisor Inc When-Issued (TRIP), Domtar Corp (UFS), ViacomCBS Inc Cl B (VIAC), Virtu Finl Inc Cl A (VIRT), Ventas Inc (VTR), Washington Prime Grp Inc (WPG), Zimmer Biomet Hldgs Inc (ZBH).