Everyone is so focused on the election, they've let some big news slip past them.
THIS SINGLE ITEM DRIVES MOST BANK PROFITS!
Even the smart money knows the bond traders tend to be right.
And right now, they're about to deliver a big boost to bank earnings.
How do I know?
By watching the spread between the 2-year and 10-year treasury
It's one of the major developments you need to watch this week, playing into everything from the election to stimulus.
Allow me to explain.
The yield curve
You've probably heard about the 'yield curve' before.
Last year, it was all the rage to talk about the 'inverted' yield curve that would predict a recession.
Ironically, it did happen, though not for the reasons that typically accompany it.
The yield curve looks at interest rates on government debt as it goes out in time.
Shorter-dated bonds garner a smaller interest rate than longer-dated ones typically.
When they invert, that means longer-dated ones pay lower interstate rates than short-term ones.
So, why should you care?
The spread between the near-term and long-term treasuries drives bank profitability.
Banks borrow at the short-term end of the treasury curve and lend at the long-term end.
The difference between the two is known as the spread.
The wider the spread, the more money for banks.
Most bond watchers look at the spread between 2-year and 10-year treasury bonds.

You can see how it widens during recessions, but often inverts (goes below zero) prior to recessions.
When it widens, banks make larger profits.
However, banks want the short-end of the curve to move up. And that part is controlled by the Fed who doesn't plan to change things.
That's where they get the biggest bang for their buck.
But, that doesn't mean a widening spread doesn't help them.
Here's the crazy part.
So far, this hasn't trickled down to the banks bottom lines…yet…

That is about to change.
As stock prices rose in the last few months, treasury prices began to fall.
That's created the steepening over the curve, which should eventually flow to the bottom line of banks.
And the biggest beneficiaries aren't the big boys like JP Morgan (JPM) or Bank of America (BAC).
Regional Banks (KRE) do much better in this scenario. They act like large banks, but on steroids.
Just look at the daily chart and you'll see what I mean.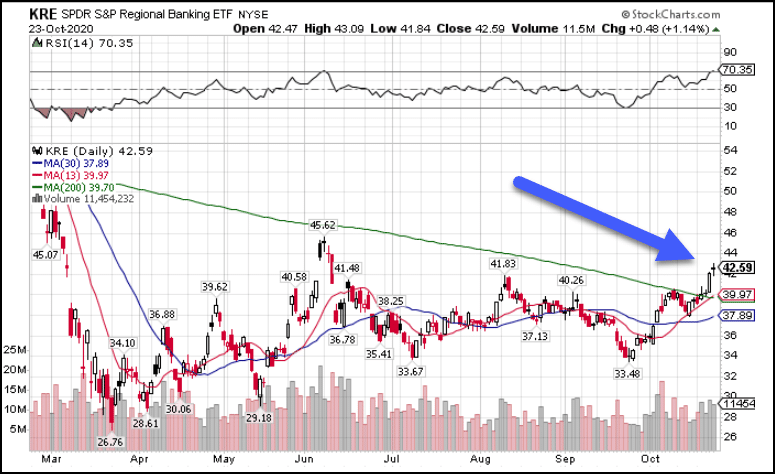 KRE Daily Chart
While tech stock sucked wind last week, the KRE broke above the 200-period moving average on the daily chart.
That could lead to the next leg in the market rally.
And guess what?
It might happen no matter who wins the election!
Rates are going up one way or another
Despite the political differences between the parties, they both have one thing in common – a desire to spend.
We're already facing a historically large deficit. And with both candidates betting big on spending and stimulus, that's likely to expand.
As our debt expands, that drives up the yields on the longer-dated government debt.
With the Fed buying much of the short-end debt, that should lead to even wider spreads, driving additional profitability to the bottom line of banks.
Now, this isn't as buoyant as the Fed lifting interest rates from zero. But it does help.
However, that does mean higher rates for consumers on everything from home loans to credit cards, not something we want to see right now.
But for the time being, it sets up as a great trade idea.
How I plan to play it
Given the likelihood of a sideways market through the election, I'm looking at strategic option plays like credit spreads.
And right now, you can sign up for my upcoming Total Alpha presentation.
Great material focused on the #1 issue in front of us – making money off the election.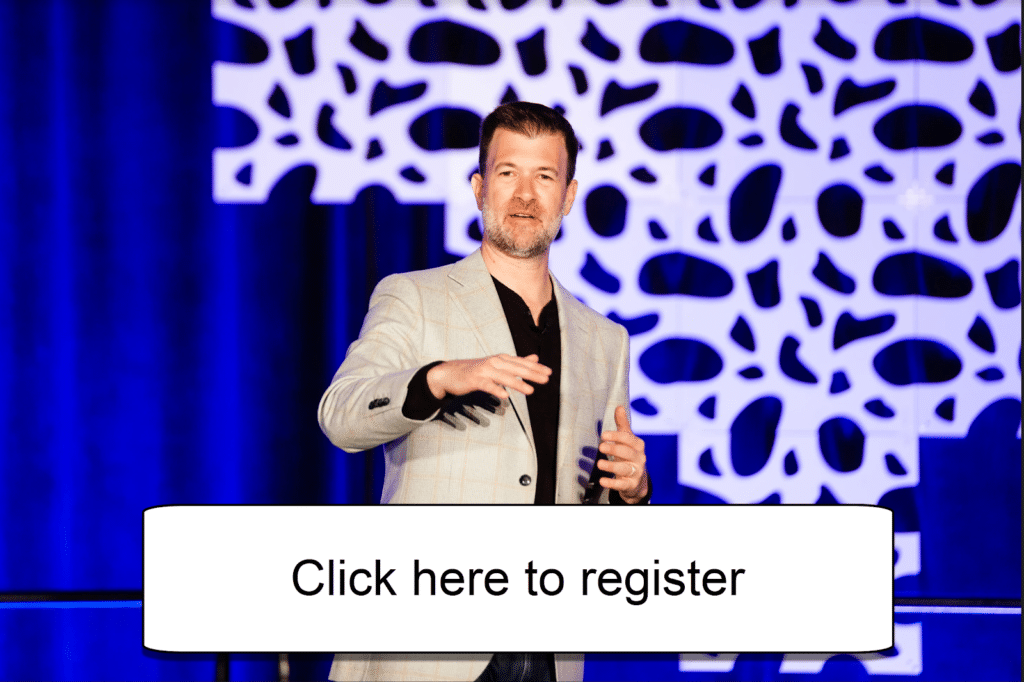 Stocks I'm watching this week
GOOS, RNG, COST, ZEN, CRSP, NVDA, YETI, SPOT, DPZ, ADBE, EXPE, FB, MSFT, ECL, FSLY, SHOP, TAN, SPCE, RTX, PETS, IWM, RUN, TWTR, BA, MTCH, TDOC, TSCO, ESTC, OSTK, GSX, CHWY, RKT, LULU, ZS, WKHS, SNOW, WMT, DG, FIVE, NDAQ, XOP, CHTR, MJ, CGC, DOCU, NFLX, LVGO, IAC, BNTX, ENPH
This Week's Calendar
Monday, October 26
th
10:00 AM EST – New Home Sales September

10:30 AM EST – Dallas Fed Manufacturing October

Major Earnings: Alliance Resource Partners LP (ARLP), Hasbro Inc (HAS), HCA Healthcare Inc (HCA), New Residential Inv Corp (NRZ), Otis WorldWide Corp W (OTIS), PetMed Express (PETS), Simply Good Food Co (SMPL), American Campus Communities (ACC), American Cap Agency Corp (AGNC), Amkor Tech (AMKR), Alexandria R.E. Equities (ARE), Berkshire Hills Bancorp (BHLB), Brown & Brown (BRO), Boyd Gaming (BYD), Chegg Inc (CHGG), Cincinnati Finl (CINF), F5 Networks (FFIV), Harmonic Inc (HLIT), Knoll, Inc (KNL), K12 Inc (LRN), National Oilwell Varco Inc (NOV), Principal Finl Grp (PFG), Packaging Corp America (PKG), Twilio Inc Cl A (TWLO).
Tuesday, October 27
th
7:45 AM EST – ICSC Weekly Retail Sales

8:30 AM EST – Durable Goods September

10:00 AM EST – October Consumer Confidence

10:00 AM EST – Richmond Fed Manufacturing October

4:30 PM EST – API Weekly Inventory Data

Major earnings: Franklin Res Inc (BEN), Caterpillar Inc (CAT), Cummins Inc (CMI), Centene Corp (CNC), Crocs Inc (CROX), CommVault Systems Inc (CVLT), DTE Energy (DTE), Ecolab Inc (ECL), Corning Inc (GLW), Harley-Davidson (HOG), Invesco Ltd (IVZ), JetBlue Airways (JBLU), Laboratory Corp Amer Hldgs (LH), Eli Lilly and Co (LLY), 3M Co (MMM), Merck & Co (MRK), MSCI Inc (MSCI), MSC Industrial Direct Co Inc A (MSM), NeoGenomics Inc (NEO), Old Dominion Freight Line (ODFL), Omnicom Grp Inc (OMC), Pfizer Inc (PFE), Polaris Inc (PII), Roper Tech Inc (ROP), Raytheon Technologies Corp (RTX), Madden (Steven) Ltd (SHOO), Sherwin-Williams (SHW), S&P Glbl Inc (SPGI), Sensata Technologies Hldg N.V. (ST), Stanley Black & Decker Inc (SWK), TransUnion (TRU), Unisys Corp (UIS), Waters Corp (WAT), Waddell & Reed Financial Inc (WDR), Xerox Corp (XRX), ACCO Brands Corp (ACCO), AFLAC Inc (AFL), Akamai Technologies (AKAM), Advanced Micro Devices Inc (AMD), Big 5 Sporting Goods Corp (BGFV), Boston Properties (BXP), C.H. Robinson Worldwide Inc (CHRW), Community Health Sys Inc (CYH), DexCom Inc (DXCM), Edison Intl (EIX), Enphase Energy Inc (ENPH), Equity Residential (EQR), FireEye Inc (FEYE), Fiserv Inc (FISV), First Solar Inc (FSLR), Fortive Corp (FTV), Gaming and Leisure Pptys Inc (GLPI), Hawaiian Hldg Inc (HA), Highwoods Properties (HIW), Juniper Networks (JNPR), Liberty Oilfield Svcs Inc (LBRT), Lattice Semiconductor (LSCC), Masimo Corp (MASI), Microsoft Corp (MSFT), Maxim Integrated Prod (MXIM), NCR Corp (NCR), Oneok Inc (OKE), Ultragenyx Pharmaceutical Inc (RARE), R R Donnelley & Sons Co (RRD), Red Rock Rsorts Inc Cl A (RRR), Skyline Corp (SKY), Summit Matrials Inc (SUM), Tenable Holdings Inc (TENB), Terex Corp (TEX), 2U Inc (TWOU), Unum Grp (UNM), Varian Medical Systems Inc (VAR), Veeco Instruments (VECO).
Wednesday, October 28
th
7:00 AM EST – MBA Mortgage Applications Data

8:30 AM EST – Advance Goods Trade Balance November

10:30 AM EST – Weekly DOE Inventory Data

Major earnings: Automatic Data Proc (ADP), Amgen Inc (AMGN), Anthem Inc (ANTM), Boeing Co (BA), Bunge Ltd (BG), BGC Partners Inc (BGCP), BankUnited Inc (BKU), Boston Scientific Corporation (BSX), The Blackstone Grp Inc (BX), The Chef's Warehouse Inc (CHEF), CME Grp Inc (CME), Dana Inc (DAN), Diebold Nixdorf Inc (DBD), Dine Brands Global Inc (DIN), Dynatrace Holdings LLC (DT), Brinker Intl Inc (EAT), Enterprise Products Partners (EPD), Entergy Corp (ETR), Extreme Networks (EXTR), General Dynamics Corp (GD), General Electric Co (GE), Generac Hldg Inc (GNRC), WR Grace & Co (GRA), Hess Corporation (HES), Integra Lifesciences Hldg Corp (IART), Mastercard Inc (MA), Norfolk Southern (NSC), New York Community Bancorp (NYCB), Owens Corning (OC), O-I Glass Inc (OI), Ryder System (R), Rollins Inc (ROL), Santander Consumer USA Hldgs (SC), Sealed Air (SEE), Six Flags Entertainment Corp (SIX), Tupperware Brands Corp (TUP), Tradeweb Mkts Inc (TW), United Parcel Service Inc (UPS), Amer Finl Grp Inc (AFG), Antero Midstream Corp (AM), Ameriprise Finl Inc (AMP), Avalonbay Communities (AVB), Avnet, Inc (AVT), Boot Barn Hldgs Inc (BOOT), Cerner Corp (CERN), Cognex Corp (CGNX), CyrusOne Inc (CONE), Cree Inc (CREE), Cognizant Tech Solutions'A' (CTSH), Concho Resources Inc (CXO), Duke Realty (DRE), eBay Inc (EBAY), 8×8 Inc (EGHT), Equinix Inc REIT (EQIX), Etsy Inc (ETSY), Ford Motor (F), Fortune Brands Home & Security (FBHS), Formfactor Inc (FORM), Fastly Inc (FSLY), Gilead Sciences (GILD), GrubHub Inc (GRUB), Invitation Homes Inc (INVH), KLA Corp (KLAC), Kraton Corp (KRA), Livongo Health Inc (LVGO), Molina Healthcare (MOH), Annaly Cap Mgt Inc (NLY), ServiceNow Inc (NOW), Oceaneering Intl Inc (OII), O'Reilly Automotive, Inc. (ORLY), PerkinElmer Inc (PKI), PTC Inc (PTC), Rent-A-Center (RCII), Raymond James Finl (RJF), Rayonier Inc (RYN), Spirit Airlines Inc (SAVE), Sprouts Farmers Mkts Inc (SFM), SunPower Corp (SPWR), Teladoc Health Inc (TDOC), Texas Roadhouse Inc (TXRH), United Rentals Inc (URI), Visa Inc (V), Vanda Pharmaceutical (VNDA), Valvoline Inc (VVV), Waste Connections Inc (WCN), Western Digital (WDC), Welltower Inc (WELL), Wyndham Hotels & Resorts Inc (WH).
Thursday, October 29
th
8:30 AM EST – Weekly Jobless & Continuing Claims

8:30 AM EST – Q3 GDP

8:30 AM EST – Advance Retail Sales September

10:00 AM EST – Pending Home Sales September

10:30 AM EST – EIA Natural Gas Inventory Data

Major earnings: Abiomed, Inc (ABMD), Alliance Data Systems (ADS), Alexion Pharmaceuticals (ALXN), Ametek, Inc (AME), American Tower Corp (AMT), A O Smith Corp (AOS), Apollo Global Mgt LLC (APO), Blue Apron Hldgs Inc (APRN), Arrow Electronics (ARW), Allegheny Technologies (ATI), Baxter Intl Inc (BAX), Brunswick Corp (BC), The Brink's Co (BCO), Borg Warner (BWA), Carrier Global Corp (CARR), CBRE Grp, Inc. (CBRE), Cullen/frost Bankers (CFR), The Carlyle Grp Inc (CG), Church & Dwight (CHD), Comcast Cl A (CMCSA), CMS Energy (CMS), Consol Energy Inc (CNX), Mr. Cooper Group Inc (COOP), ConocoPhillips (COP), DuPont de Nemours Inc (DD), Dunkin' Brands Grp Inc (DNKN), Fidelity National Information (FIS), Global Payments Inc (GPN), At Home Grp Inc (HOME), Intercontinental Exchange Grp (ICE), Idexx Laboratories (IDXX), Intl Paper (IP), Kellogg Co (K), KBR Inc (KBR), Keurig Dr Pepper Inc (KDP), Kirby Corp (KEX), The Kraft Heinz Company (KHC), Kontoor Brands Inc (KTB), Moody's Corp (MCO), MDC Hldg Inc (MDC), Martin Marietta Materials (MLM), Marsh & McLennan Companies Inc (MMC), Moderna Inc (MRNA), Nabors Industries Inc (NBR), Newmont Corp (NEM), Oshkosh Corp (Hldg Co) (OSK), PBF Energy Inc Cl A (PBF), PG&E Corp (PCG), Penn National Gaming (PENN), Quanta Svcs (PWR), Ralph Lauren Corp. (RL), Realogy Hldg Corp (RLGY), Sonic Automotive'A' (SAH), Schneider Natl Inc Cl B (SNDR), Molson Coors Beverage Co (TAP), Timken Co (TKR), Tapestry Inc (TPR), Tempur Sealy Intl Inc (TPX), T.Rowe Price Grp (TROW), Textron, Inc (TXT), U S Concrete Inc (USCR), Wabtec Corp (WAB), WEX Inc (WEX), Xcel Energy (XEL), Xylem, Inc. (XYL), Yum! Brands Inc (YUM), Apple Inc (AAPL), Acadia Healthcare Co, Inc (ACHC), Archer-Daniels-Midland (ADM), Apt Inv & Mgmt'A' (AIV), Amazon.com Inc (AMZN), Altice USA Inc Cl A (ATUS), Activision Blizzard Inc (ATVI), Bloom Energy Corp (BE), Builders FirstSource Inc (BLDR), Cheesecake Factory (CAKE), Avis Budget Grp (CAR), CareDx Inc (CDNA), Century Aluminum (CENX), Cabot Oil & Gas Corp (COG), Camden Ppty Trust (CPT), Curo Grp Hldgs Corp (CURO), Covanta Hldg Corporation (CVA), Carvana Co Cl A (CVNA), DaVita Inc (DVA), Devon Energy (DVN), Eastman Chemical (EMN), Exact Sciences (EXAS), Facebook Inc (FB), Flex Ltd (FLEX), Floor & Decor Hldgs Inc (FND), Fortinet Inc (FTNT), Alphabet Inc Cl A (GOOGL), Hartford Finl Svcs Grp (HIG), Illumina Inc (ILMN), Inphi Corporation (IPHI), Knowles Corporation (KN), Liveperson Inc (LPSN), Allscripts Healthcare Solution (MDRX), MGM Resorts Intl (MGM), Mohawk Indus (MHK), Motorola Inc (MSI), MasTec Inc (MTZ), Natl Instruments (NATI), NuVasive Inc (NUVA), Pebblebrook Hotel Trust (PEB), Proofpoint Inc (PFPT), PTC Therapeutics Inc (PTCT), Quidel Corp (QDEL), Resmed Inc (RMD), Range Resources (RRC), Starbucks Corp (SBUX), Seattle Genetics (SGEN), Shake Shack Inc (SHAK), Skechers U.S.A. Cl'A' (SKX), SkyWest Inc (SKYW), Southwestern Energy (SWN), Stryker Corp (SYK), Twitter Inc (TWTR), Vertex Pharmaceuticals (VRTX), Washington REIT (WRE), Western Union Co (THE) (WU), World Wrestling Entr'A' (WWE), U.S. Steel Corporation (X), Zendesk Inc (ZEN).
Friday, October 30
th
8

:30 AM EST – Personal Income & Spending September

9:45 AM EST – Chicago PMI October

1:00 PM EST – Baker Hughes Rig Count

Major earnings: Aon Plc / Ireland (AON), Booz Allen Hamilton Hldg Cp (BAH), CBOE Glbl Mkts Inc (CBOE), Charter Communications Inc (CHTR), Colgate-Palmolive Co (CL), ITT Inc (ITT), L3Harris Technologies Inc (LHX), Magellan Midstream Partners LP (MMP), PNM Resources Inc (PNM), Pinnacle West Cap Corp (PNW), Portland General Electric Co (POR), Phillips 66 Partners LP (PSXP), Under Armour Inc Cl A (UAA), Weyerhaeuser Co (WY), Xenia Hotels & Resorts Inc (XHR).