A difficult choice to say the least.
Amazon's diversified revenue streams cushion it from downturns.
Yet, Apple's products and services garner incredible market share with a global presence.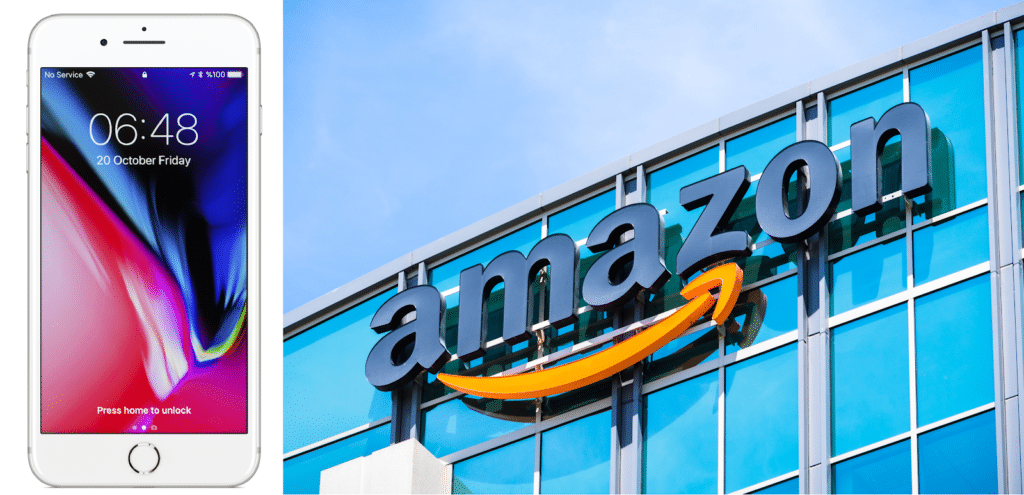 Between the two, I like Apple more, and here's why.
Apple could see an upgrade super cycle

Amazon faces anti-trust litigation and increased competition

Apple shows a bullish chart pattern poised for another jump
I want to dig into each of these because any one of them could act as a catalyst.
Therefore, I need to have a trading strategy ready to go!
I'll be the first to admit I didn't see the growth of mobile cameras coming.
Yet, apps like Instagram and even Tik Tok have become wildly popular, not to mention extremely lucrative.
Apple's in a nice situation where they expect many users to upgrade to the new iPhone 12 and its ecosystem.
What's really key here is the 5G capabilities.
This is a HUGE growth opportunity in the coming years, and Apple is stepping out in front of it.
5G internet hasn't been installed quite yet.
But with bipartisan support, it's only a matter of time.
And here's where Apple's international presence comes in.
As places like China and India move forward with developing their 5G networks, Apple joins Android phones in setting the stage for the next generation of internet devices.
But it's more than just compatibility with the future.
Upgrades for Apple phones lagged in both developed and emerging markets for years, leaving a huge amount of pent up demand.
Released, this could we could be talking about 350 million iPhones gobally waiting to be upgraded.
What they'll need to kick things off is an app that takes advantage of the 5G network…
Something that garners enough interest to get people out and looking at upgrading their phones.
Amazon draws ire from multiple sources
While most of us weren't watching, Wal-Mart introduced their new home delivery service aimed at competing with Amazon.
With a slightly cheaper membership, they offered something Amazon doesn't do well yet – grocery delivery.
It's been a sore spot for the shipping behemoth, even with their Whole Foods partnership.
I don't expect that to be the only competition they face.
When Amazon put retailers on the ropes over the past decade, those that survived changed their supply chains to meet the new home delivery needs.
As many of their capital projects come online in the near future, they'll add further pressure to Amazon's home delivery business.
But the biggest threat they face comes from Congress.
While they don't draw the same scorn as Google or Facebook, Amazon's been accused of anti-competitive activity.
The crux of the arguments stems from how they manage their 3rd party marketplace to boost their own product sales.
Whether this legislation is ultimately successful or not, it creates pressure in the short-term.
The chart says it all
Comparing the charts of Apple and Amazon, Apple clearly shows more bullish behavior.
Let's take a look at the daily charts.
AAPL Daily Chart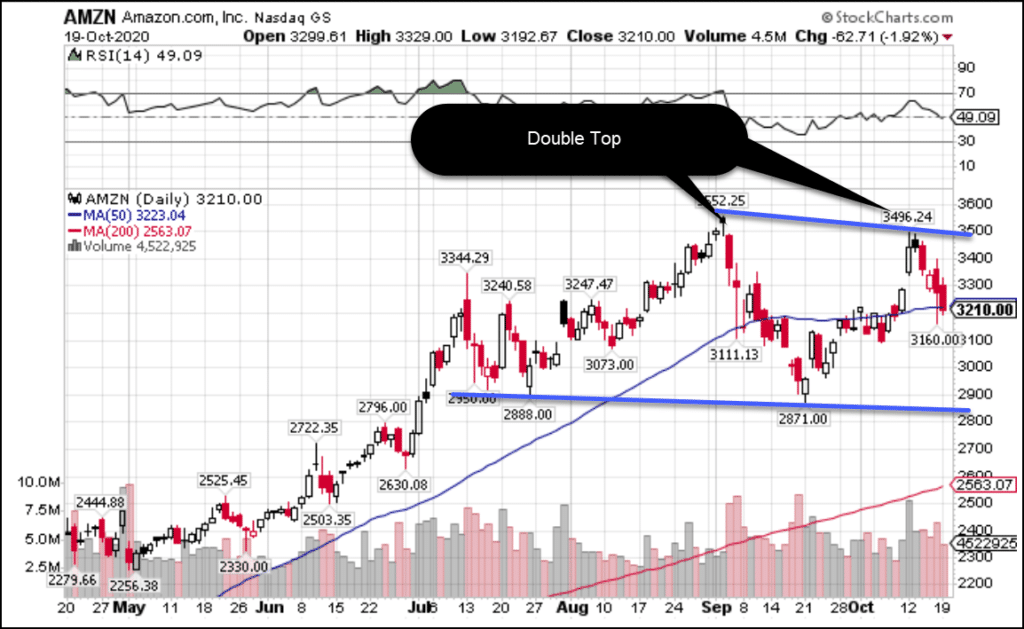 AMZN Daily Chart
In both charts, we see a high and then a lower high.
However, in Amazon's case, the lower high is extremely close to the all-time high.
That makes the chart more like a double-top than a consolidation pattern.
When I draw the trendlines in Apple that connect the highs and lows of the candlesticks, you see how they converge over time.
Amazon's trendlines appear to be moving apart.
That signifies more price indecision.
Consolidation implies price found an equilibrium, where buyers and sellers balance one another out.
When this occurs near the upper end of the trading range, that often precedes a breakout in the direction of the trend, in this case higher.
Apple also managed to hug much closer to the 50-day moving average compared to Amazon.
Again, this comes from a tighter trading range, which you wouldn't necessarily expect after the huge run it had into the stock split.
How I trade these stocks
Both companies have extremely liquid stocks and options. That makes it easier to get good fills and give up less to the market makers.
However, being a lower-priced stock, Apple allows me to buy more contracts, giving me a bit more flexibility, and certainly for anyone with smaller account sizes.
My favorite way to play these is for pullbacks into the 200-period moving average on the hourly chart.
Known as the gravitational line, I find this works wonderfully as support and resistance in trading.
So why is this indicator so important?
Sign up for my free Total Alpha Bootcamp and find out.