There's no escaping the news cycle and the up and down swings which comes with them. 
So, we need to expect and prepare for volatility this week.
And even though I delivered my top trade idea to High Octane Options Members this morning before the bell…
I've still got a few tricks up my sleeve to share.
There are three stocks that are on my radar for this week.
Each offers a unique opportunity for the astute trader.
The question is, will that be you?
Rocket Cos Inc (RKT)
One of last week's High Octane Options ideas picked up call contracts on Rocket Companies (RKT).
And boy did they take off running.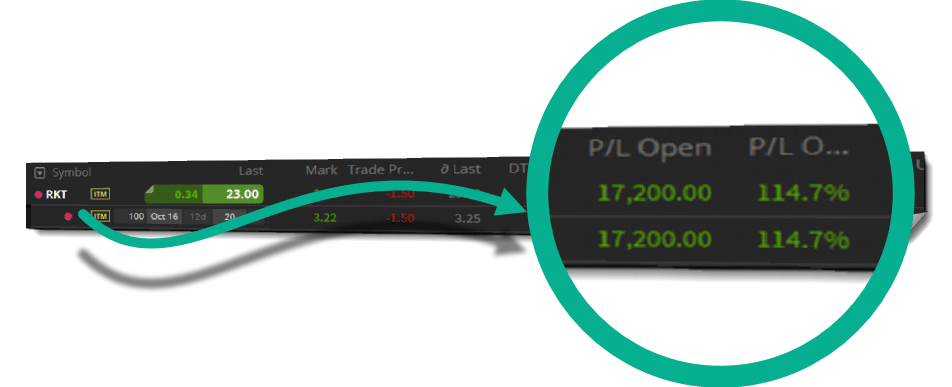 And I'm expecting higher prices this week*
*See Disclaimer below
And even with a pretty amazing run, I think shares are setting up for even higher prices.
Let me show you what I mean.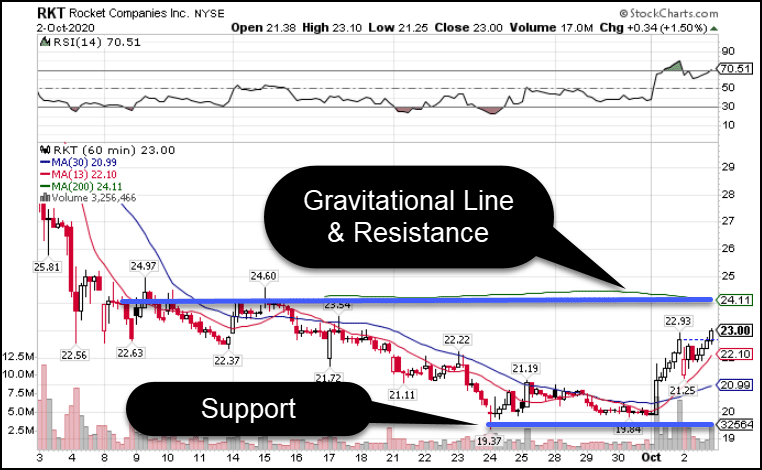 RKT Hourly Chart
Last week's setup played off the support level noted at the bottom. It was both a round $20 price as well near the original IPO open.
That lent additional credence that it would act as support.
From there, shares thrust higher for an entire day. It wasn't until the market pulled back Friday that shares of RKT did as well.
However, it managed to close near the highs, unlike many of the big tech stocks and other areas of the market.
That tells me it has relative strength and the potential to outperform even in a weak market.
The question you're probably asking  – how much more can it really run?
I selected the gravitational line as a first target because of its importance as well as its proximity to a resistance level.
You can see how the upper blue line crosses several swing points, highlighting its past importance.
Just because I see that as an initial target doesn't mean there isn't more to be had. 
Last time the stock got going, it nearly doubled.
Knowing IPO stocks as I do, I could easily see this happening again.
Where would I be wrong?
A close below the previous support level.
Now, if I want to play options on this trade, I need to choose an expiration that gives me enough time. And given the distance to the support level, I want to keep my position size smaller than average.
That allows me to stick with the trade and manage my risk.
Fastly (FSLY)
Fastly is another stock I had success with prior to their earnings recently in High Octane Options.
The chart presents an interesting setup that might not be obvious right off the bat.
Take a look.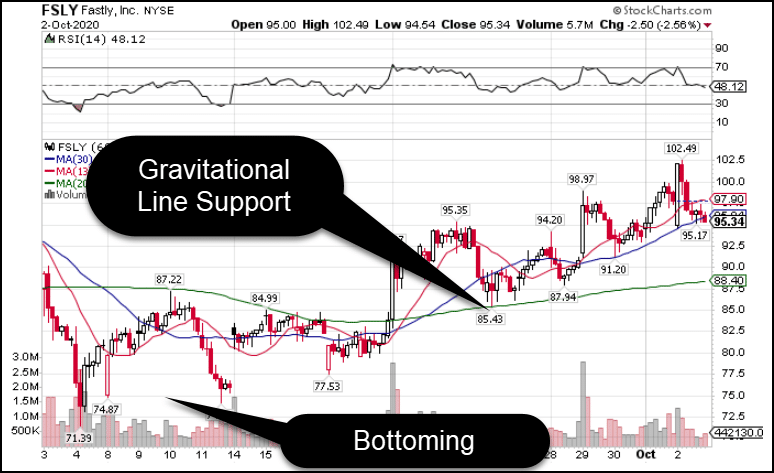 FSLY Hourly Chart
First, I want to point out the bottoming formation in early September.
Notice how it made a higher low after stopping at the gravitational line. 
Then, it consolidated underneath that level before pushing over.
At that point, it rode the gravitational line for a bit before making a series of stairsteps higher.
So now I'm left with an unusual setup.
I see one of two possibilities playing out here.
First, shares continue to make a stairstep pattern as they work towards their ultimate target.
Second, shares retrace down to the gravitational line for support and then push off from there.
Both are possible, and I cannot tell you which will occur.
However, that doesn't mean I can't structure a trade around these ideas.
As I've noted before, risk management is critical.
Assume for a moment I want to have my cake and eat it too.
Well, then I would start by playing the stairstep pattern with a small position.
Then, if shares retrace to the gravitational line, I can add to the trade at that point.
If I wanted to be more conservative, I would simply wait for the retracement and ignore the stairstep setup.
Bristol Meyers Squibb (BMY)
This chart was real close to becoming my Bullseye Trade of the week.
Healthcare stocks haven't been strong in this market.
And this chart looks ripe for a plunge.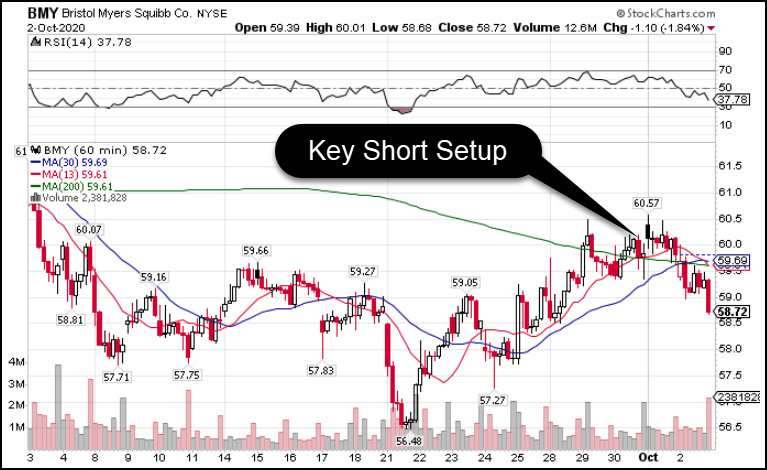 BMY Hourly Chart
I don't want to give away all the secrets of my High Octane Options trades…
But I can tell you this is a near picture-perfect money-pattern setup.
Now, I'll explain to my High Octane Option members all the details of why I like this setup and how I plan to play it.
If you want to get in on the action then check out High Octane Options. 
With trades like FSLY and RKT already in the books, I'm excited for what's in store.
Click here to learn more about High Octane Options.