Friday's jobs data comes out at 8:30 am EST.
With hardly any earnings or data points before then, the unemployment release should drive this week's market.
But is that actually true?
We're told that economic indicators matter…but do they really?
I want to start this week's jump by taking a look back at all the releases from the start of the pandemic…
Because you might be surprised at what we found.
How jobs Friday impacts the markets
I looked at how markets traded the week of a jobs release during the pandemic and prior.
The results were interesting.
Let me lay out some quick data points for our discussion looking at the 6 recent releases.
On jobs Friday, the market closed higher than the open 3 times and lower 3 times

On jobs Friday, the market closed higher than the prior day's close 4 times and lower 2 times

On jobs Friday, the market closed higher than Monday's open 4 times and lower 2 times
As you can see, there isn't much of a pattern as to whether the market closed higher or lower.
But here's some really interesting stats:
Down Fridays were nearly twice the move of up Fridays 

When down days happened on Friday, they accounted for the majority of the decline for that week

When Fridays were up, they often accounted for a small percentage of the week's gains
In layman's terms – if Friday is a down day, it's usually the worst day of the week.
But, if Friday is an up day, it's usually paltry compared to the rest of the week.
And here's the best stat – only once was the Monday of job's week a down day (last month).
In fact, looking back at the last 11 releases, there has only been a negative Monday twice.
So, if history repeats itself, then Monday should turn out to be a positive day.
However, what we can draw from this data is the following conclusion: Markets tend not to care about the jobs numbers.
If the market was headed lower on the week, the jobs numbers don't reverse it, nor if it was headed higher.
And considering it's a 50/50 split as to how Friday turns out, all we can really say is the downside surprises have had a greater impact than the upside ones.
That's not to say it won't have a larger impact on the economy and outlook over time. But the immediate tradability of it (outside of intraday trading) is negligible.
Focus on this instead
If jobs aren't likely to drive the markets then what is?
That's easy – The Fed.
Just take a look at last week's statements by Jerome Powell to see how his very words shook up the bulls.
Now, without him gabbing to Congress this week, we're left with proxies for what he's thinking.
And the biggest one – the U.S. dollar.
In the last 10-15 years, the dollar hasn't mattered much to equities.
Recently, as in the past month, it's started to have a strong negative correlation to stocks.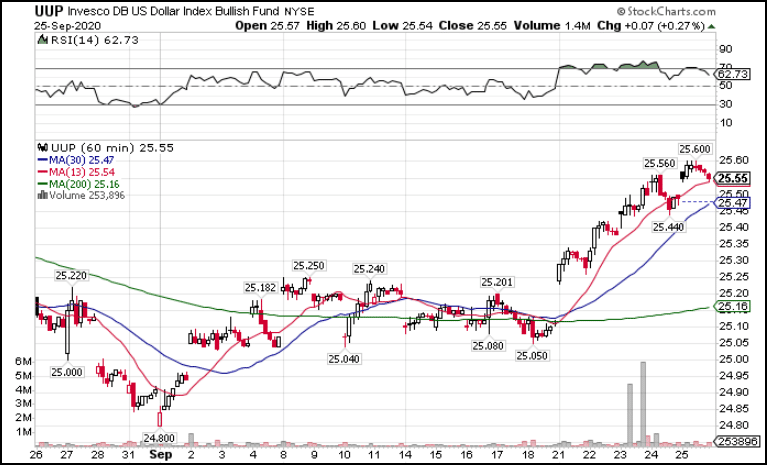 UUP Hourly Chart
Compare this to the SPY chart, and you'll see how they look like polar opposites.
While everyone else is watching the jobs numbers, I'm going to be focused on the good 'ol greenback.
If I wanted to play the US Dollar to the long side, I could use UDN for a bearish bet and the UUP for a bullish bet.
Another option would be to go short the Euro through the EUO.
The Euro makes up a huge portion of the Dollar Index basket. So, if the dollar is moving higher, the Euro tends to move lower.
Now, there's one other storyline that could throw things for a loop, and that's the stimulus.
While it's unlikely Congress pulls it together to pass any legislation, they may find consensus on some skinnied down bill to help out.
In the unlikely event that occurs, it would certainly be seen as a boon for equities.
My number one stock for the week
Last week, I called a long trade in Apple before the market opened on Monday as my Bullseye Trade of the week.
Despite a rocky week, I managed to take a portion of the trade off at +100%* (*See disclaimer below).
This week's trade is shaping up to be another killer.
And there's still time to get in on the action before it's too late.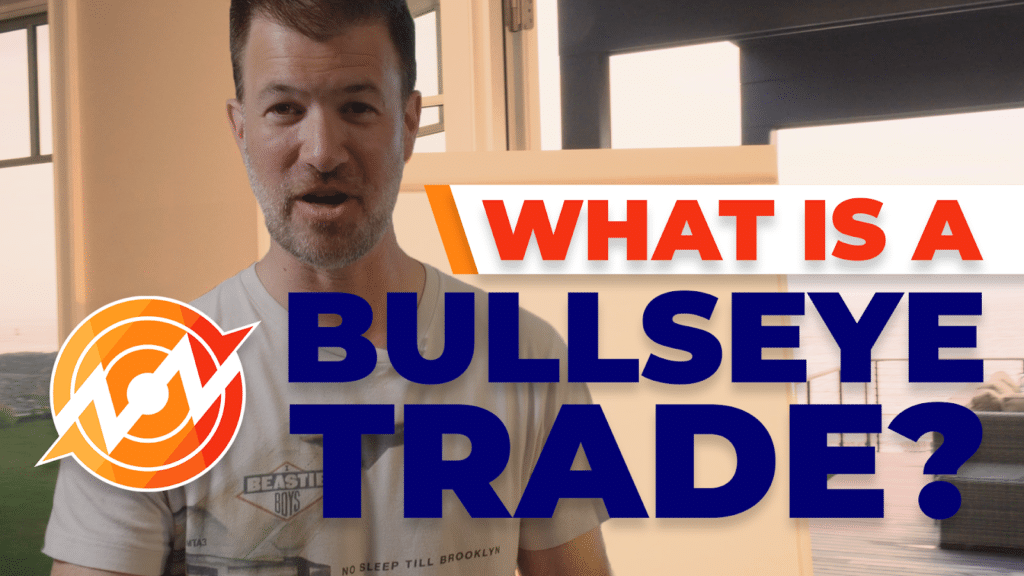 Click here to learn more about Bullseye Trades.
Stocks I want to bet against this week…
BAC, XOM, XLE, XOP, PSX, UNG, CB, LLY
Stocks I want to buy this week…
WMT, ZS, NOW, WORK, CAT, DIS, SPOT, ZM, DKNG, AMZN, AAPL, PTON, ROKU, CHWY, PINS, GRPN, COST, UUP, EUO
This Week's Calendar
Major IPOs: Plaintair Technologies – $11.50
Monday, September 28th
10:30 AM EST – Dallas Fed Manufacturing September

Major Earnings:  Perceptron Inc (PRCP), Thor Indus (THO), United Natural Foods (UNFI).
Tuesday, September 29th
7:45 AM EST – ICSC Weekly Retail Sales

9:30 AM EST – S&P CaseSchiller House Index July

10:00 AM EST – Consumer Confidence September

4:30 PM EST – API Weekly Inventory Data

Major earnings: Mccormick & Co (MKC), Micron Tech (MU),
Wednesday, September 30th
7:00 AM EST – MBA Mortgage Applications Data

8:15 AM EST – ADP Employment Index for September

8:30 AM EST – Q2 GDP Final

9:45 AM EST – Chicago PMI September

10:00 AM EST – Pending Home Sales August

10:30 AM EST – Weekly DOE Inventory Data

Major earnings: None of note
Thursday, October 1st
8:30 AM EST – Weekly Jobless & Continuing Claims

8:30 AM EST – Personal Income & Spending August

8:30 AM EST – Core PCE Price Index August

9:45 AM EST – Markit PMI Manufacturing

10:00 AM EST – Construction Spending August

10:30 AM EST – EIA Natural Gas Inventory Data

Major earnings: Bed Bath & Beyond (BBBY), Conagra Brands Inc (CAG), Pepsico Inc (PEP), Constellation Brands 'A' (STZ).
Friday, October 2nd
8:30 AM EST – September Jobs Numbers

10:00 AM EST – Durable Goods & Factory Orders August

8:30 AM EST – University of Michigan Consumer Sentiment September Final

1:00 PM EST – Baker Hughes Rig Count

Major earnings: None of note
*Results presented are not typical and may vary from person to person. Please see our Testimonials Disclaimer here: https://ragingbull.com/disclaimer