For weeks transportation stocks lagged the broader market.
Of course, they were dragged down by airlines.
Yet, behind the scenes, names like UPS started performing extremely well.
And once President Trump backed more money to the airlines, the whole sector caught fire.
Which is how I took an amazing setup in UPS and turned it into a huge winner in Total Alpha.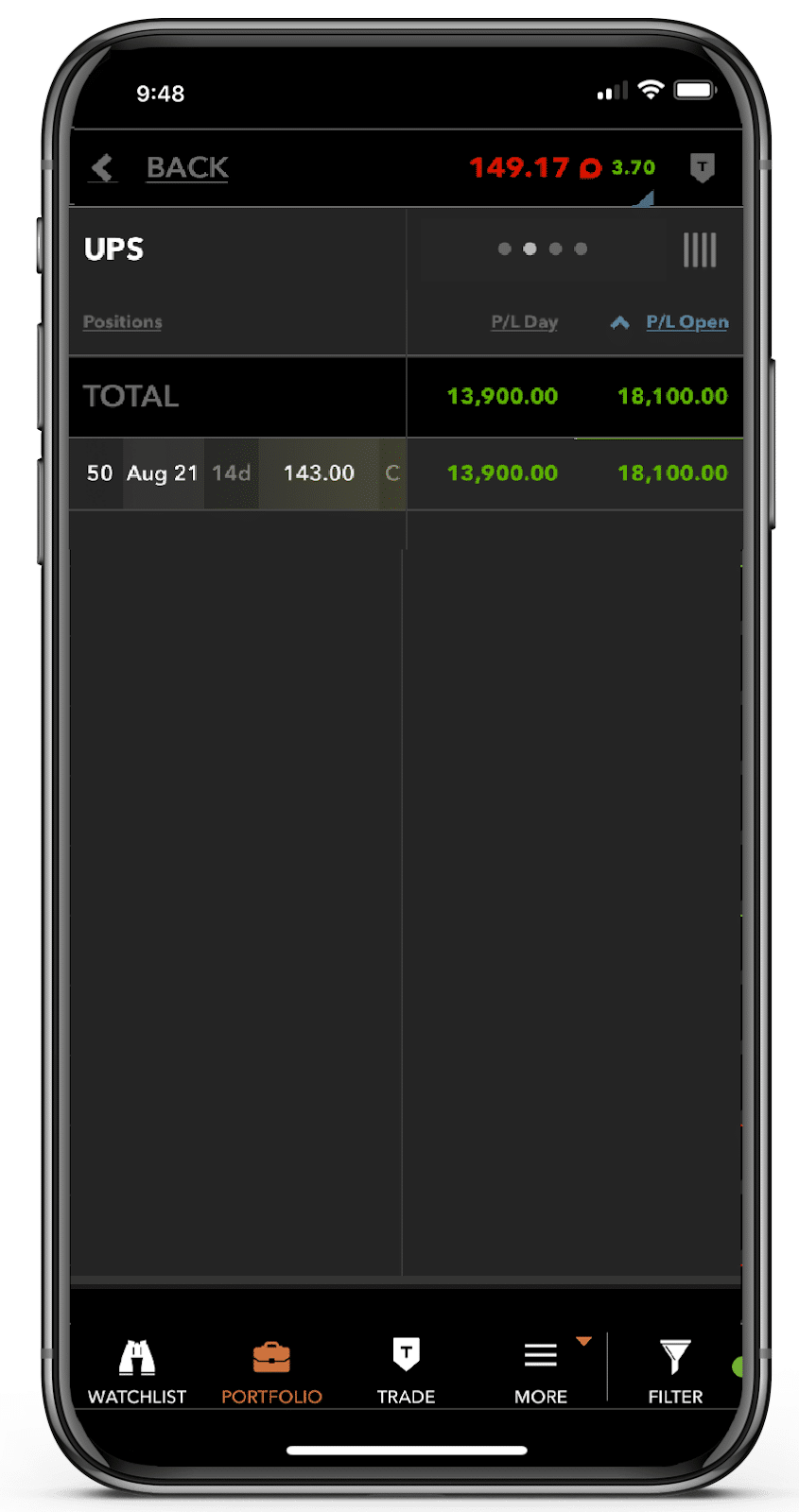 A fantastic trade that took less than 72 hours*
*See disclaimer below
Now, this trade was particularly unique, and one worth dissecting.
Part of these gains were luck from the Trump announcement.
And sometimes these ideas fall flat on their face.
But every chart is an opportunity to look at what we did right and where we can improve.
This one pulls together charts from the transport sector and UPS itself to frame the trade…
…in a most unusual way…
Most of us focused on technology hitting new highs every day.
So, why would anyone bother with looking at the transport?
We all knew that airlines will be lucky to survive, let alone drive share prices higher.
But, what many people failed to notice, including myself for a while, was how strong the trend actually was.
Take a look at this daily chart of the transport sector.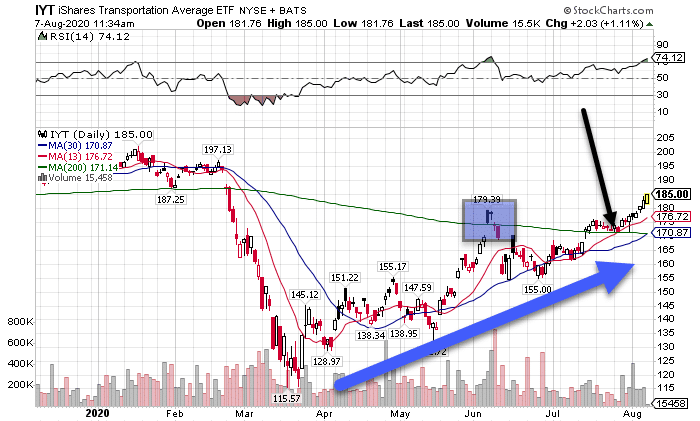 IYT Daily Chart
There's a lot of traders who subscribe to what's known as 'Dow Theory.' It's an older view that says sustained bull markets need the transports to participate.
Most of us ignored these stocks primarily because it took until June for them to show any life.
Now, I want to call your attention to the green line. This is the 200-period moving average. I call this my gravitational line, and it's extremely valuable to my trading.
Learn all about gravitational lines in my Total Alpha Bootcamp.
The first time the transport index hit the 200-period moving average, it fell backward to the 30-period moving average. 
From there, it slowly ridden the 30-period moving average higher until it got back to the 200-period moving average.
Because it took time to get there, the 200-period moving average didn't offer the same resistance as it did the first time.
Instead, the IYT jumped over the indicator and then floated sideways.
This is a common move in a stock's lifecycle I talk about in my Total Alpha Masterclass.
What happens is a stock will often gap up overnight and then take a few days to consolidate before making the next move.
That's when I get a chance to strike while the iron is hot.
Framing the UPS trade
With a sector ETF, there's two choices I go between for a trade: the ETF itself or a component.
More often than not, I prefer to go with the components because they offer more bang for the buck.
So, I started sifting through the charts until I found this one with UPS.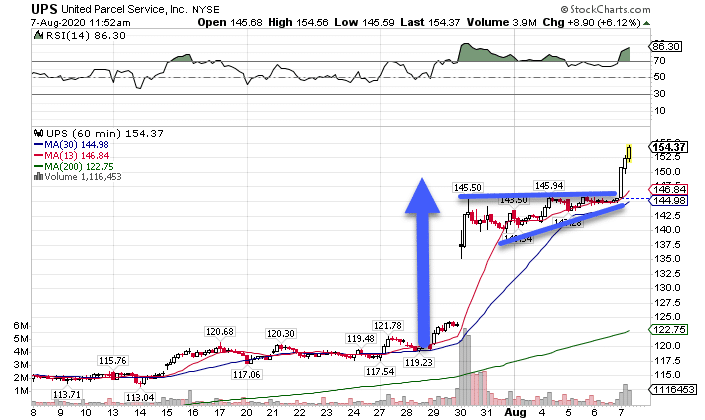 UPS Hourly Chart
This setup is a pretty common one.
Usually driven by some earnings announcement or other news, you get a thrust higher intraday or overnight.
What I then look for is a tightening consolidation.
Using the sold blue lines, I drew trendlines that connect the highs and lows of the candlesticks.
I want to see these heading towards one another or at least running parallel.
It's also a good sign if it stays in the upper end of the trading range as it did here.
Knowing that I had the backing of the broader ETF working for me, I went with call options for this trade.
Now, since I used the hourly chart, I expected the trade to work out in about a week.
So, using my rule of 2x, I went with expirations two weeks out.
For my strike, I grabbed the $143 call options. Typically, I like to go with options that are a little bit in-the-money. That cuts down on the extrinsic value that works against me when I buy options.
The tough part for most newer traders is deciding where to place a stop and set a target.
For me, the stop would be a clear break of the pattern on two or more hourly closes (conservative play) or on a daily basis. This also includes closing below the recent swing low at $140.54.
As for targets, I want to see at least the distance between the high and low of the recent range as a move beyond the range.
IE Take the high minus the low of the range and then add it to the high.
From there, I can either take off the entire trade or a portion and let the remainder try to run higher.
Leverage options to maximize profits
If you've never traded options before, you don't know what you're missing.
I love the versatility and strategy choices they provide to play the market.
A great place to start is with my Bullseye Trade of the week.
Each week, I lay out my best trade idea before markets open on Monday – a trade designed around a gain of +100% on the trade.
Click here to learn more about my Bullseye Trade of the Week.
*RagingBull does NOT track or verify subscribers' individual trading results and these individual experiences should NOT be understood as typical as or representative. Please see our Testimonials Disclaimer here: https://ragingbull.com/disclaimer