It never ceases to amaze me that people continue to short the market during strong uptrends.
Sure, the data doesn't make sense…
There's millions of people unemployed…
And our healthcare system flirts with disaster every day.
But that's not going to stop Jerome Powell from making it rain on equities.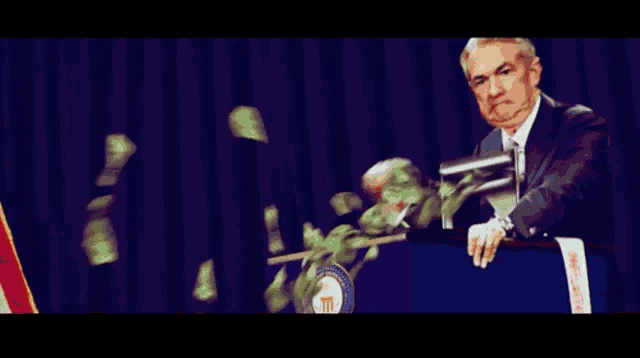 Keep it up J. Pow!
Why should you and I worry?
This is EXACTLY the kind of market traders like us have been waiting for!
Price movement so fierce it should cause nightmares!
Sure, we might get a pull back or even a large correction.
That's why I wrote this Jump on the Week…
To tell you exactly where and what to watch out for.
You know – the key events that could flip the market like a pancake.
Grab a fork and knife and get ready to DEVOUR this delicious information dish.
Ever wondered what this actually means?
The PMI is a survey of businesses along a variety of topics on everything from costs, new orders, employment, to outlook, etc.
Two main places offer PMIs: IHS market and ISM.
The two can differ at times based on their methodology.
ISM tends to favor larger companies than IHS. Additionally, IHS asks respondents to confine their answers to US activity vs ISM.
Take a look at how the ISM PMI dropped compared to the depths of the Great Recession.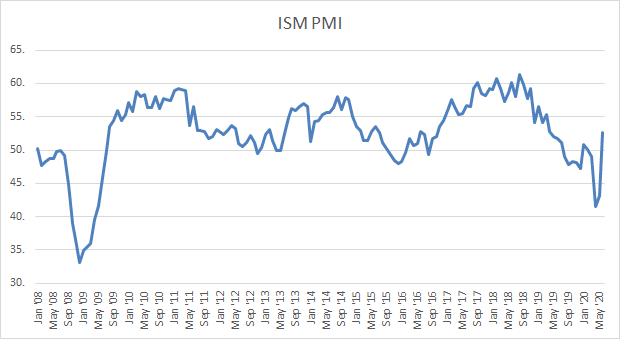 What I find interesting is how the PMI made a 'V' shaped recovery, which is in line with the market's expectations for a rebound.
As we've seen the reopening phases of the U.S. grind to a halt, I'm looking to see how that plays into the manufacturing index releases on Monday.
I don't expect manufacturing in the U.S. or globally to suffer the devastation wrought by 2008, in part because home construction is remarkably robust as well as other capital projects.
As long as these areas continue to remain solid, we'll have a base that keeps the economy from truly cratering.
Jobs Friday
The big question market comes on Friday. Jobless claims remain stubbornly high. Enhanced benefits begin to taper in the coming weeks. Stories abound of people still waiting to be processed through the state and local systems.
Unfortunately, I don't see this changing anytime soon. Any recovery we experience will always be dragged backwards by an enormous amount of unemployment.
Right or wrong, the administration's efforts on trade may reduce alternative avenues of demand, crimping growth in the U.S.
Fed pulls back on free money behind the scenes
After reading the Fed's statement this week, I wanted to comment on a point of contention between hawks and doves.
Some speculated that the Fed would pull back on its support for the markets which have become excessively frothy. Yet, there appeared to be no indication of that from Powell.
However, we are starting to see the Fed's balance sheet shrink ever so slightly.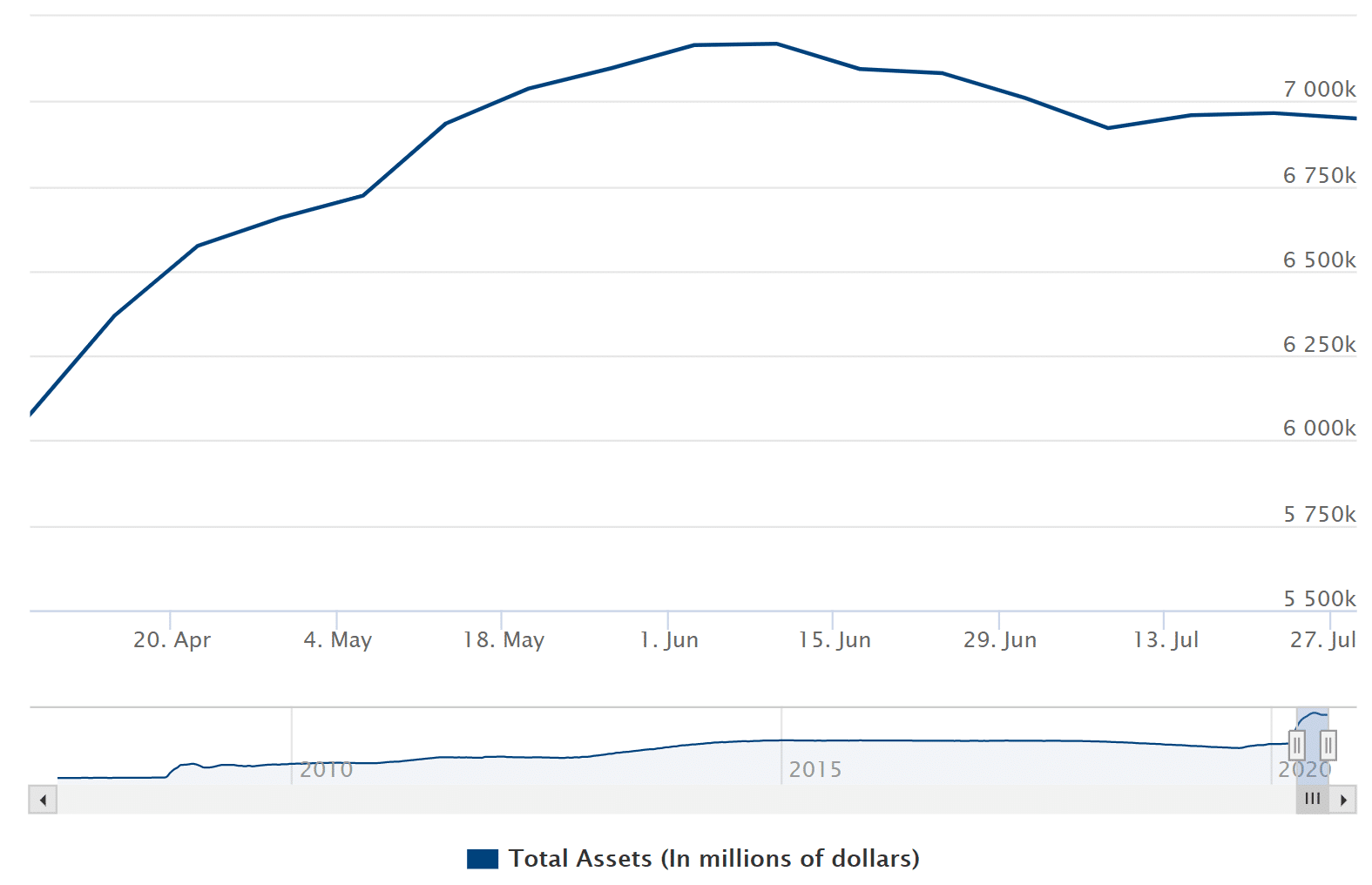 Fed Balance Sheet
In fact, we're down $220B since June 10th, which is nothing to sneeze at.
Those overnight repos (bank borrowings) that went berserk even before the crisis have fallen out of favor as well.
Liquidity swaps (currency exchanges with other countries) has also taken a nosedive. Part of this may have led (or been led) by the drop in the U.S. Dollar.
Unfortunately, the people hurt most by all these actions are the ones who need help the most. 
The Fed's Main Street lending program fell flat. While the stock market is doing great, the garbage savings hurt folks with simple checking and savings accounts – which are held more often by lower-income households.
My biggest fear is they continue this longer than necessary, leading to crap companies surviving and a widening wealth gap.
Playing out in hard assets
Last week gold breached $2,000 an ounce, with the GLD ETF also taking out the high from 2011. At the same time, the dollar index fell in concert with gold's epic rise.
While we're likely to see a pullback here, both gold and the dollar ended at the high and low of the month respectively. That leads me to believe both have further to go on in their trends.
Real estate (XLRE) and exporters like Caterpillar (CAT) benefit the most from the cheaper dollar. 
But the trade has been and remains in the big growth conglomerates. 
Tech companies from Apple and Amazon to Facebook are unstoppable. They fund their operations with dirt cheap debt, allowing them to suck up competition and discount prices.
That's why I'm focusing on the momentum plays – ones that continue to grow during the pandemic like Zoom (ZM). 
The biggest challenge most of these startup companies faced was expensive financing.
But the Fed hasn't blown up that concern.
But my best pick for this week…
Well, that's something you'll have to join Bullseye Trades to find out. 
Laying out my best trade idea, I explain exactly how and why I like the trade and would play it.
All for less than the price of a cup of coffee per day – and we're not talking about the head of the FCC with the comically massive coffee cup.
Click here to learn more about my Bullseye Pick of the Week.
Stocks I want to bet against this week…
SC, DFS, PENN, IWM, SNAP, ROKU, SPOT, WK, EBAY
Stocks I want to buy this week…
MJ (none), DKNG (Aug 21st), PYPL (July 29), OKTA (Aug 26), ZM (Sept 3), TWLO (Aug 4), CVNA (Aug 5), ECL (July 28), CARR (July 30), GDX (none), RNG (Aug 3), NEM (July 30), CLX (Aug 3), VAPO (Aug 3), PTON (Aug 5), SHLL, RH (Sep 8), AVLR (Aug 5), SHOP (July 29), JNJ (Oct 20), MSFT (July 22), TTD (Aug 13), GOOGL (July 30), CRSP (Aug 3), FMCI (Aug 5), BA (July 29), FSLY (Aug 5), WMT (Aug 18), WORK (Sept 2), TWTR (July 23), AVLR (Aug 5), SQ (Aug 5), JD (Aug 11), NET (Aug 6), ADBE (Sept 25)
This Week's Calendar
Monday, August 3rd
9:45 AM EST – Markit US Manufacturing PMI July

10:00 AM EST – ISM Manufacturing Index for July

10:00 AM EST – Construction Spending June

Major earnings: Mack-Cali Realty (CLI), CMS Energy (CMS), Global Payments Inc (GPN), Jacobs Engr Grp (J), Kosmos Energy Ltd (KOS), Loews Corp (L), McKesson Corp (MCK), Marathon Petro Corp (MPC), MPLX LP (MPLX), Noble Energy (NBL), Noble Midstream Partners LP (NBLX), Rambus Inc (RMBS), Timken Co (TKR), Amer Intl Grp (AIG), Apt Inv & Mgmt'A' (AIV), Bruker Corporation (BRKR), Centennial Res Dev Inc Cl A (CDEV), Chegg Inc (CHGG), Continental Resources Inc (CLR), Cirrus Logic (CRUS), CVR Energy Inc (CVI), Essex Ppty Trust (ESS), Diamondback Energy Inc (FANG), Five9 Inc (FIVN), Hyatt Hotels Corporation (H), Harmonic Inc (HLIT), HighPoint Resources Corp (HPR), Invitation Homes Inc (INVH), Intrepid Potash Inc (IPI), Ingersoll-Rand Plc (IR), KLA Corp (KLAC), Leggett & Platt (LEG), The Mosaic Co (New) (MOS), Neurocrine Biosciences (NBIX), National CineMedia Inc (NCMI), Realty Income (O), Regency Centers (REG), Ringcentral Inc (RNG), Range Resources (RRC), SBA Communications'A' (SBAC), Virgin Galactic (SPCE), Tenet Healthcare (THC), Trex Co Inc (TREX), Take-Two Interactive Software (TTWO), Texas Roadhouse Inc (TXRH), Veeco Instruments (VECO), Vornado Realty Trust (VNO), Viper Energy Partners LP (VNOM), Valvoline Inc (VVV), Williams Companies (WMB), YRC Worldwide Inc (YRCW).
Tuesday, August 4th
7:45 AM EST – ICSC Weekly Retail Sales

10:00 AM EST – Factory & Durable Goods Orders June

4:30 PM EST – API Weekly Inventory Data

Major earnings: AMC Networks Inc Cl A (AMCX), Ametek, Inc (AME), Aramark (ARMK), Allegheny Technologies (ATI), Cinemark Hldg Inc (CNK), Emerson Electric Co (EMR), Edgewell Personal Care Company (EPC), Equitrans Midstream Corp W/I (ETRN), Evofem Biosciences Inc (EVFM), Exelon Corp (EXC), Expeditors Intl of Washington (EXPD), Fidelity National Information (FIS), IAA Inc (IAA), Incyte Corp (INCY), Inphi Corporation (IPHI), Gartner Inc (IT), JELD-WEN Hldg Inc (JELD), KKR & Co Inc (KKR), Karyopharm Therapeutics Inc (KPTI), Leidos Hldg Inc (LDOS), Lear Corporation (LEA), Louisiana-Pacific Corp (LPX), NuStar Energy LP (NS), R1 RCM Inc (RCM), Resideo Tech Inc W/I (REZI), Ralph Lauren Corp. (RL), Sunstone Hotel Investors Inc (SHO), Spirit Aerosystems Hldgs Inc (SPR), TransDigm Grp Inc (TDG), Tetra Technologies Inc (TTI), U S Concrete Inc (USCR), Vulcan Materials (VMC), Vishay Intertech (VSH), WEC Energy Group Inc (WEC), Westrock Co (WRK), Zimmer Biomet Hldgs Inc (ZBH), Acorda Therapeutics Inc (ACOR), Allstate Corp (ALL), Allison Transmission Hldg (ALSN), Arista Networks (ANET), Activision Blizzard Inc (ATVI), Biomarin Pharmaceutical (BMRN), Boot Barn Hldgs Inc (BOOT), Beyond Meat Inc (BYND), Cardlytics Inc (CDLX), CNO Finl Grp, Inc. (CNO), Callon Petro (CPE), Disney (Walt) Co (DIS), Delek US Holdco Inc (DK), Evolent Health Inc (EVH), Everi Hldgs Inc (EVRI), FMC Corp (FMC), Twenty-First Century Fox Inc A (FOXA), Green Dot Corporation (GDOT), Glue Mobile Inc (GLUU), LendingClub Corp (LC), Luminex Corp (LMNX), Microchip Tech (MCHP), Monster Beverage Corporation (MNST), New Relic Inc (NEWR), Nikola Corp (NKLA), NeoPhotonics Corporation (NPTN), O-I Glass Inc (OI), Owens & Minor Inc (OMI), Plains All American Pipeline (PAA), Planet Fitness Inc (PLNT), Prudential Finl (PRU), ProPetro Hldg Corp (PUMP), Pioneer Natural Resources (PXD), Rigel Pharmaceuticals (RIGL), Triumph Grp (TGI), Twilio Inc Cl A (TWLO), Unisys Corp (UIS), Upwork Inc (UPWK), Verisk Analytics Inc (VRSK), Western Union Co (THE) (WU), WW International Inc (WW), Wynn Resorts Ltd (WYNN).
Wednesday, August 5th
7:00 AM EST – MBA Mortgage Applications Data

9:45 AM EST – Markit Composite & Services PMI July

10:00 AM EST – ISM Non-Manufacturing July

10:30 AM EST – Weekly DOE Inventory Data

Major earnings: AmeriSourceBergen Corp (ABC), Borg Warner (BWA), CDW Corp (CDW), Chimera Invt Corp (CIM), CVS Health Corp (CVS), Discovery Inc Ser A (DISCA), e l f Beauty Inc (ELF), Energizer Hldgs Inc (ENR), Evergy Inc (EVRG), Cedar Fair L.P. (FUN), Barrick Gold Corp (GOLD), Harsco Corp (HSC), Humana Inc (HUM), Horizon Therapeutics PLC (HZNP), KAR Auction Svcs Inc (KAR), Lumber Liquidators Hldgs Inc (LL), Moderna Inc (MRNA), MGIC Inv (MTG), Nisource Inc (NI), Nielsen Hldgs Plc (NLSN), Nexstar Media Grp Inc Cl A (NXST), New York Times'A' (NYT), Office Depot (ODP), Regeneron Pharmaceuticals (REGN), Sinclair Broadcast Grp'A' (SBGI), Sonos Inc (SONO), Sempra Energy (SRE), Sarepta Therapeutics Inc (SRPT), Stratasys Ltd (SSYS), Vericel Corp (VCEL), Wayfair Inc (W), Energous Corporation (WATT), The Wendy's Co (WEN), Wolverine World Wide (WWW), ACADIA Pharmaceuticals Inc (ACAD), Adma Biologics Inc (ADMA), ADT Inc (ADT), Albemarle Corp (ALB), Alarm.com Hldgs Inc (ALRM), Digital Turbine Inc (APPS), Arlo Technologies Inc (ARLO), Arena Pharmaceuticals Inc (ARNA), Atmos Energy Corp (ATO), American Water Works Co Inc (AWK), Ceridian HCM Holding Inc (CDAY), Century Aluminum (CENX), CF Industries Hldgs Inc (CF), Change Healthcare Inc (CHNG), CenturyLink Inc (CTL), Carvana Co Cl A (CVNA), Camping World Holdings Inc (CWH), 3D Systems Corp (DDD), Amdocs Ltd (DOX), Energy Transfer L.P. (ET), Etsy Inc (ETSY), Fiserv Inc (FISV), Fitbit Inc (FIT), Fastly Inc (FSLY), Glbl Blood Therapeutics Inc (GBT), GoDaddy Inc (GDDY), Healthcare Realty Tr (HR), Hersha Hospitality Trust Cl A (HT), HubSpot Inc (HUBS), Immunomedics Inc (IMMU), Infinera Corp (INFN), Inseego Corp (INSG), Lincoln Natl Corp (LNC), Live Nation Entertainment, Inc (LYV), Maxar Tech Ltd. (MAXR), MBIA Inc (MBI), Metlife Inc (MET), Marathon Oil Corp (MRO), NU Skin Enterprises'A' (NUS), Nuance Communications Inc (NUAN), New York Mortgage Trust Inc (NYMT), Omega Healthcare Investors Inc (OHI), Olin Corp (OLN), Orasure Technologies (OSUR), Parsley Energy Inc (PE), Resmed Inc (RMD), Roku Inc Cl A (ROKU), Tanger Factory Outlet Centers (SKT), SunPower Corp (SPWR), Square Inc (SQ), Synaptics Inc (SYNA), Tivity Health Inc (TVTY), Hostess Brands Inc Cl A (TWNK), Two Harbors Inv Corp (TWO), Varian Medical Systems Inc (VAR), Voya Finl Inc (VOYA), Western Digital (WDC), Western Asset Mortgage Cap (WMC), Zogenix Inc (ZGNX), Zynga Inc Cl A (ZNGA).
Thursday, August 6th
8:30 AM EST – Weekly Jobless & Continuing Claims

10:30 AM EST – EIA Natural Gas Inventory Data

Major earnings: Abiomed, Inc (ABMD), Adient plc (ADNT), AMAG Pharmaceuticals Inc (AMAG), Biocryst Pharm'l (BCRX), Becton, Dickinson (BDX), Ball Corp (BLL), Bristol-Myers SQUIBB (BMY), Cincinnati Bell (CBB), Centerpoint Energy (CNP), Editas Medicine Inc (EDIT), Flir Systems (FLIR), Fortinet Inc (FTNT), Gannett Co Inc (GCI), The GEO Grp Inc (GEO), Turtle Beach Corp (HEAR), HollyFrontier Corporation (HFC), Hecla Mining (HL), Hilton Worldwide Hldg Inc (HLT), Iron Mountain Inc REIT (IRM), KBR Inc (KBR), Lamar Advertising Co Cl A REIT (LAMR), Murphy Oil Corp (MUR), Mylan NV (MYL), News Corp Cl A (NWSA), Penn National Gaming (PENN), Parker-Hannifin Corp (PH), Quanta Svcs (PWR), Papa John's Intl (PZZA), ServiceMaster Glbl Hldgs Inc (SERV), Tenneco Inc (TEN), Titan Intl (TWI), Vonage Hldg Corp (VG), ViacomCBS Inc Cl B (VIAC), Vista Outdoor Inc (VSTO), Westlake Chemical Corp (WLK), Dentsply Sirona Inc (XRAY), YETI Holdings Inc (YETI), Zoetis Inc (ZTS), Applied Optoelectronice Inc (AAOI), Axon Enterprise Inc (AAXN), Ameren Corp (AEE), Apollo Inv Corp (AINV), Air Lease Corp (AL), Appian Corp Cl A (APPN), Brighthouse Finl Inc (BHF), Booking Hldgs Inc (BKNG), Cargurus Inc (CARG), Clovis Oncology Inc (CLVS), CubeSmart (CUBE), Caesars Entertainment Corp (CZR), Dropbox Inc (DBX), Datadog Inc (DDOG), DXC Technology Company (DXC), Consolidated Edison (ED), EOG Resources (EOG), Everbridge Inc (EVBG), Fleetcor Technologies Inc (FLT), Funko Inc (FNKO), First Solar Inc (FSLR), GENPACT LIMITED (G), GoPro Inc Cl A (GPRO), Groupon Inc (GRPN), Hannon Armstrong Sustainable (HASI), Herbalife Ltd (HLF), Illumina Inc (ILMN), Iovance Biotherapeutics Inc (IOVA), Jack In The Box Inc (JACK), Livongo Health Inc (LVGO), Mohawk Indus (MHK), Motorola Inc (MSI), CloudFlare Inc (NET), Nektar Therapeutics (NKTR), Puma Biotech Inc (PBYI), The RealReal Inc (REAL), Rapid7 Inc (RPD), Repub Svcs Inc (RSG), SailPoint Tech Hldg Inc (SAIL), T-Mobile US Inc (TMUS), TripAdvisor Inc When-Issued (TRIP), Uber Technologies Inc (UBER), Waste Connections Inc (WCN), Yelp Inc (YELP), Zillow Grp Inc Cl A (ZG).
Friday, August 7th
8:30 AM EST – July Jobs Report

10:00 AM EST – Wholesale Inventories June

1:00 PM EST – Baker Hughes Rig Count

Major earnings: Essent Grp Ltd (ESNT), Kimco Realty Corp (KIM), Natl Fuel Gas (NFG), New Jersey Resources (NJR), Radian Grp (RDN), Sabre Corp (SABR), Interface Inc (TILE), Virtu Finl Inc Cl A (VIRT).