Every great investor has a nickname.
Warren Buffett is the "Oracle of Omaha."
Thomas Rowe Price became the "Father of Growth Investing."
Peter Lynch is the "Chameleon."
And George Soros is simply known as "The Man Who Broke the Pound."
In the world of startup investing, there may be no more iconic name than "Mr. Wonderful."
Kevin O'Leary has established himself as one of the world's top venture capitalists. 
The hit TV show Shark Tank – where you can find him in the center seat of every pitch – reaches millions of viewers around the world. 
He has built one of the most successful Angel portfolios in the world. 
And he's always looking for new ideas and new opportunities.
If only there were a way to tap into his secrets in picking the best startups in the world.
If you love Angel investing, there's no one on the planet you want to hear from more than Kevin O'Leary. 
Kevin is a titan – he's been leading the worldwide phenomenon that is Shark Tank since 2009. 
Since the onset – he has personally invested in more than 50 companies.
So, what exactly is KEVIN O'LEARY – Mr. Wonderful – looking for in a company?
That's the subject of our conversation with him this week. This week, Kevin joined us live in The Boardroom to discuss his strategies when he decides to invest in a startup. 
During our exclusive chat, Kevin outlines the type of entrepreneur, the type of products, and the specific sales channels that he seeks before he hands over a check to a startup. 
But there's more to this conversation. 
A special bonus.  
You can now invest right alongside Mr. Wonderful…
It's a deal that checks off every single box in his very narrow, and strict list of rules when he bites on Shark Tank deal.
Lessons from Mr. Wonderful
Kevin O'Leary needs no introduction. 
An startup investing legend, he sits in the center seat every week for pitches on the ABC hit show Shark Tank. Since 2009, he's invested in more than 50 startups and helped build some great brands. 
This week, Kevin joined us this week to talk about his experience as an investor in startups. 
We talked about his favorite business model…
Dove into the powerful phenomenon that is Shark Tank…
And, best of all, we talked about the tremendous upside of his latest investment – mcSquares – and how you can invest right alongside him in this incredible company.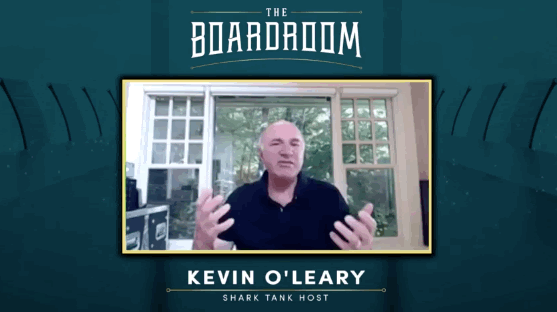 It was one of the best conversations in the history of The Boardroom. 
The Right Idea for the Right Investor
One of the great things about Kevin…
He knows exactly what entrepreneurs feel like when they're standing in front of dozens of cameras making their pitch on Shark Tank. 
Kevin got his start as an entrepreneur, building a Canadian tech company out of a basement in 1986. 
He famously turned a $10,000 investment to seed a company SoftKey Software Products. He successfully convinced big technology companies to bundle his software with their hardware products. That sounds like a no brainer, but it was revolutionary at the time.
His personal startup's success helped launch a remarkable career that has now spanned decades. 
Today, he's the face of one of the most popular television shows in the world. 
And he's the latest investor in a company called mcSquares, a revolutionary whiteboard system startup that The Boardroom invested in before it appeared on Shark Tank. 
mcSquares founder Anthony Franco says that Kevin could add upwards of $4 million in value to the startup. [And you can still join the latest deal round for mcSquares right here at Angel Investing Insider.]
But more importantly, Kevin says that Anthony is one of the rare entrepreneurs that pique his interest and make him jump headfirst into an opportunity. 
What is Kevin Looking For?
Kevin's always looking for companies that fit into HIS portfolio and his philosophy. 
He's always thinking about how a new investment aligns with everything else he owns. 
But one of the key starting points is his focus on the entrepreneur. 
But he always focuses on the entrepreneur.
When companies face new challenges, they successfully pivot. He places a significant focus on the entrepreneur's ability to pivot and execute.
With mcSquares, for example, Anthony Franco's company has thrived despite all of the challenges facing the economy. After all, Anthony was able to land back-to-back investment deals with the Boardroom and Shark Tank. 
O'Leary wants every entrepreneur to pitch their idea and explain how their idea solves a problem within 90 seconds.
When talking about Anthony, Kevin says he has a "Great idea" and a "great track record."
And that's for sure. Anthony has already started and exited four startups successfully. 
The Inside Track
Kevin isn't just looking for a good idea or a good product. 
He wants to know where the entrepreneur fits into the Kevin O'Leary portfolio.
Kevin wonders how the company might fit into his sustainability model? 
He explores if it aligns with the kinds of products and services he has already sold? 
He also wants to know that he has an existing user base he can sell to?
Only if that entrepreneur checks out will he – perhaps the most ruthless shark – bite. 
Kevin is seeking a good family vibe when he chooses to work with them. And he likes it when these companies do their diligence on him as well. 
But there's a "Secret Sauce."
When it comes to investing in a specific entrepreneur, Kevin also says that he is always looking for founders with incredible executional skills. 
There are many factors that a startup can't control. So, they have to know how to re-brand, tweak their products, start new products, or completely change their business model. 
Simply put, they have to know how to pivot if they're going to survive and thrive. 
While doing his diligence, Kevin realized that Anthony has that ability. 
Anthony was able to restructure his operations to ensure that all production was done in-house. Since other manufacturers were stalling, he needed to take this risky and expensive undertaking to ensure his company would succeed.
Today, the company is pumping out a high margin product with fewer headaches. 
After the Entrepreneur
Kevin also discussed his favorite business model. 
In today's economy – with COVID wreaking havoc on retail – the answer should come as no surprise. 
Kevin is looking for companies that sell direct-to-consumer over digital channels. 
Shark Tank provides instant fame to companies and their products. And the ones that can sell directly to the customer without a middleman and slow supply chain will produce big margins and bigger profits. 
Of course, these aren't the only lessons that Kevin outlined this week. 
He also talks about the reasons why certain investments fail, how acquisition costs impact his investments, and what he thinks about the regulations that have allowed ordinary investors to profit on startups like mcSquares [Hint: He's very optimistic about Angel Investing].
But the best takeaway is how you can tap into mcSquares and join him in this one-of-a-kind company that checks every box on his list. You can get started, here.