I'm excited to share with you something special today.
Recently, RagingBull added a new guru who specializes in technical (chart) analysis.
Here's what I found truly fascinating about our interview.
His analysis doesn't get caught up in what you 'think' the market should do or how it 'should' act.
Everything he looks at comes right off the charts in black and white.
I don't care if you've never heard of technical analysis, think its hogwash, or are a seasoned pro.
This interview has something to teach you.
And some amazing insights into what's to come.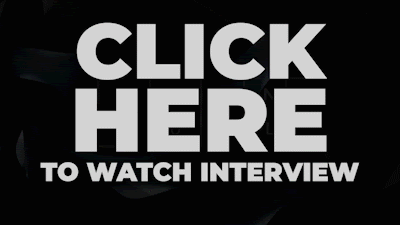 Click here to watch the interview

JC and I covered everything from gold to Draftkings, challenging one another on our assumptions and views.
Some of the points are crucial to trading the markets in the coming months.
So, let's expand on a few of those and see how we can turn those into trade ideas.

JC made one of the best statements I've heard about the stock market:
"Remember it's not a stock market, it's a market of stocks."
This came up as we discussed the strength of the current move and putting it in context.
While a lot of us think the market is set to fall apart, JC actually thinks we're in another bull leg. And his logic is pretty sound.
We typically look at stocks making new 52-week highs as a way to analyze the market. With the rout in March, that doesn't make a lot of sense.
When you take it down to a 90-day, things start to look a lot different.
Yes, the market has been lead by a few companies. But as JC noted, that's pretty normal for bull legs.
And really, would you want Lebron to be one of your top shooters or the 6th man?
Rotation

One of the best segments was our discussion about the recent sector rotation.
JC threw up this graph that I thought was extremely insightful.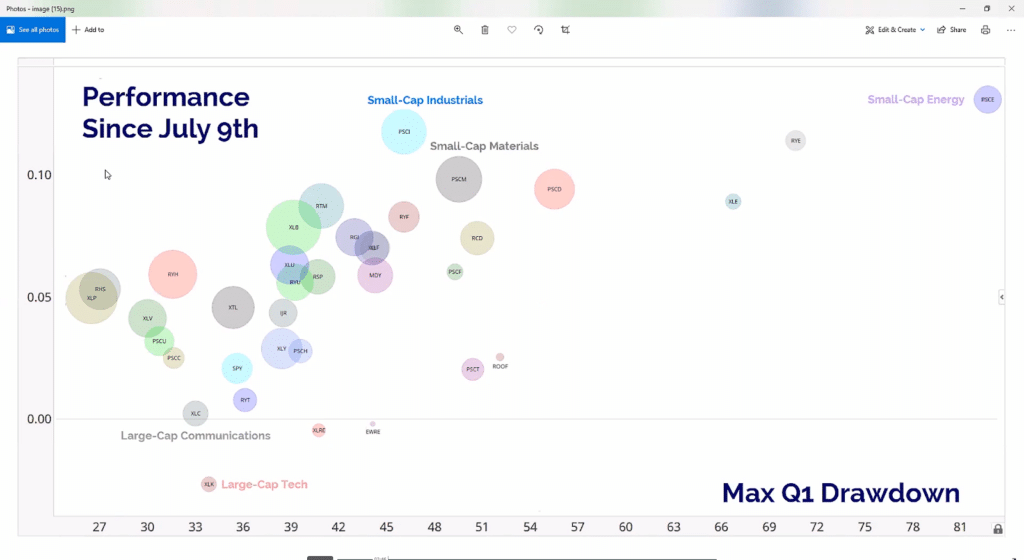 This plot lays out the relative gains of various sectors since July 9th.
Would you have picked small-cap industrials as one of the big winners?
If you had been paying attention to my newsletters of late, you would have learned about the dollar getting cheaper.
This feeds into why industrials, who tend to export, are outperforming the rest of the market.
One thing we discussed was why this wasn't hitting stocks like the airlines and restaurants – the ones that got hit the hardest.
JC made a great observation.
Those stocks stink, no question about it.
But, they aren't trading lower. 
For the most part, all of these stocks are moving sideways. In fact, bears had plenty of opportunity in July to drop the banks lower and they didn't. 
That shows there is some feeling by investors (or at least the Fed) that we will eventually recover.
And there's a lot to that point.
Markets bought a lot of time by treading water here. We're heading into August, where schools start back up, in-person or not.
Many of the drug companies from Moderna to Astrazeneca began phase three trials on the vaccine that shoud show results in 90 days.
Reasonable estimates would suggest that we start seeing wide distribution and inoculation of the population in Q1 of next year.
With markets forward-looking, there's every reason to believe that we could simply hold here for the time being.
A really interesting point he brought forward was the deterioration of the bull sentiment in mid-January of this year. That's not to suggest that markets respected COVID.
But, it highlights how we weren't seeing broad bullishness in stocks even as indexes hit new highs in February.
Now, the same could certainly be said about what we're seeing now. And if we don't start seeing other areas pick up the slack, or even worse, breadth deterioration, then we're in for some trouble.
Precious metals

After gold and silver made enormous moves, I asked JC if he thought the trades still had legs.
Keep in mind, he looks out weeks and months.
Looking at the charts, he brought up some interesting points about the gold to silver ratio.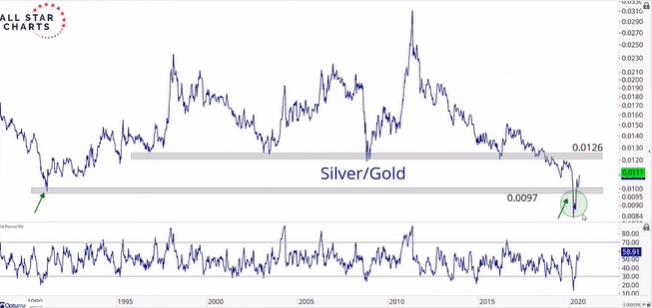 What JC pointed out was how the depth of the move in March really set the stage for a huge rally in both metals. In fact, the miners created a really nice base over the last few years.
While these areas are a little extended in the short-term, long-term, they still look pretty darn good.
Now, I've given you a lot to digest here. There's plenty of ways to trade these trends.
For me, that starts with options.
And a great place to learn about them is with my High Octane Options.
In fact, I happen to have one in a silver ETF right now – something members got alerted to when I took the plunge.