It took the NASDAQ nearly two decades to recover after the dot com bubble burst. 
Despite the economy being in the dumps and a pandemic which is showing no signs of ending anytime soon…
The NASDAQ is at record highs again.  
Are many of the stocks listed in the composite overvalued?XLF, 
You betcha….
So would I jump in front of this electric locomotive?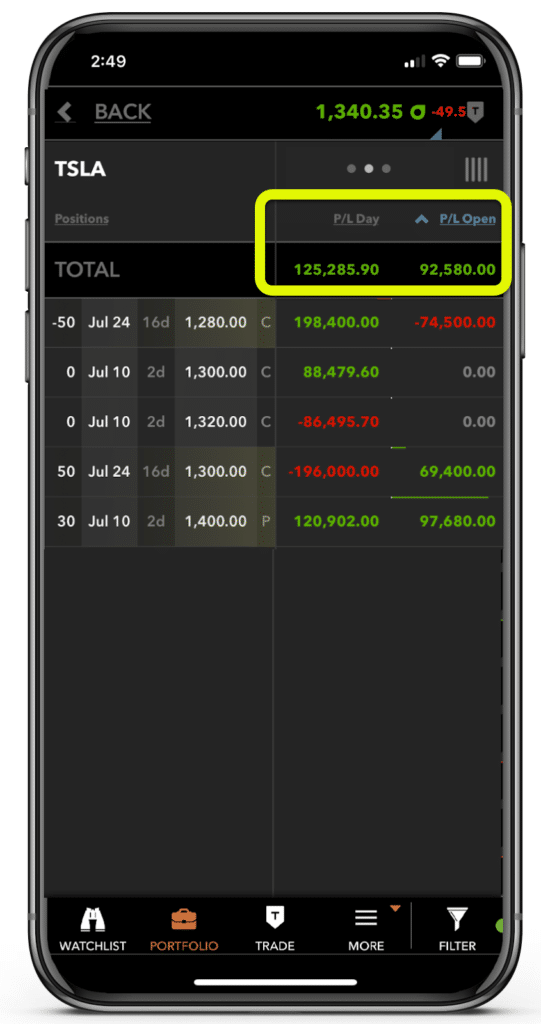 If the trade is right, heck yeah I would!*
*Please see disclaimer below
Because for me, it's a trade, not an investment. 
And In this trading environment, moment and price action rule the day. 
Traders have been crying Tesla is overvalued—1,000 points ago. 
However, I believe we'll see a top soon in many of these NASDAQ names…
….allow me to explain why. 
Everyone wants to be the one to clean they picked off the top – that they shorted the market to the very tick.
Let me tell you something. History is littered with the bodies of such heroes.
Sure they were always one or two firms or economists that hit the nail on the head. But most of us smash our thumbs instead.
As traders, we want to make money. That is the ultimate arbiter of our truth.
Which is why I prefer to wait for a topping signal. Actually, I like to see a few of them and from different schools of thought.
For instance, let's look back at the last time Tesla topped out.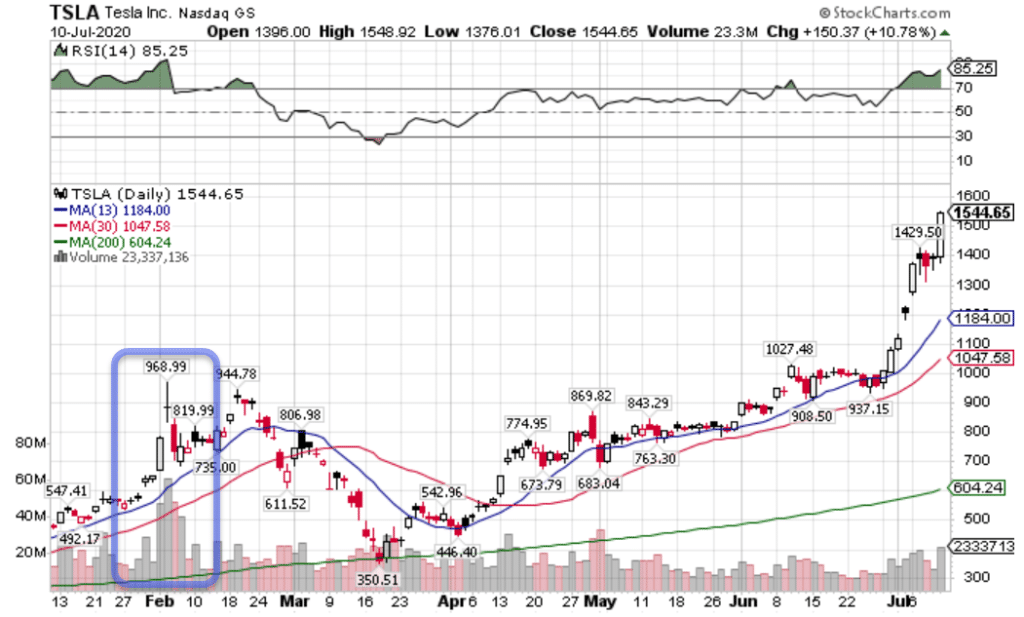 TSLA Hourly Chart
One obvious element should stand out to you – the volume.
Stock price climaxed when more than two times the daily average number of shares exchanged hands.
Maybe we get something like that. Or maybe it's another type of reversal on strong volume.
Whatever it is, I want to make sure that it is clear and gives me something to trade against.
I also like to look at general sentiment, not just on the individual stocks, but on the general amount of insanity permeating the market.
When I look at stocks like Nikola (NKLA) becoming multi-billion dollar market caps overnight without a dollar revenue to their name, I start to wonder where the stupidity ends.
Somethings gotta give
The first shot across the bow doesn't have to come from the NASDAQ. In fact, I think we're already seeing warning flags pop up in a few other areas.
Let's start with the fact that the Russell 2000 small caps index, a traditional leader doing growth cycles, has as much energy as a coma patient.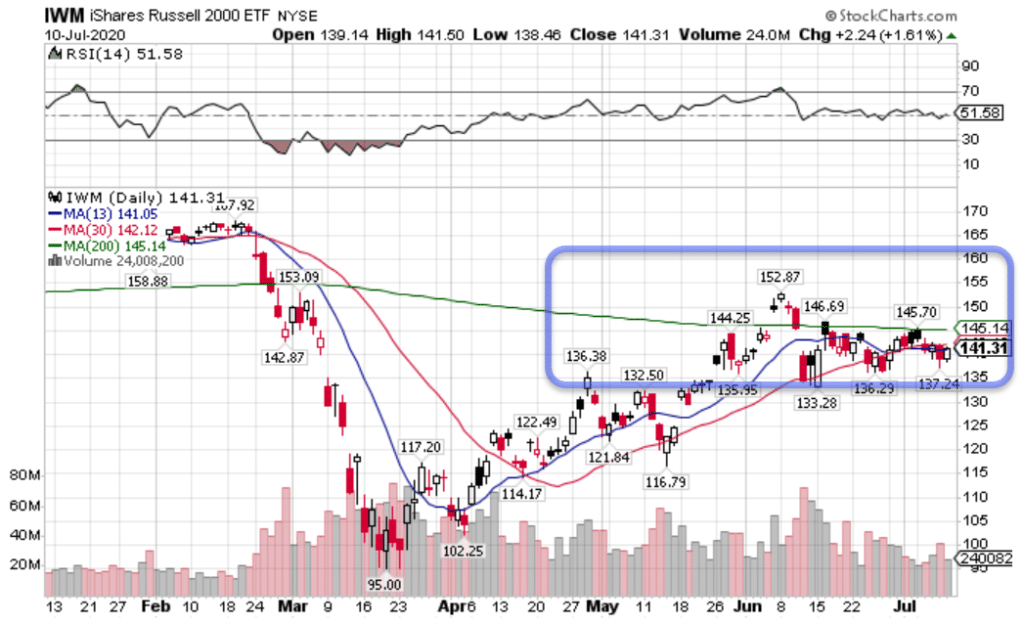 IWM Daily Chart
Look at how it just sits right below the 200-period moving average, the Optimus Prime of moving averages.
If you don't know why then click here to learn why the 200-period moving average is so important.
With as much time as it's spent going sideways, it should be ready to explode to the upside.
Yet, week after week it languishes while the Nasdaq makes new highs and the S&P 500 gets ever closer.
And that's on top of financials looking just horrendous.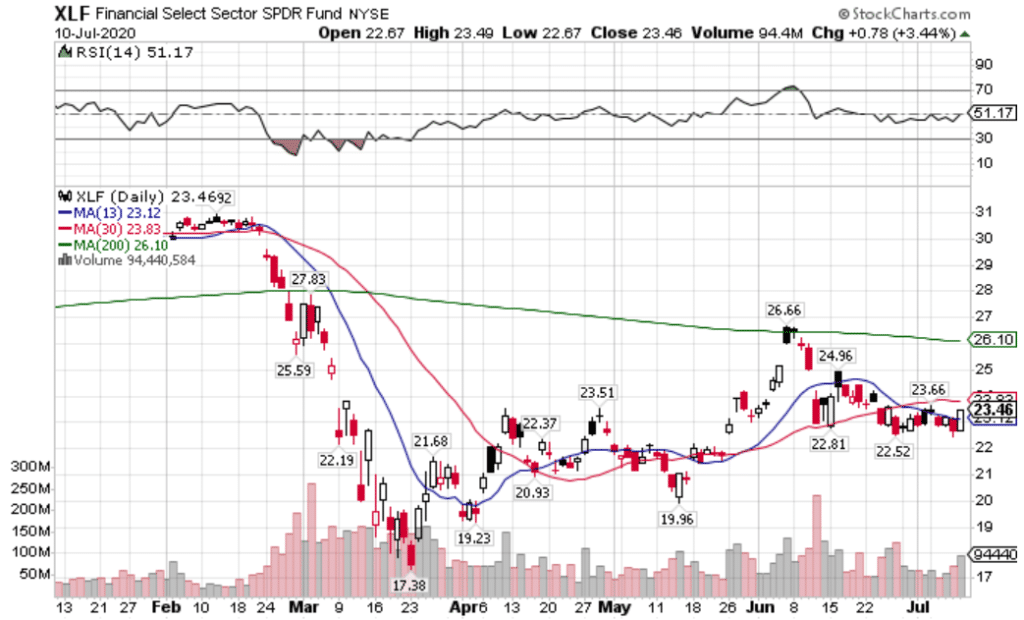 XLF Daily Chart
Major banks reporting earnings this week should give us some clue to the state of the economy and this sector in particular.
But, I can't see things continuing higher without these guys and the small caps coming along.
Honey badger don't care
It amazes me to watch equities continue climbing alongside gold and to some extent treasuries. The last time they all did this it ended badly.
Gold already hit multi-year highs and probably has much further to go.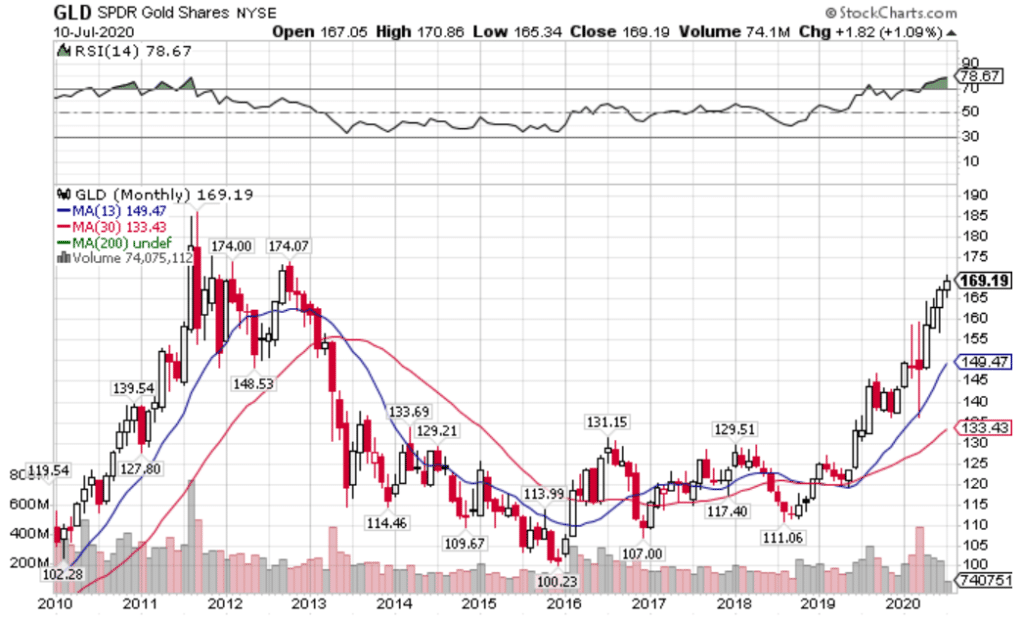 GLD Monthly Chart
Even after a ridiculous run, it hasn't shown any signs of slowing down. That's why I've been betting on call options in the gold miners ETF GDX, which paid out quite nicely the last few weeks.
And I plan to keep with this trade until the merry-go-round stops.
Don't be a hero, be a trader
At some point, the market always corrects. It just usually happens after it's already blown up most traders' accounts.
So, let's make a pact for that not to happen to us.
Instead, let's focus on becoming better traders and making smarter decisions.
Let's educate ourselves on understanding the market and strategies to work it in our favor.
Do yourself a favor and sign up for my free Total Alpha Options Masterclass. 
It's a great way to pump up your knowledge without needing to leave your home.
Click here to learn more about my Total Alpha Options Masterclass.