Warren turns to Elon and says, "I own this place. Bought it back in 2008. Made me a lot of money."
Elon looks at Warren. "That's neat. But you know what the difference is between you and me?"
"What's that," says Warren.
"About $1.3B."
According to the Bloomberg Billionaires Index, Elon Musk's surpassed that of Warren Buffet last week to make him the 7th richest person in the world.
To be fair, Warren's given a lot of money away to charity, and Jeff Bezos could crush both of them with his wallet.
Yet, it highlights the lunacy of this market.
In the last 12 months, General Motors took in $135B in revenue and $4.7B in net income. It has a market capitalization of $34.9B.
Tesla, on the other hand, grabbed $26B in revenue with -$0.136B in net income. 
Their market cap…$286.33B
This week's jump focuses on fantastical stories like these along with critical market moving headlines and events.
Because knowing how to combine the story and chart analysis helped me cash in one of my biggest trades of the year!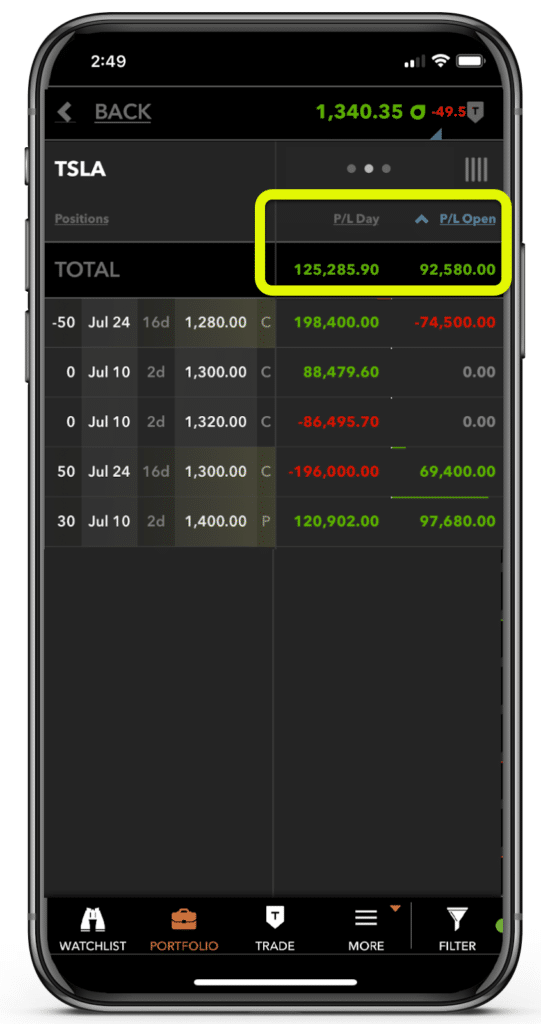 *Please see disclaimer below
But, stories and charts aren't much use unless you understand what to look for…
Which is why going over examples help…
…and why I created this video lesson on the trade.
Valuation shmaluation
I'm old enough to remember when analysts and investors looked at what a company earned.
They'd sit down with a slide rule (ok maybe not that old) and create discounted cash flow analysis and look at earnings stability.
Then we got this thing called the 'internet.'
…and everything changed.
Companies saw multi-million and billion-dollar valuations based on clicks and eyeballs. No one cared that they never earned a single penny or sold a thing…
Until they did.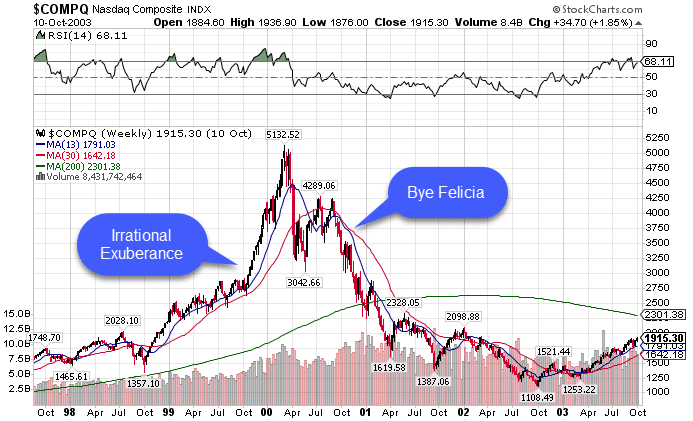 Nasdaq Composite Weekly Chart
Let me point out something real quick – the green line 200-period moving average.
That is a great indicator to use in trading, which I talk all about here.
Today's market hold so many parallels, they might as well be twins.
Real ones, not like Arnold Schwarzenegger and Danny Devito.
I mean, look at the price action in Nikola (NKLA) which is still months/years away from a dime of revenue…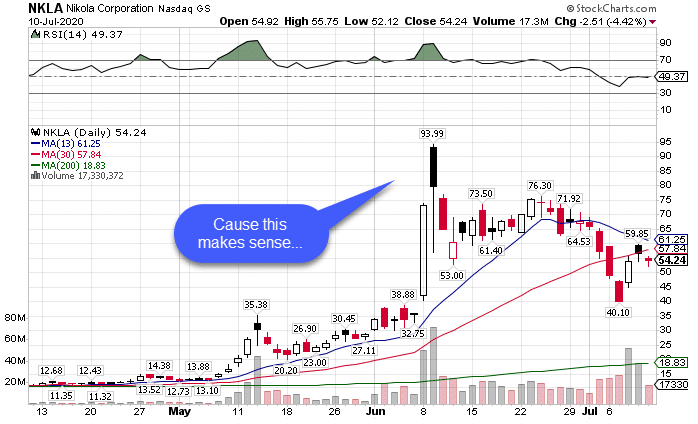 NKLA Daily Chart
And don't get me wrong, Milton is a great CEO. He was a fabulous guest during his interview we did for Raging Bull Elite members.
But a market cap of 19.58B…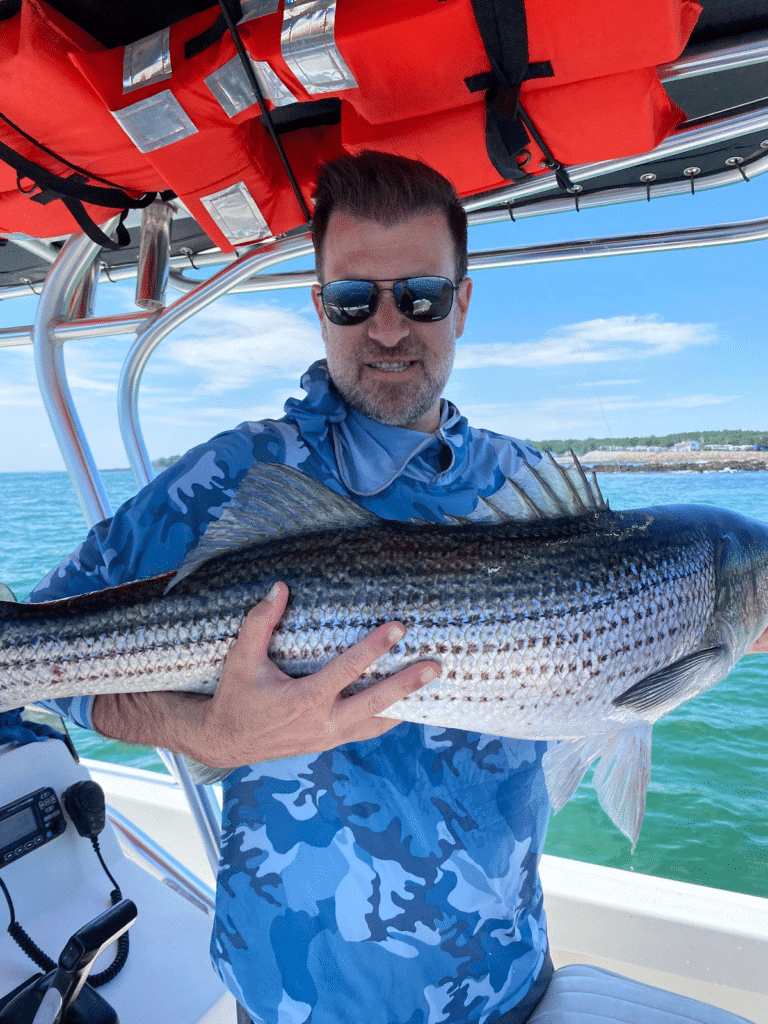 Something smells fishy…
Here's the thing – I don't need every tick in a stock to make sense.
I make plenty of trades on momentum stocks that tend to garner ludicrous valuations.
Heck, just the other day, I made a trade in a stock just because Robinhood trades were piling in. No idea what the company did…but I walked away with a profit.
What's moving the markets this week
So, do corporate earnings matter at all?
Actually, yes, just not the way you think.
It's all about perception – what the marginal dollar thinks about.
Look around the last few weeks and you'll have seen money rotate from one place to another. Other than a few companies like Apple (AAPL), Amazon (AMZN) and tech elevating indexes, no new money has entered all the other thousands of stocks.
But all that could change this week.
We kick off earnings season with banks like JP Morgan (JPM), Wells Fargo (WFC), and Citigroup (C). 
These financial mammoths peel back the veneer the Fed put on the economy, letting us see what's really underneath.
And I can tell you something – if investors hear one whiff of potential credit market problems, you won't be able to sneeze before the next selloff. 
Right now, we're being propped up by Fed funny money. But, like bad high school magician, they've really only got one trick in their bag. They try to dress it up different ways, but it's all the same thing.
If they can't keep the lending markets liquid, that won't just be the straw that breaks the camel's back, that will be the hay that smothers it.
My gameplan – keep it classy
Not suit and tie classy. No, I'm talking about education classy.
And that all starts with my Total Alpha Masterclass, available for signup right now!
Click here to register for my Total Alpha Masterclass.
Stocks I want to bet against this week…
SC, DFS, PENN, IWM, SNAP
Stocks I want to buy this week…
MJ, DKNG, FSLY, PYPL, OKTA, ZM, TWLO, MTCH, NOW, CVNA, ABT, GAN, ECL, CARR, GDX, EXPE, RNG, NEM, CLX, EBAY, VAPO, NKLA, CTXS, COUP, WK, PTON, SHLL, RH, AVLR, SHOP, JNJ, SONO, MSFT, SPOT, TDOC, TTD, GOOGL, ROKU, CRSP
This Week's Calendar
Monday, July 13th
Major earnings: Pepsico (PEP)
Tuesday, July 14th
6:00 AM EST – NFIB Small Business Optimism June

7:45 AM EST – ICSC Weekly Retail Sales

8:30 AM EST – Consumer Price Index (CPI) June

4:30 PM EST – API Weekly Inventory Data

Major earnings: Barnes & Noble Ed (BNED), Citigroup (C), Delta Airlines (DAL), Fastenal (FAST), First Republic Bank (FRC)JP Morgan Chase (JPM), Wells Fargo (WFC)
Wednesday, July 15th
7:00 AM EST – MBA Mortgage Applications Data

8:30 AM EST – Import/Export Prices June

8:30 AM EST – Empire Manufacturing for July

9:15 AM EST – Industrial Production, Capacity Utilization June

10:30 AM EST – Weekly DOE Inventory Data

Major earnings: Bank of New York Mellon Corp (BK), Goldman Sachs Grp (GS), PNC Finl Svcs Grp Inc (PNC), UnitedHealth Grp Inc (UNH), US Bancorp (USB), Alcoa Corp (AA), Sleep Number Corp (SNBR)
Thursday, July 16th
8:30 AM EST – Weekly Jobless & Continuing Claims

8:30 AM EST – Retail sales June

8:30 AM EST – Philly Fed Business Outlook for July

10:00 AM EST – Business Inventories for May

10:30 AM EST – EIA Natural Gas Inventory Data

Major earnings: Abbott Laboratories (ABT), Bank of America Corporation (BAC), Domino's Pizza (DPZ), Johnson & Johnson (JNJ), Morgan Stanley (MS), Sonoco Products (SON), Truist Financial Corp (TFC), FNB Corp (FL) (FNB), Hunt(J.B.)Transport (JBHT), Netflix Inc (NFLX), PPG Indus Inc (PPG), Western Alliance Bancorp (WAL)
Friday, July 17th
8:30 AM EST – Housing Starts for June

10:00 AM EST – University of Michigan Sentiment for July

1:00 PM EST – Baker Hughes Rig Count

Major earnings: Ally Finl Inc (ALLY), Blackrock Inc'A' (BLK), Citizens Finl Grp Inc (CFG), First Horizon National Corp (FHN), Kansas City Southern (KSU), Regions Finl Corporation (RF), State Street Corp (STT), Sensient Technologies (SXT)