Have you noticed things cost a little bit more at the grocery store these days?
No, it's not your imagination, our food is getting more expensive.
This past month, the price of meat, poultry, fish, and eggs jumped 10% from the prior year.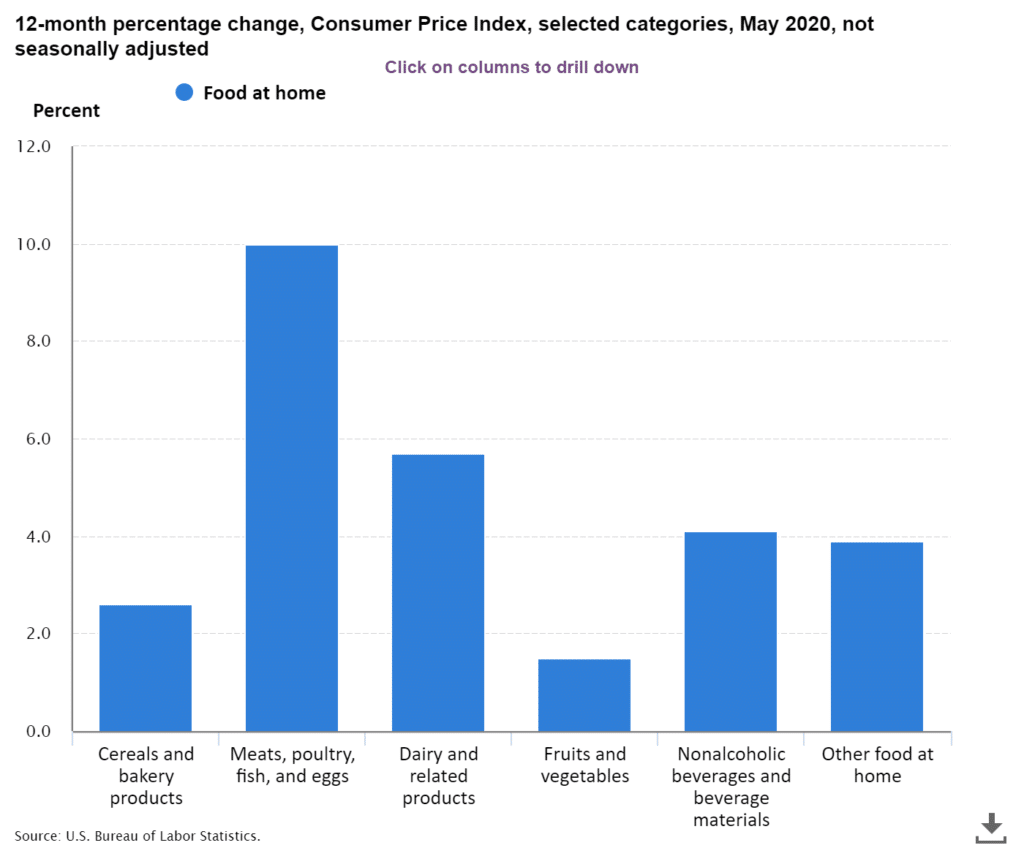 And there is nothing any of us can do about it….
However, as traders we can look to take advantage of the situation. 
There will be winners…
And losers…
Tyson Foods (TSN), Pilgrim's Pride (PPC), and other poultry producers are already under investigation by the Justice Department for price fixing.
And that's just one sector of the food supply chain.
Allow me to share with you how this story can turn into actionable trades.
I'm probably not going to shock you, but the cause of the skyrocketing prices is the pandemic.
Most of us know that President Trump ordered slaughterhouses back to work during the lockdown. Grocers had burned through most of the frozen inventory, and even with restaurants closed, home demand skyrocketed.
Then these places became Coronavirus hotspots. A recent outbreak at a JBS plant in Greely, Colorado highlighted the problems.
An industry that's not exactly known for the greatest working and health conditions, slaughterhouses both large and small became hotbeds for spreading, both in the U.S. and globally.
In fact, similar conditions came to light in agricultural communities in Florida, where close working conditions led to a spike in cases.
Last year, China's pork stock suffered from disease, leading to a major shortage for the world's top pork consuming nation. U.S. suppliers were only too happy to export.
The problem isn't one of demand, it's a lack of supply.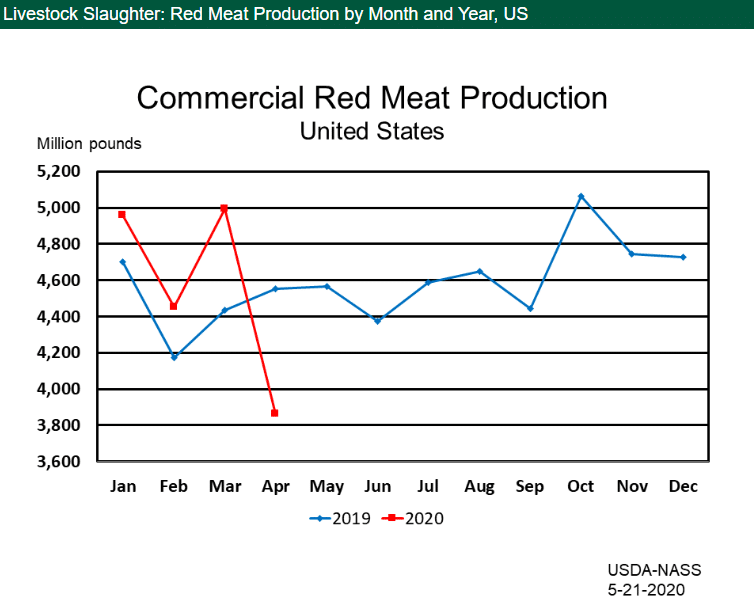 April saw a massive drop in production, with May not looking that much better. 
However, the USDA forecasts production to ramp back to normal in Q3.
Interestingly, in his executive order on April 28th, President Trump declined to restrict meat exports, which exacerbated the impending shortage.
Don't count on the Fed
We've been led to believe that the Fed can throw money at any problem and we'll be just fine.
In fact, the Fed only influences the demand side of the equation. Lack of slaughterhouse production is a supply problem.
When the Fed steps in lower interest rates or purchase bonds, all they're doing is keeping the debt market flowing. That implies a company can issues or find ways to borrow.
That doesn't do squat when you can't keep your workers safe. 
It's also becoming apparent that like most food supply chains, their production relies heavily on immigrant labor. 
This topic was taboo before the pandemic. Now, it's virtually non-existent as cross border movements froze to stop the spread of Coronavirus.
Bad actors
The CEO of Tyson Foods saw such severe shortages that he took out a one page ad in the New York Times and Washington Post titled 'America's Food Supply Chain is Breaking.'
Shortly thereafter, President Trump issued the previously mentioned executive order.
And that's when things got ugly for the big meat: Tyson Foods (TSN), JB Swift, Pilgrims Pride Corporation (PPC), National Beef Packing Company, Cargill, and Claxton Poultry Farms.
Beef producers were issued civil subpoenas while Pilgrims Pride and JBS and Claxton Poultry Farms were indicted on criminal charges of price fixing in anti-trust lawsuits.
If all this holds true, then as the free market pushed prices higher for American consumers, the big players worked to potentially squeeze us further.
Turning this into trades
Let me start by stating the obvious – stay away from companies involved in lawsuits. Unless you understand the ins and outs and keep on top of it, you can get caught off guard by an errant headline.
Now that we have that out of the way, the question is who stands to benefit from this mayhem?
The most obvious choice – meat alternatives.
And there's no hotter company out there to trade that Beyond Meat (BYND).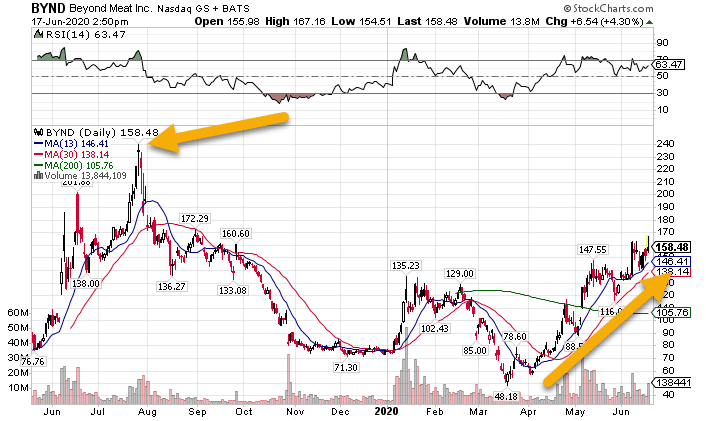 BYND Daily Chart
This stock has been a great trading vehicle with wide ranges and lots of activity. 
Is the stock going to go up solely because of the meat shortages? 
No, of course not.
But when you have a handful of storylines that all support the current upward trend, it creates tradeable opportunities.
Plus, the stock has extremely liquid options, which makes it an ideal candidate for me in my portfolio.
No shortage of profits
Beyond Meat is just one of the many plays I have on my radar. 
The best way to get access to all of them is through High Octane Options.
With live streaming and a proprietary scanner, we're already off to a great start with some insane winners.