As I suspected, the Fed announcement last week triggered a selloff in equities across the board.
Investors suddenly realized Jerome couldn't keep the party going forever…
…which triggered a nasty selloff on Thursday…
leading to an anemic bounce on Friday.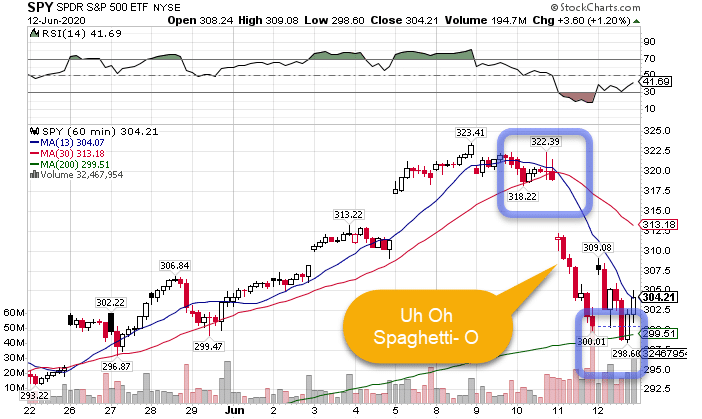 SPY Hourly Chart
I couldn't have picked a better time to launch High Octane Options, directional trades that picked up over $200,000 in profits off this decline!
But that's in the past now.
What can we expect this week?
Earnings continue to wind down, giving less information each day.
However, this week's jump focuses on the few events and themes I see moving the markets.
And that all starts with a look at the global economy.
Ohh yeah, it was that bad
Did you know the United Kingdom releases their GDP every month?
Well, guess how bad things looked in April for the world's sixth largest economy?
-20.4%
The knockon effects were so bad, the Bank of England is expected to increase its bond buying program next week.
And the data from the U.S. isn't looking that much better.
Weekly jobless claims keep coming in over 1.5 million.

Source: Department of Labor
Yes, things have improved. At the same time, it's clear that even with the economy reopening, in some places fully, employers aren't stepping up to the plate.
To make matters worse, many states coffers are running dry. That's leading to warnings of further layoffs as they struggle to make payroll.
So will congress step up to the plate?
Political ineptitude
When terrorists attacked the U.S. on 9/11, it sparked a shared sentiment that brought everyone together. At least for a brief period, we stood together as a nation.
That's either wishful thinking or completely forgotten these days.
While congress and the president managed to cobble together the largest stimulus package in history, there seems to be little appetite for additional help.
Many already made it clear they weren't interested in providing aide directly to state and local governments. Frankly, we'll be lucky to see any additional aid in any form.
The already fractured political climate is heading into election season. Even during the best of times, it's difficult to accomplish much.
This time around, I'd be shocked if anything happens other than a lot of jawboning.
More likely, we'll be glued to the polling, looking for any strong trends.
As of right now, Democrats are expected to maintain control of the House, Republicans the Senate, with the White House being a question mark.
All this takes place against not just a bleak economy, but a worsening backdrop for the global pandemic.
Cases start to rise again
Plenty of pundits will blame last week's decline on the rise in Coronavirus cases.
Let's be clear – that started before Thursday morning. People didn't wake up to magically find cases growing across the U.S. That had already been in place for days if not weeks.
However, it can and should exacerbate the decline that we might be facing.
The entire market is priced to perfection. Increasing cases in various areas of the country throws cold water on that story.
I expect this theme to start grabbing the attention of the financial media, potentially whipping folks into a frenzy.
Thursday's decline had the same texture and feel as the massive down days we saw back in March.
Maybe we might get lucky and avoid that this time around.
I'm ready to fight the market with some of my best option plays and ideas.
But the only way you can catch these live is through High Octane Options.
Stocks I want to bet against…
TTD, CAT, BA, TDOC, SC, DFS, PENN, SHOP
Stocks I want to buy…
MJ, DKNG, FSLY, PYPL, CHGG, OKTA, ZM, CHWY, TWLO, MTCH, NOW, CVNA, DDOG, WYNN, SIX, ABT, SPCE, GAN, SPOT, REGN, KWEB, VAPO, AVLR, PINS, ECL, CARR, TW, GMBL, GDX, EXPE, RNG, MKTX
This Week's Calendar
Expected IPOs – Royalty Pharma Plc (RPRX) 70 million shares between $25-$28
Monday, June 15th
8:30 AM EST – Empire Manufacturing for June

Major earnings: None of note
Tuesday, June 16th
7:45 AM EST – ICSC Weekly Retail Sales

8:30 AM EST – Retail Sales May

9:15 AM EST – Industrial Production & Capacity Utilization May

10:00 AM EST – Business Inventories April

4:30 PM EST – API Weekly Inventory Data

Major earnings: Lennar Corp A (LEN), Groupon Inc (GRPN), Block (H&R) (HRB), Oracle Corp (ORCL)
Wednesday, June 17th
7:00 AM EST – MBA Mortgage Applications Data

8:30 AM EST – Housing Starts & Building Permits May

10:30 AM EST – Weekly DOE Inventory Data

Major earnings: None of note
Thursday, June 18th
8:30 AM EST – Weekly Jobless & Continuing Claims

8:30 AM EST – Philly Fed Survey Outlook for June

10:30 AM EST – EIA Natural Gas Inventory Data

Major earnings: Commercial Metals (CMC), Designer Brands Inc (DBI), Kroger Co (KR), At Home Grp Inc (HOME)
Friday, June 19th
1:00 PM EST – Baker Hughes Rig Count

Major earnings: Jabil Inc (JBL), CarMax, Inc (KMX)