I've learned that real profits come from stocks with true value with a story behind them.
That's why I chose Paypal (PYPL) as my Bullseye Pick of the Week.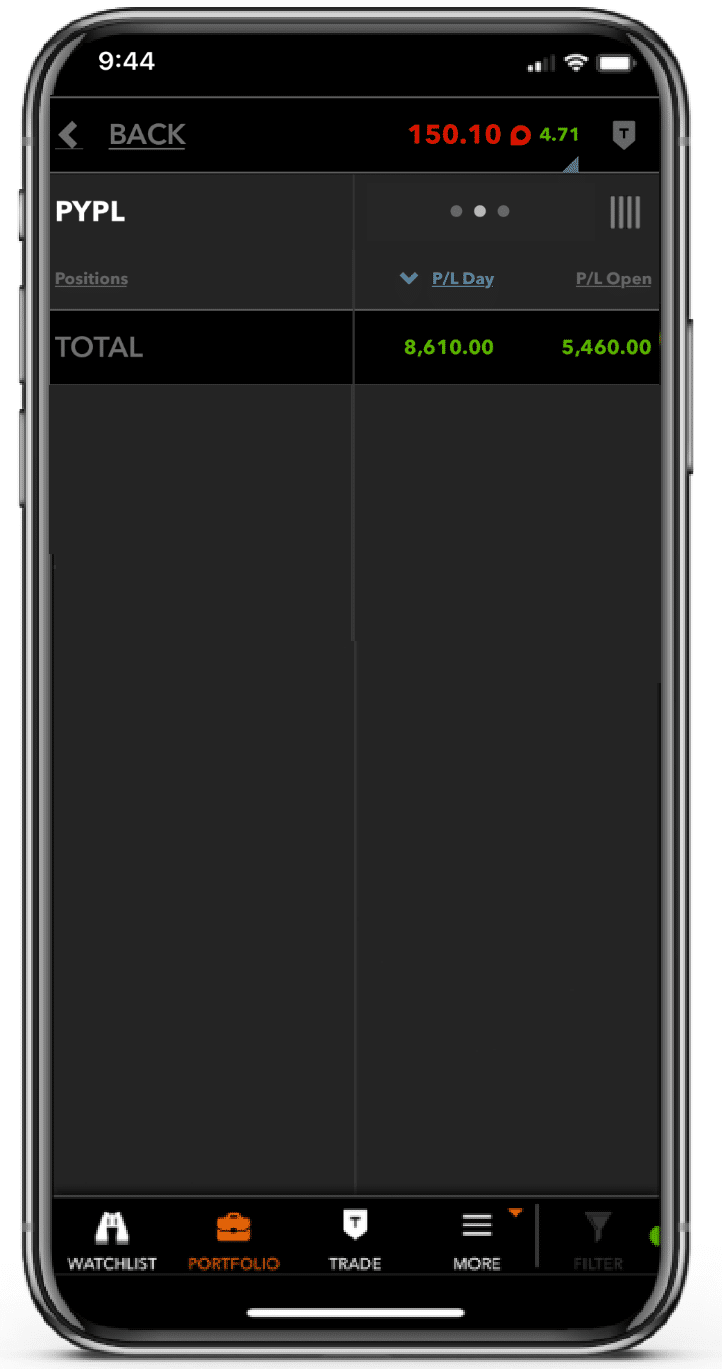 This trade fit perfectly into the growing eCommerce story.
But I'm not going to breakdown that trade for you today.
Instead, I want to spend some time talking to you about a few stocks in a sector…
 I believe are still undervalued.
As well as…my thoughts on the red-hot sector.
The echoes from our last Great Recession haven't faded from our memories as we enter our next one.
For years the Fed pumped liquidity into the economy, propping up our debt markets.
Yet, banks kept lending tight while builders were slower to take on more risk (as well as consumers). That's led to a continual shortage in housing supply year after year.
And it's why even with a debilitating pandemic, realtors struggle to find enough inventory.
It's why I particularly like the S&P Homebuilders ETF – XHB.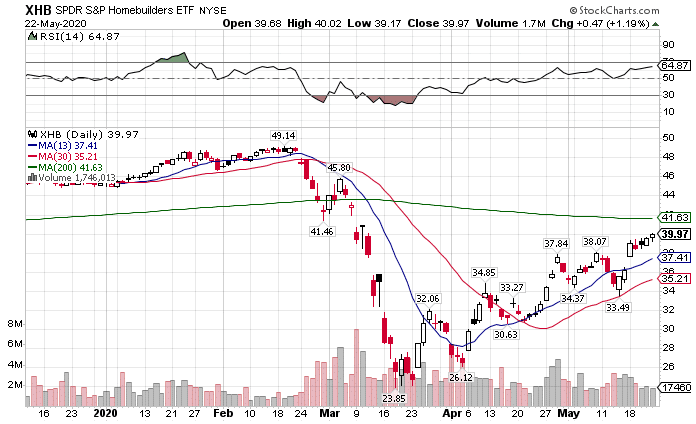 XHB Daily Chart
At its low, the XHB lost 50% of its value. It's since recovered all but the last 20% of its value.
Some specific companies such as Toll Brothers (TOL) and Pulte Home (PHM) remain well off their highs, while others like Lennar (LEN) and DR Horton (DHI) don't have as much left to recover.
The biggest gaps look to be in residential properties. And with a potential onslaught of companies going bankrupt on the way, I want to steer clear of any with too much commercial exposure.
Why tech continues to outperform
Amazing as it may seem, but the Nasdaq 100 is just beneath its all-time highs.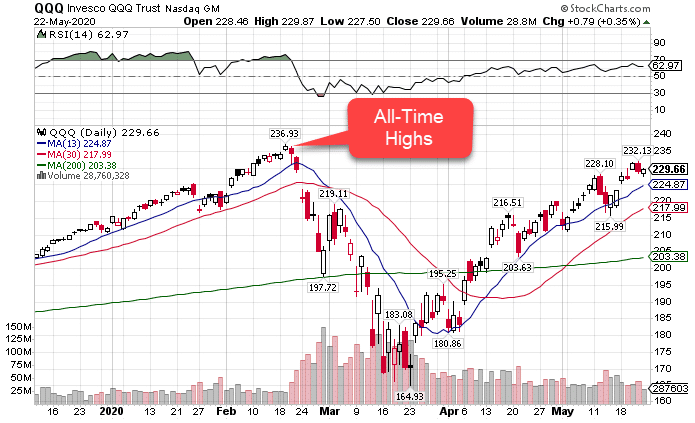 QQQ Daily Chart
You would think that a global slowdown and the worst economic downturn since 1929 would take a little off the top.
Yet, today's tech operates much differently than your parents' industrial age.
Technology companies from Facebook to Google operate at a massive scale without much direct labor or fixed costs. In fact, many of them can easily scale up and down to meet demand.
In fact, COVID accelerated the growth of companies such as Shopify (SHOP), who both play in the eCommerce space and online payment processing.
With consumers stuck at home for the foreseeable future and a likely shift in the way we interact with businesses, companies just like Shopify and even Facebook with Instagram become our connection to the world.
Just look at the number of companies considering permanent changes to work-from-home. A wholesale shift of this nature drives demand for even dinosaur tech like Oracle (ORCL).
Not all of these companies are created equal. However, the pandemic took what was already running hot and gave it some extra caffeine.
Giving gold miners a whirl
In one of my recent newsletters (and in an elite room chat), I highlighted gold miners as a saucy little play that can reap big rewards.
Breaking all historical norms, gold continues to trade higher with or without the market. The only deviation seems to occur when stocks get hit with a mass liquidation. That's the only time I saw gold decline significantly of late.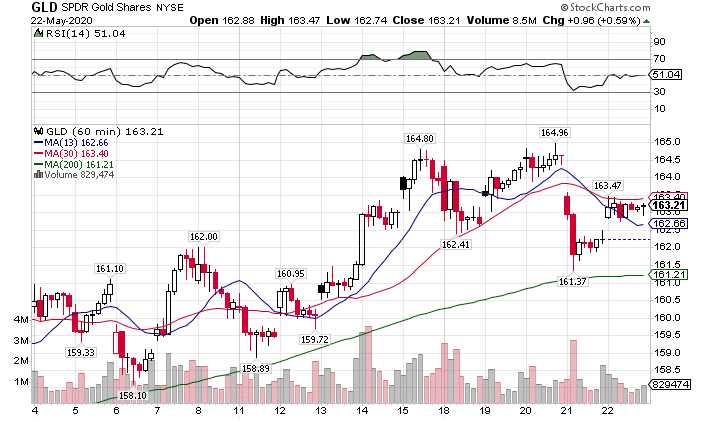 GLD Hourly Chart
Still, demand remains robust, and I expect this trade will continue until gold breaks out to new all-time highs.
That said, gold miners tend to offer a little more leverage to the yellow metal. In fact, there's several ETFs with some additional leverage.
While the basic GDX gold miner ETF certainly gives a nice boost, there's also GDXJ for the junior miners as well as 2x leveraged ETFs such as NUGT and JNUG.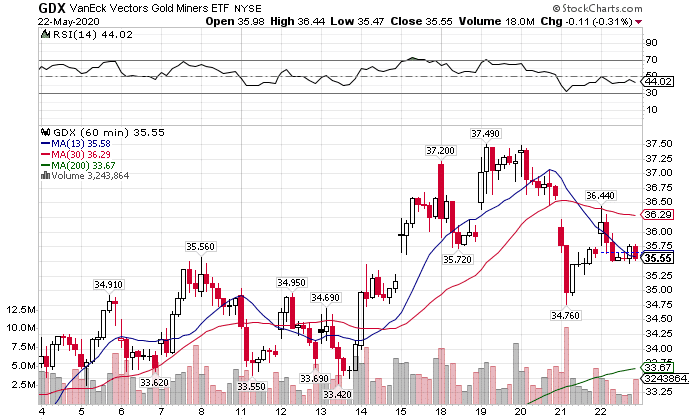 GDX Hourly Chart
A word of caution on the leveraged ETFs. They are better trading vehicles than investments. Their structure has a natural decay built into them, and there's always a risk they can become insolvent.
That's why I prefer to play these with options to limit my risk. I've got a host of option strategies I deploy that let me choose between defined risk/rewards or expand my upside potential.
If you want to learn more about the different types of option strategies available, check out my Ultimate Beginners Guide to Options Trading. Here you'll get a crash course on options trading with the basics to get you started.
Click here to access the Ultimate Beginners Guide to Options Trading.