This week's Jump, focuses on the retail and manufacturing data – which were the worst ever in history. 
As states slowly reopen, we are bombarded with excessively rosy hot air projections by our politicians 
However, if what the data says is correct, two high-flying sectors might soon come to a screeching halt…and that's not the worst of it….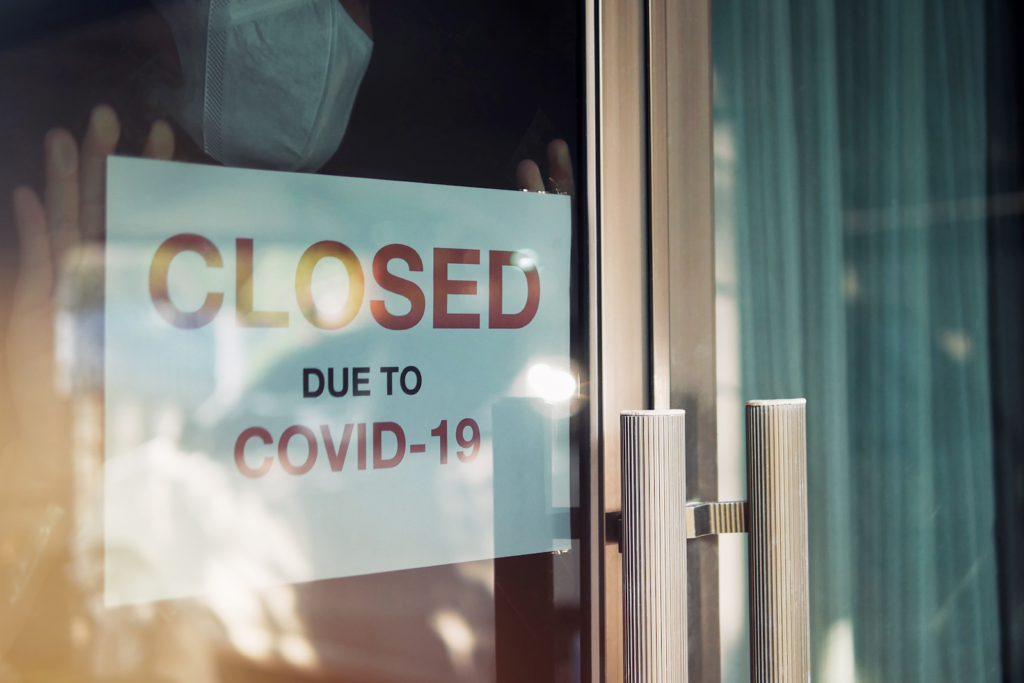 Apparel store sales drop 90%
It's an eye-popping number, to say the least. 
Brick and mortar stores already faced a slow death… thanks to the likes of Amazon and online shopping… 
But losing 90% of sales is incredible.
Overall, retail sales fell 16.4% from March to April, the worst since they began measuring in the 1990s.
People hold this false assumption that because stores aren't open they don't incur any costs. Unfortunately, many obligations keep them paying quite a bit even as shoppers steer clear.
Hope that shoppers will return like migrating birds isn't supported by the jobs data. 
With unemployment the worst since the Great Recession and weekly jobless claims still in the millions, discretionary spending has virtually come to a standstill.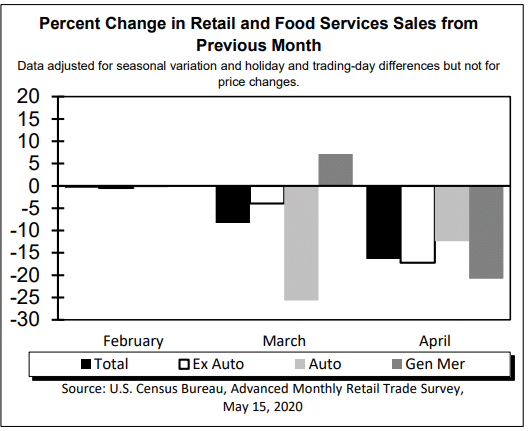 On top of that, the Federal Reserve said manufacturing output fell by 13.7% in April, worse than any time since 1919.
That includes World War II, The Great Depression, and several other notable crashes!
However, one sector managed to grow month over month despite all the headwinds.
Non-retail stores (AKA online sales) grew 8.4% month over month. So yes, Amazon blowing up to new highs amid the pandemic is justified.
But this category ALSO includes online sales of apparel, which is where most of us shifted our spending. 
It's an interesting quark to consider – which retailers invested in their online operations in the past decade. Who among them will survive by having the foresight?
An interesting question has given the following graphic.
eCommerce net sales in U.S. millions of dollars
Are Bankruptcies Around The Corner?
J.C. Penny made the list, but just reported they're filing for bankruptcy. Maybe because fashion eCommerce only accounted for 20.4% of total retail fashion sales in the U.S. during 2018.
However, given the extraordinary growth of this category, it's no surprise that stocks like Shopify (SHOP) and Paypal (PYPL) continue to explode on the back of this trend.
But, you know what category doesn't deserve the praise we've been lavishing our dollars on? Grocery stores.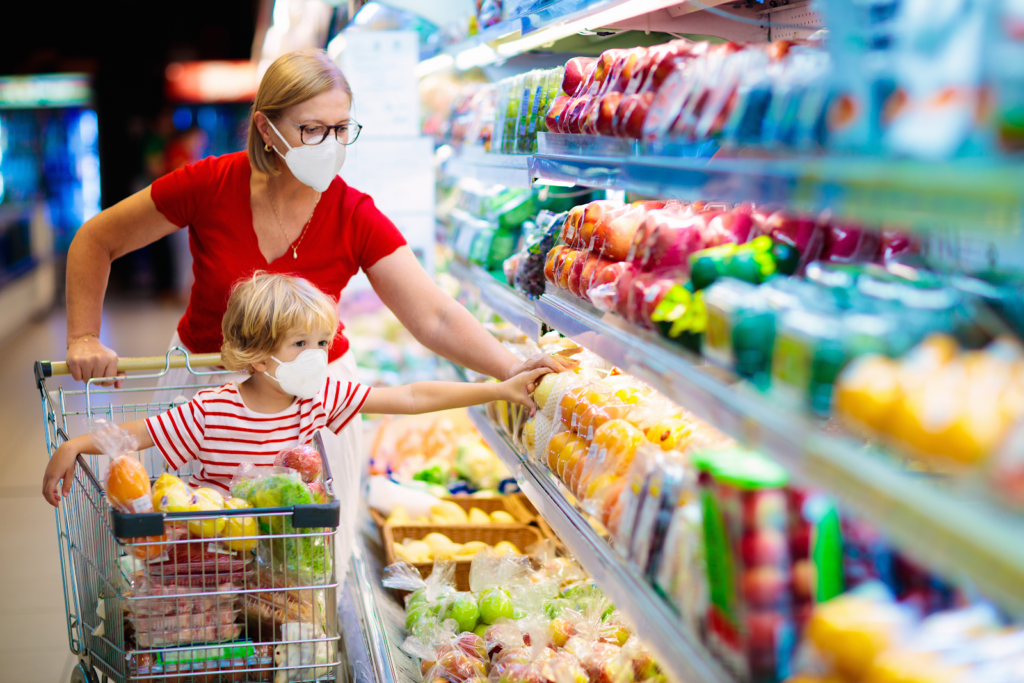 While this scene is all too familiar, high-flying stocks like Costco (COST) and especially Kroger (KR) might not deserve my investment dollars. 
Last month, grocery stores saw a 13.2% decline in sales, which is just baffling. For most of April, I would wait anxiously for the one weekly trip to the store, breaking out of the self-imposed hibernation.
Apparently, shortages in supply chains and true fear of actually going out caused a decline.
That wouldn't surprise me considering how many of us drew down on our home food inventories – you know, the random boxes and containers of things in our closets and freezers that typically sit there for years.
That's why I'll be curious to hear what Wal-Mart says on their earnings conference call Tuesday. They've got a massive presence both online and around the globe. Additionally, their supply chains rely heavily on imports.
So, if one company could give me a mini-snapshot of our economy's health, they would be it.
My Bullseye Trade of the Week is one of the companies mentioned today!
That's right – I already dropped a hint as to which company is my pick of the week. But which one is it?
My Bullseye Trade of the week delivers to you my best options trade idea each week. I lay out my trade idea and plan for you from start to finish, pinpointing the most exceptional edge I can find.
Click here to learn more about Bullseye Trades.
Expected earnings dates listed in (…)
Stocks I want to bet against…
TLT (none), ZM (Jun 4), COST (Mar 5), TTD (May 14), ROKU (May 7), AMZN (Apr 30), TDOC (May 5), MTCH (May 5), NFLX (April 21), CMG (Apr 22)
Stocks I want to buy…
MJ (none), UNG (none), WDAY (May 26), TWLO (May 3), V (Apr 22), IRBT (Apr 28), DPZ (May 20), GOOGL (May 4), GDX (none), GRUB (May 6), RNG (May 6), DKNG (??), BA (Apr 29), ULTA (June 4), GS (July 21)
This Week's Calendar
Monday, May 18th
10:00 AM EST – NAHB Housing Market Index for May

Major Earnings: CBL & Associates Prop (CBL), Apple Hospitality REIT Inc (APLE)
Tuesday, May 19th
7:45 AM EST – ICSC Weekly Retail Sales

8:30 AM EST – Housing Starts & Building Permits April

10:00 AM EST – Powell Speaks At Senate Banking Committee

4:30 PM EST – API Weekly Inventory Data

Major earnings: Advance Auto Parts Inc (AAP), Home Depot Inc (HD), Kohl's Corp (KSS), Wal-Mart Stores (WMT), Red Rock Rsorts Inc Cl A (RRR), Urban Outfitters (URBN)
Wednesday, May 20th
7:00 AM EST – MBA Mortgage Applications Data

10:30 AM EST – Weekly DOE Inventory Data

2:00 PM EST – Fed Minutes From April Meeting

Major earnings: Analog Devices (ADI), Eaton Vance Corp (EV), McKesson Corp (MCK), Target Corp (TGT), VEREIT Inc (VER), Boot Barn Hldgs Inc (BOOT), Expedia Grp Inc (EXPE), Synopsys Inc (SNPS), Take-Two Interactive Software (TTWO)
Thursday, May 21st
8:30 AM EST – Weekly Jobless & Continuing Claims

8:30 AM EST – Philly Fed Survey May

9:45 AM EST – Markit US Manufacturing & Services PMI  May

10:00 AM EST – Existing Home Sales April

10:30 AM EST – EIA Natural Gas Inventory Data

Major earnings:  BJ's Wholesale Club Holdings (BJ), Hormel Foods Corp (HRL), TJX Companies (TJX), Agilent Technologies Inc (A), e l f Beauty Inc (ELF), Hewlett-Packard Enterprise Co (HPE), Intuit Inc (INTU), Nvidia Corp (NVDA), New York Mortgage Trust Inc (NYMT), Palo Alto Networks Inc (PANW), Plantronics Inc (PLT), Ross Stores (ROST), Splunk Inc (SPLK)
Friday, May 22nd
1:00 PM EST – Baker Hughes Rig Count

Major earnings: The Buckle Inc (BKE), Foot Locker (FL)