After the Fed shocked markets with their unlimited stimulus plans last month, what's they're next move?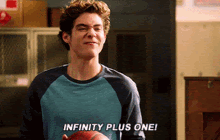 This week is all about preparation.
That's why I'm digging heavy into the latest economic catalysts. a Fed rate announcement, earnings from Apple, Amazon, and a whole lot of charts.
Your jump on the week starts now. 
After the Fed came out with 0% interest rates and quantitative easing, financial markets eased off the edge. There had been worries that illiquidity in some areas might cause cascading failures.
Luckily, the Fed is willing to throw more at the situation than the U.S. Congress would even provide to Main Street. That kind of assurance helped stave off a potential calamity.
Yet, what are they going to say now? They can certainly expand their balance sheets, but that's no surprise. It's unlikely they would venture into direct equity purchases.
The Fed can stuff the markets with as much liquidity as it wants. But, if the issues become supply-side problems, which is happening in some cases, then their ability to manipulate markets comes to a screeching halt.
Winner winner no chicken dinner
Will Amazon surprise us with a guidance raise or could Apple lead the charge higher with the all-clear signal?
Not likely.
So far, most companies chose to take the easy route and suspend guidance for the rest of the year. I mean why bother doing the work when you can get away with throwing up a big question mark.
Frankly, any earnings from Q1 are useless. We need forward-looking information to make decisions. So far, that's only coming in news bits from Wal-Mart and Amazon hiring staff to cope with increased demand.
In this topsy-turvy world, earnings from Netflix, who posted ridiculous subscriber growth, were met with a big fat yawn. In fact, for the one company that seems to be exceeding its original guidance, investors decided to yank money out of the stock.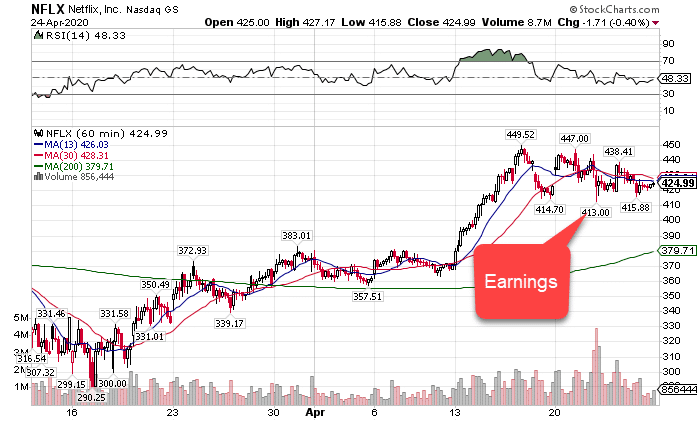 NFLX Hourly Chart
That makes total sense…sell the one stock that is actually providing growth.
One thing I do hope for is information about the supply chains. We're getting reports of slaughterhouses being shut down, leading to shortages of meat in the supermarkets. I suspect that might be just the tip of the iceberg.
Can I leave the house yet?
Across America, the bipartisan efforts to not agree on anything seem to be in full force. 
Starting with the governor's mansions, we're getting divergent plans from states on when and how they plan to reopen…if at all. Initially supporting a quick restart, President Trump now favors a cautious approach.
As a quick lesson, flattening the curve doesn't reduce the number of cases. It simply spreads them out over time, with the goal of not overloading the healthcare system.
States struggle with this potentiality as vaccines still remain elusive. Even Gilead's treatment potential vanished as quickly as its share price.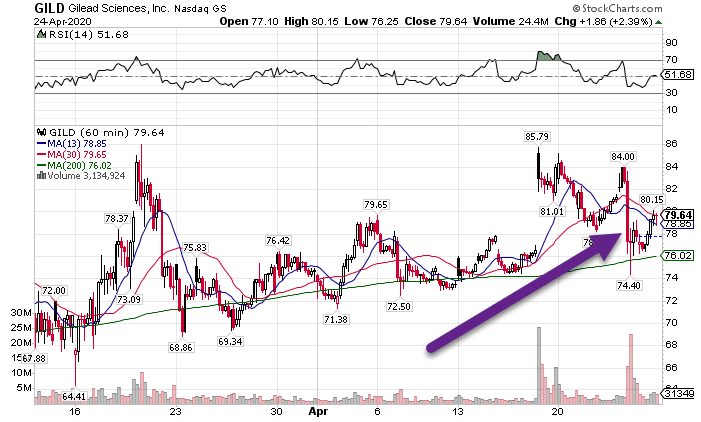 GILD Hourly Chart
We'll be watching closely for any resurgence in new cases as states reopen their doors. Being the first and loosest, Georgia is the one to watch for any signs of a second wave.
Balancing Jobs
It's become clear that the unemployment rate will skyrocket into the double digits, potentially past 20%. What's also evident is recovery will take years.
Thursday's job numbers confirmed we thoroughly wiped out all jobs created since the Great Recession. Even if they open their doors, many businesses struggle to cope with the new reality.
Limited seating and capacities stress brick and mortar establishments including restaurants, retail stores, theaters, and more. Unfortunately, that's a reality that won't change even with every restriction lifted.
Regardless of government decisions, a large segment of the country won't be comfortable returning to normal life. The population over 60 accounts for a disproportionate amount of discretionary spending. Yet, they're the least likely to want to reenter society.
Markets may continue to ignore the reality facing them. I expect all the data this week will confirm continued weakness through all of April. Maybe, we'll see the bleeding staunched in May. But, if reports of delays in unemployment and stimulus delivery are correct, there could be a second wave of economic fallout hitting come Autumn.
Crude crash
Earlier this week, I wrote extensively about the negative crude prices. Right now, contracts trade in the teens. Yet, as storage looks to fill in May, we'll be right back in crisis mode rather quickly.
My advice now is the same as before – stay clear of Oil ETFs unless you truly understand their structure. Even the popular USO ETF has undergone serious alternations in how it tracks oil in the past week.
Stay nimble and loose
February's market turned on a dime. We're climbing the wall of worry. All it takes is one session to turn everything around.
That's why I'm keeping my trades short-term, my portfolio hedged, and starting to look for investment opportunities. Not all retail and oil will go under. 
One of the best ways to ride this train is with my free Options Masterclass – designed to supercharge your wealth creation.
Expected earnings dates listed in (…)
Stocks I want to bet against…
TLT (none), ZM (Mar 4), COST (Mar 5) 
Stocks I want to buy…
MJ (none), UNG (none), XLE (none), WDAY (May 26), TWLO (May 3), OLED (May 7), V (Apr 22), IRBT (Apr 28), DPZ (May 20), GOOGL (May 4), CVNA (May 13), CMG (Apr 22), NFLX (April 21), AMZN (Apr 23), UBER (Jun 4), GDX (none), ROKU (May 13), MTCH (May 5), TDOC (May 5), ZS, AYX, RH, WORK, IWM
This Week's Calendar
Monday, April 27th
10:30 AM EST – Dallas Fed Manufacturing Activity April

Major Earnings: Affiliated Managers Grp Inc (AMG), CMS Energy (CMS), Amkor Tech (AMKR), Alexandria R.E. Equities (ARE), Avnet, Inc (AVT), Celanese Corporation (CE), Cognex Corp (CGNX), Cincinnati Finl (CINF), F5 Networks (FFIV), Harmonic Inc (HLIT), Keurig Dr Pepper Inc (KDP), National Oilwell Varco Inc (NOV), Principal Finl Grp (PFG), PPG Indus Inc (PPG), Universal Health Svcs (UHS)
Tuesday, April 28th
7:45 AM EST – ICSC Weekly Retail Sales

8:30 AM EST – Advance Goods Trade Balance March

8:30 AM EST – Wholesale Inventories March

10:00 AM EST  – Consumer Confidence & Richmond Fed Manufacturing April

4:30 PM EST – API Weekly Inventory Data

Major earnings:  Anixter Intl (AXE), Brown & Brown (BRO), Boyd Gaming (BYD), Caterpillar Inc (CAT), Cummins Inc (CMI), Centene Corp (CNC), D.R. Horton (DHI), DTE Energy (DTE), Ecolab Inc (ECL), Corning Inc (GLW), Harley-Davidson (HOG), IQVIA Hldgs Inc (IQV), Southwest Airlines Co (LUV), 3M Co (MMM), Merck & Co (MRK), Nucor Corp (NUE), Pepsico Inc (PEP), Pfizer Inc (PFE), Polaris Inc (PII), Packaging Corp America (PKG), Rockwell Automation (ROK), Roper Tech Inc (ROP), Santander Consumer USA Hldgs (SC), Sirius XM Hldgs Inc (SIRI), S&P Glbl Inc (SPGI), T.Rowe Price Grp (TROW), TransUnion (TRU), United Parcel Service Inc (UPS), Waddell & Reed Financial Inc (WDR), Xerox Corp (XRX), Zebra Technologies'A' (ZBRA), Akamai Technologies (AKAM), Advanced Micro Devices Inc (AMD), Boston Properties (BXP), Cerner Corp (CERN), C.H. Robinson Worldwide Inc (CHRW), Community Health Sys Inc (CYH), DexCom Inc (DXCM), Ford Motor (F), FireEye Inc (FEYE), Alphabet Inc Cl A (GOOGL), iRobot Corporation (IRBT), Juniper Networks (JNPR), Mondelez Int'l Inc Cl A (MDLZ), Meritage Homes Corporation (MTH), Maxim Integrated Prod (MXIM), O-I Glass Inc (OI), Oneok Inc (OKE), Paycom Software Inc (PAYC), R R Donnelley & Sons Co (RRD), Starbucks Corp (SBUX), Stryker Corp (SYK), Unisys Corp (UIS), WW International Inc (WW)
Wednesday, April 29th
7:00 AM EST – MBA Mortgage Applications Data

8:30 AM EST – GDP, Personal Consumption, Price Index, Core PCE

10:00 AM EST – Pending Home Sales March

10:30 AM EST – Weekly DOE Inventory Data

2:00 PM EST – Fed Rate Decision

Major earnings: Automatic Data Proc (ADP), American Tower Corp (AMT), Anthem Inc (ANTM), Avery Dennison Corp (AVY), Boeing Co (BA), Boston Scientific Corporation (BSX), Peabody Energy Corp (BTU), CME Grp Inc (CME), Brinker Intl Inc (EAT), Enterprise Products Partners (EPD), General Dynamics Corp (GD), General Electric Co (GE), Hasbro Inc (HAS), Humana Inc (HUM), Laboratory Corp Amer Hldgs (LH), Mastercard Inc (MA), Masco Corp (MAS), Northrop Grumman (NOC), Norfolk Southern (NSC), New York Community Bancorp (NYCB), Owens Corning (OC), Oshkosh Corp (Hldg Co) (OSK), Ryder System (R), Rollins Inc (ROL), Summit Matrials Inc (SUM), Teladoc Health Inc (TDOC), Tupperware Brands Corp (TUP), Valero Energy (VLO), Yum! Brands Inc (YUM), Archer-Daniels-Midland (ADM), AFLAC Inc (AFL), American Cap Agency Corp (AGNC), Align Tech (ALGN), Biomarin Pharmaceutical (BMRN), Crown Castle Intl Corp (REIT) (CCI), CyrusOne Inc (CONE), Cree Inc (CREE), Duke Realty (DRE), eBay Inc (EBAY), Facebook Inc (FB), Warrior Met Coal LLC (HCC), Hartford Finl Svcs Grp (HIG), Hologic Inc (HOLX), Microsoft Corp (MSFT), Annaly Cap Mgt Inc (NLY), ServiceNow Inc (NOW), Olin Corp (OLN), Pilgram's Pride Corp (PPC), Pluralsight Inc (PS), PTC Inc (PTC), Qualcomm Inc (QCOM), TransOcean Ltd (RIG), Service Corporation Intl (SCI), Tesla Inc (TSLA), Ultra Clean Hldg (UCTT), United Rentals Inc (URI), Vertex Pharmaceuticals (VRTX)
Thursday, April 30th
8:30 AM EST – Weekly Jobless & Continuing Claims

8:30 AM EST – Personal Income, Spending, and PCE Deflator March

9:45 AM EST – Chicago PMI

10:30 AM EST – EIA Natural Gas Inventory Data

Major earnings: Abiomed, Inc (ABMD), Agios Pharmaceuticals Inc (AGIO), Amazon.com Inc (AMZN), Baxter Intl Inc (BAX), Brunswick Corp (BC), Franklin Res Inc (BEN), The Carlyle Grp Inc (CG), Cigna Corp (CI), Comcast Cl A (CMCSA), ConocoPhillips (COP), Dana Inc (DAN), Dunkin' Brands Grp Inc (DNKN), Dow Inc (DOW), Eaton Corp (ETN), The GEO Grp Inc (GEO), Generac Hldg Inc (GNRC), Intercontinental Exchange Grp (ICE), Illumina Inc (ILMN), Intl Paper (IP), Kellogg Co (K), The Kraft Heinz Company (KHC), Lazard Ltd (LAZ), Cheniere Energy (LNG), McDonald's Corp (MCD), Moody's Corp (MCO), Marsh & McLennan Companies Inc (MMC), Meritor, Inc. (MTOR), Nielsen Hldgs Plc (NLSN), Parker-Hannifin Corp (PH), Six Flags Entertainment Corp (SIX), Southern Co Inc (SO), Stanley Black & Decker Inc (SWK), Molson Coors Beverage Co (TAP), Tapestry Inc (TPR), Twitter Inc (TWTR), Textron, Inc (TXT), Wesco Intl (WCC), Apple Inc (AAPL), Gallagher (Arthur J.) (AJG), Amazon.com Inc (AMZN), Altice USA Inc Cl A (ATUS), Casa Sys Inc (CASA), CareDx Inc (CDNA), Cabot Oil & Gas Corp (COG), Concho Resources Inc (CXO), Columbia Ppty Trust Inc (CXP), Eastman Chemical (EMN), Fortune Brands Home & Security (FBHS), Floor & Decor Hldgs Inc (FND), Gilead Sciences (GILD), MGM Resorts Intl (MGM), Molina Healthcare (MOH), NCR Corp (NCR), PTC Therapeutics Inc (PTCT), Resmed Inc (RMD), Range Resources (RRC), Seattle Genetics (SGEN), Southwestern Energy (SWN), Stryker Corp (SYK), Tandem Diabetes Care Inc (TNDM), 2U Inc (TWOU), Visa Inc (V), Western Digital (WDC), Whirlpool Corp (WHR), U.S. Steel Corporation (X), Zendesk Inc (ZEN)
Friday, May 1st
9:45 AM EST – Markit US Manufacturing PMI April

10:00 AM EST – Construction Spending March

10:00 AM EST – ISM Manufacturing April

1:00 PM EST – Baker Hughes Rig Count

Major earnings: AbbVie Inc (ABBV), Apollo Global Mgt LLC (APO), Berry Plastics Grp Inc (BERY), CBOE Glbl Mkts Inc (CBOE), Charter Communications Inc (CHTR), Lauder (Estee) Co (EL), Honeywell Intl (HON), Huntsman Corporation (HUN), ITT Inc (ITT), LyondellBasell Ind N.V. (LYB), MoneyGram Intl (MGI), Magellan Midstream Partners LP (MMP), Newell Brands Inc (NWL), PG&E Corp (PCG), Phillips 66 (PSX), Terex Corp (TEX), Timken Co (TKR), WisdomTree Inv Inc (WETF), W P Carey Inc (WPC), Weyerhaeuser Co (WY)