Want a great deal? You can drop your money into a 10-year treasury bond that pays you less than 1%!
When you say it out loud, it sounds ridiculous. Except, that's where people are hiding their money.
For the life of me I can't understand why.
There's tons of exceptional trading (and now investing) opportunities and you don't need to look far.
Today, I'm going to walk you through some I believe are ripening up.
Some will appear obvious, others, not so much. 

Quality Dividend Plays
Throw a stone and you'll hit a financial advisor that talks about good balance sheets and growing dividends. That advice only works at the right time…and now is starting to look good.
Let's face it. Power companies aren't about to go out of business anytime soon. True, demand will slow as businesses shutter for the season. However, the economy will restart. When it does, demand will pop back for them.
So, when I see dividend yields in stocks like American Electric Power and Duke Energy arching over 5%, I start to look harder. I'm not expecting these guys to grow gangbusters by any stretch. All I need is bonds to throw off garbage yields, and these stocks will start to attract investors.
You might be inclined to go with the safe play XLU ETF. The problem is that only yields around 3% at the moment. That's why you should do your research on the individual companies, and look for ones with strong cash flows and a balance sheet that can weather this pandemic.
Stay Clear of Bad Debt
One place I wouldn't go fishing is in the junk bond market. The recent selloff leads me to believe that we're likely to see a lot more bankruptcies in companies.

HYG Monthly Chart
This isn't a place you want to go dumpster diving. Many of these companies need to be swept out. Besides, what would you rather own, a basket of junk bonds who could disappear tomorrow or a handful of robust utility and telecommunication companies that will be here for your kids?
Key SPY Support
So far, I've kept some insights to members of Total Alpha. However, I decided that I want to let some of it out to make sure that you all know where to start looking for a bottom.
I've drawn a zone of support on the SPY chart here.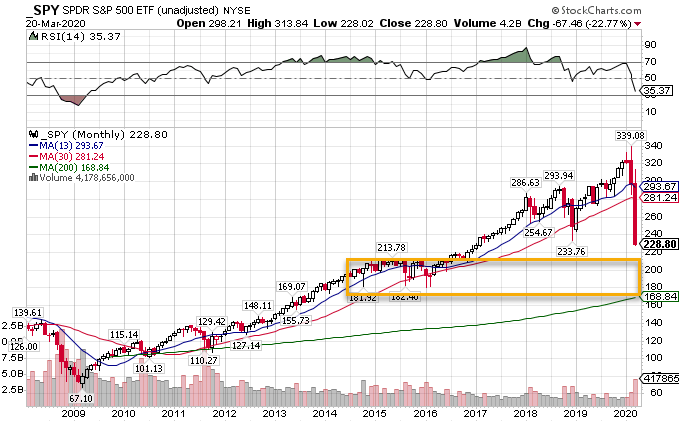 SPY Monthly Chart

This area represents a range from the 2015-2016 highs to the lows of those years. It also encompasses the 200-month moving average.
Here's an extra secret I'm going to share. ~$203 in the SPY is the midpoint between the all-time highs and the lows made in 2009.
You get this many items converging in one spot and you have to pay attention. Does the market have to stop there? No. It just makes it a high probability area.

Watch The VIX for Clues
So far, we've had no signs of volatility contracting. In fact, this is the longest we've ever gone with the VIX climb without any meaningful pullback.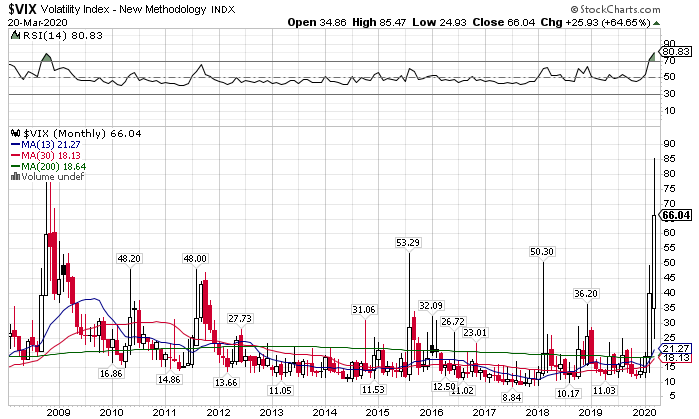 VIX Monthly Chart
At the moment, we're at levels we haven't seen since the depths of the financial crisis. However, there may be some silver lining. Even with the decline in the market to end last week, take a look at the VIX hourly chart.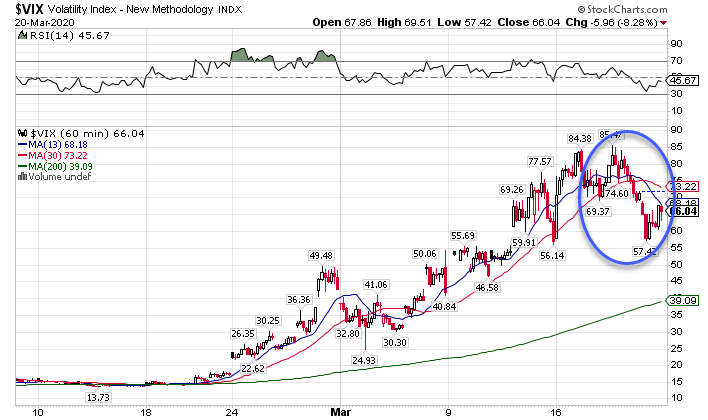 VIX Hourly Chart

Oddly enough, the VIX ended Friday lower. This may have been a function of options expiration. However, it's interesting that it created a money-pattern crossover. That could mean we're near a short-term low.

Silver Lining
Typically, I don't ever get involved with silver. But when I look at this selloff, I'm starting to wonder if this isn't a decent area to start building a position.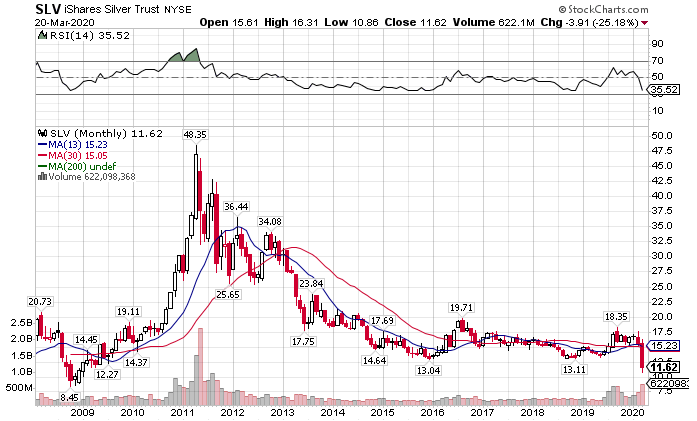 SLV Monthly Chart
Again, we're down to levels we haven't seen since 2009. Silver has more industrial applications than gold, which is often why it correlates more to the stock market. However, this isn't a commodity that will go to zero.
This isn't something that will make tons of money in months. But, if this starts getting below $10, it's going to be hard not to want to pick up a little bit in my retirement account.
Do I jump in right now?
RIght now, the risk is still to the downside. We don't have any timelines not just about getting through this current phase, but a pathway back to normalcy.
That doesn't mean there aren't fantastic opportunities out there right now. I still work every week to deliver my top pick in my Bullseye Trade of the Week. Last week hit big, with some members more doubling their entry.
Rather than let the market beat you up, fight back. Take what's yours. My Bullseye Trade is my best option trade idea, aiming for a 100% return.