This selloff isn't done by any stretch…we're just getting started.
Times like these are exactly why I created my Total Alpha service. Look, I've been through the wringer inside and out, torn and ripped apart by the markets.
The last thing I want is for you to experience that as well.
First things first, you don't have to be overly active. In fact, it's better if you are patient and pick your spots.
Heck, even one trade a week can do wonders. Just check out my Bullseye from this week in PENN.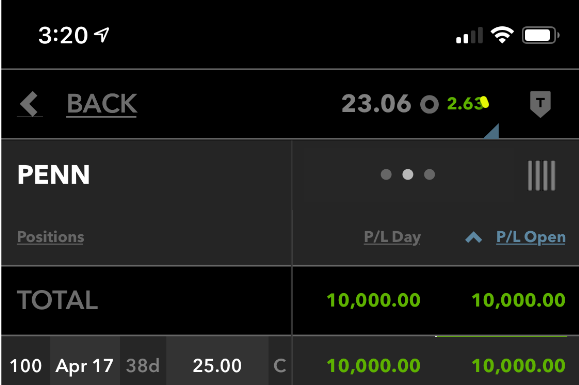 I flipped it for $10,000 gain in one day!
But today, I want to talk to you about the big picture. And look at some charts in GLD, DIA, TLT.
We may be in a bear market, but how deep will the sell-off be, and when will it be safe to buy?
I attempt to answer those questions and more…
Traders and investors love to park money in both Bonds and Gold for safety in normal times. Yet, these times are anything but normal.
Starting with bonds, they've rallied more in a 72-hour period than any time since the Great Recession, and still it broke some records. The Fed cam out with emergency rate cuts and measures to help ease the burden. All it did was rally bonds faster than my son drives.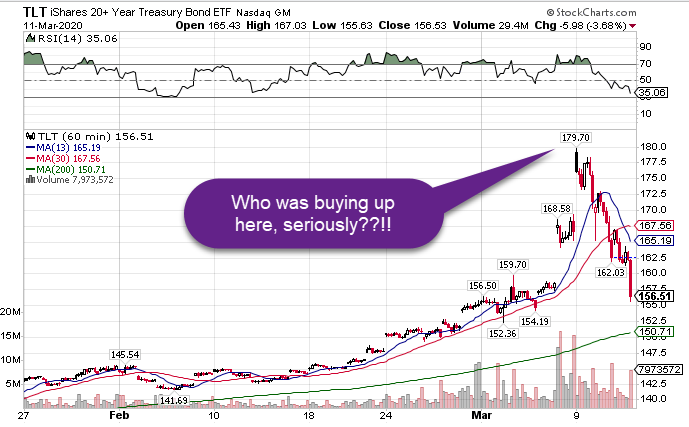 TLT Hourly Chart
No one should look at that chart and think that move was sustainable. It presented an extraordinary opportunity to sell call credit spreads for high probability trades.
I mean really – who is buying 10-year bonds for less than half a percent interest? Come on people!
Gold had me scratching my head for a minute, but I think I figured out what's happening here. I'm still really bullish on gold, especially in this environment. Let me explain what's going on in the charts.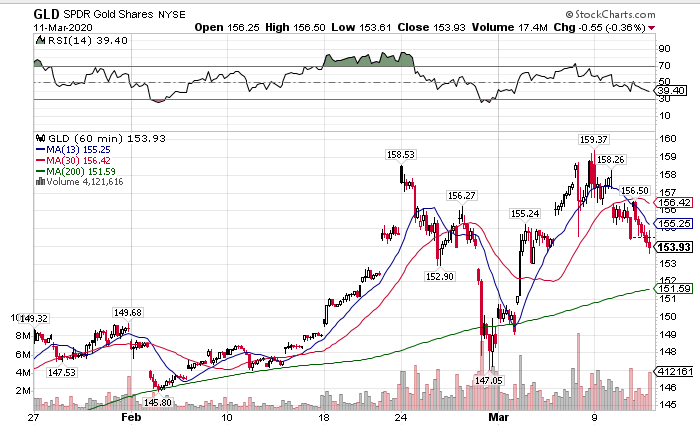 GLD Hourly Chart
We keep getting dips in gold on days when the markets sells off. It doesn't happen all the time, but often enough. This is liquidation plain and simple. These folks don't want to exit gold, they're being forced to.
This equity move is history. It's forced a lot of funds out of positions through margin calls, redemptions, or whatever mechanism that creates selling. They don't get to choose what they sell sometimes. That's created big dips in the yellow metal.
To me, this is a gift. We aren't given a lot in this market. But I love the bullish trend in gold and as a safety play. With us not even in the second inning, I like long gold positions.
You can see how I recently played gold in this free GLD Trade review video.
Dow Jones Bear Market
With Boeing getting absolutely hammered, the Dow Jones closed over 20% from its recent highs, putting it firmly into bear market territory.
Bear markets occur are a decline from the highs by 20% or more on close.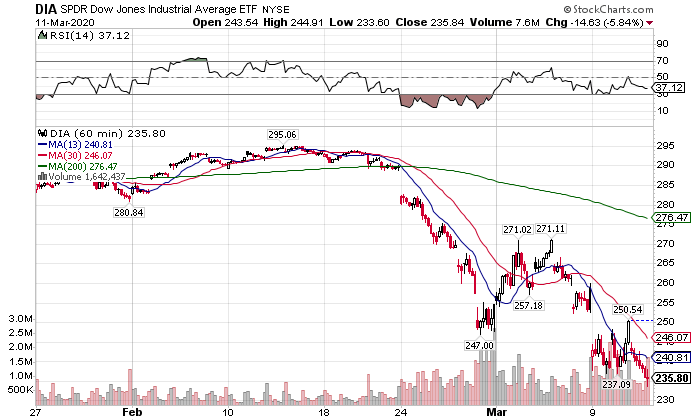 DIA Hourly Chart
Airlines and travel companies are being absolutely hammered. Boeing is getting order cancellations, airplanes are leaving half full, conferences keep canceling. Even Harvard sent their students home from the dorms.
All this leads to a difficult time for travel and leisure stocks. Hotels, entertainment parks, movie theaters, you name it, all of them are on the chopping block. The only area that keeps faring well is the grocery store sector. Runs on essential products are at least keeping these guys in business.
Systematic vs Temporal Issues
I want to take a moment to compare the current environment to the credit crisis in 2008. That recession blossomed from a structural problem in our finance sector. The majority of recessions come from either rate hikes or credit problems.
This is nothing like that. The decline, though rapid, has been orderly. We've not seen or heard of any cascading failures yet. That doesn't mean that can't or won't happen. The longer this drags out, the more it will pressure travel and leisure companies.
However, when all the dust clears, there isn't any reason things shouldn't return to normal activity. This economic impact is more akin to a massive government shutdown.
Now, there is one current and one potential problem. The current problem is we don't know how long this will take to cycle through. While no one wants anyone to come to harm, the faster this disease runs its course, the sooner the economy returns to normal. Delaying it may save lives, but isn't good for business.
The potential problem stems from the first. The longer we remain frozen, the more losses accrue for businesses. At some point, we could start seeing them fold. That can cause a cascading issue that becomes systematic.
A good place to look would be drillers. With oil prices causing the most recent selloff, you can bet if we sit near $30 a barrel for long, local drillers and global producers will suffer badly.
Navigate These Waters Alongside Me
It's hard enough trying to do this on your own – I know, I've been there. At the very least, I want you to start with my free Masterclass. It's got key insights to help you through these crazy times.