Wasn't it just a few weeks ago that financial news networks paraded sell-side analysts on television, telling us the fears of the Coronavirus were overblown…that we had nothing to worry about?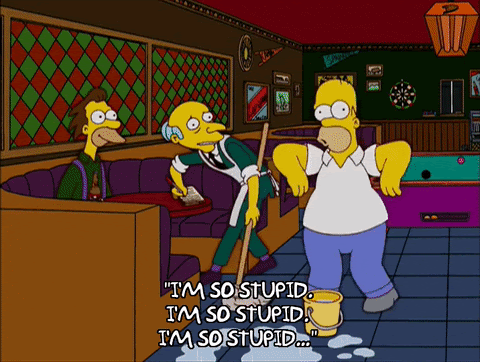 At least the Total Alpha Members knew better!
Caught completely off guard, the Fed slashed interest rates by 50 basis points in an emergency cut – something they haven't done since 2008 before the market crashed.
You might want to refinance your home because the stage is set for a bond bubble. If you think things are ugly now, wait until that pops.
In the meantime, I might have a few high probability ideas to toss your way this week. Who knows, one of them could be my favorite pick for the Bullseye Trade of the week!
When we talk about outsized moves, I think Friday's ascent of bonds would qualify. They saw a one day gain that hasn't been matched since the financial crisis. At this point, you're getting less than 1% to hold government debt for a decade. 
That sounds like a horrible deal. But that doesn't mean the run is necessarily over.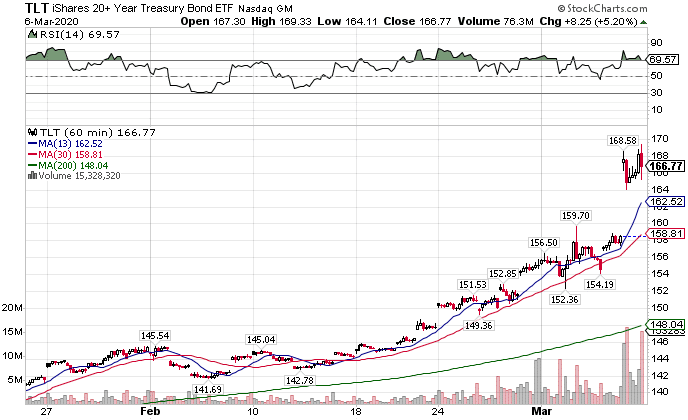 TLT Hourly Chart
Nothing in the chart says that they're ready to pullback. The only thing we know for sure is the premium here is insane.
That's why I'm eying naked calls or call credit spreads for my Total Alpha portfolio this week. The timing of the trade will be crucial. I just can't pass up an opportunity like this that comes around once in a decade.
Consumer Staple Strength
Most of us have read or heard about the run on supplies at grocery stores from hand sanitizer to face masks. It's been a mad dash for cleaning and essential products as people prepare to hunker down for weeks.
Investors dumped cash into portions of the consumer staples market as the last-ditch effort to avoid bond yields. Stocks like Kroger (KR) did amazingly well in the market last week.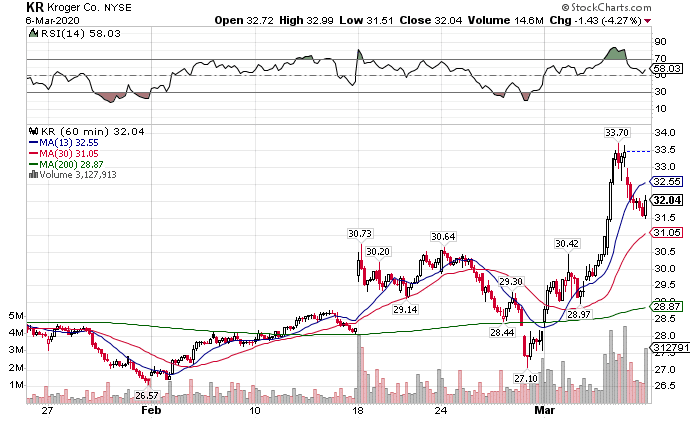 KR Hourly Chart
With a dividend yield of 2.0%, it's more than double what you're getting out of treasuries. Not all companies are treated equally. Wal-Mart (WMT) relies on a lot of Chinese imports for business. So, while they may see the same product run as Kroger, their stock didn't fare as well.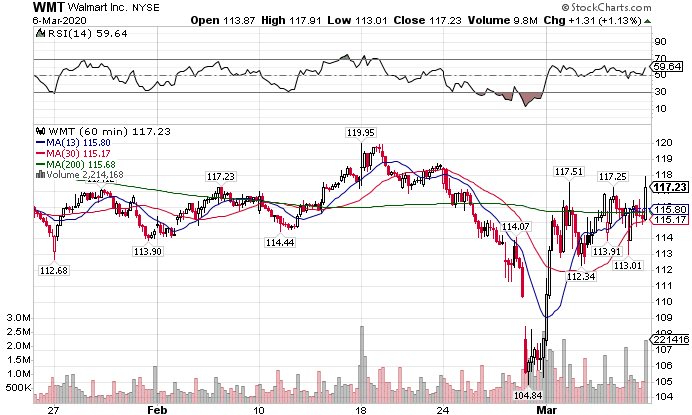 WMT Hourly Chart
Still, making its way back to even is a lot better than the rest of the market.
Energy Blowup
The one sector that looked like it might get legs is instead headed for a full-on faceplant. OPEC failed to reach a deal, which lead Saudi Arabia to cut oil prices over the weekend. After crude plummeted nearly 10% the week prior, it could be the biggest drag for the next 5 trading days.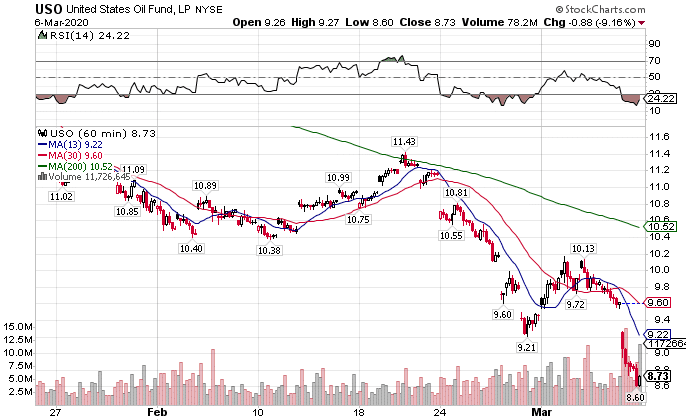 USO Daily Chart
Between the massive outflow in junk bonds and the drop in oil prices, we could start to see real challenges for shale drillers. There has already been talks about these companies underproducing estimates. Now there's even more incentive for conglomerates to gobble up their assets.
Gold's Run Is Never Done
You had a gift last week…did you take it? Gold gave us one glorious day to get in on this ridiculous trade at a discount.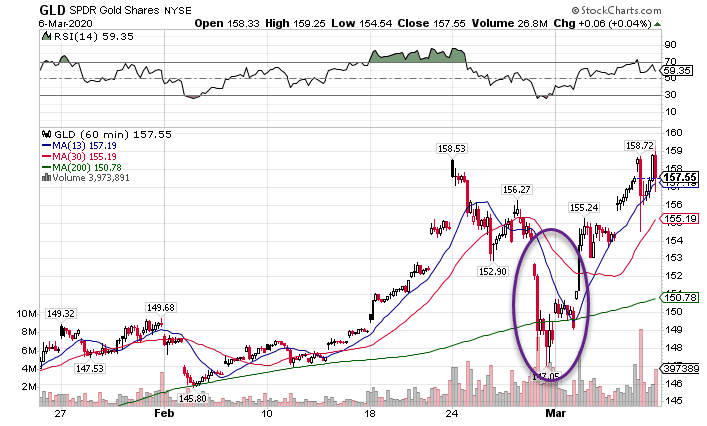 GLD Hourly Chart
This trade is far from over. Money loves to hide in the precious metal, especially when bond yields drop. GLD surpassed $180 back in 2011. We're likely to get over the triple top from 2012-2013 at $174 at minimum.
I'll keep plowing into this trade, just as I discussed in my trade review video on GLD (which you can check out here for free). There's plenty of ways to play this run.
The best stocks to trade are IPOs
Right now, one of the best places to find winning trades is the IPO sector. These momentum stocks aren't part of major ETFs and do extremely well in these volatile markets.
Just the other day I took a great trade in Virgin Galactic's stock SPCE, which I also discussed in a free trade review video here. I also bounced in and out of Teledoc (TDOC) and Zoom Media (ZM) among others.
Stock selection for traders is paramount. If it's something you struggle with, feel free to let me do the heavy lifting for you. Come trade alongside me in Total Alpha.