This past week was one of the MOST exciting in my life. I lived out a childhood dream to sponsor a NASCAR driver – #32 Corey Lajoie.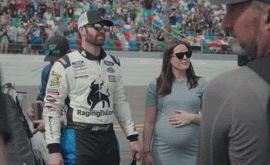 Corey's epic battle earned him a hard-fought 8th place finish (driving a backup car)!
As I watched the race, I realized how well Corey's performance mirrors trading. The longer it ran, the more I was convinced I was watching my trading career at 200 miles per hour.
We could all learn something from Corey.
Every day, we enter the trading game with 1st place aspirations. While most of us think we're competing against others, it's ironically ourselves creating the worst obstacles – our egos, emotions, and fear.
Corey's 8th place finish didn't come easy. Many serious accidents littered the track long before the checkered flag. But the drivers all knew the risk, accepted it, and drove their best.
If you listened to Corey throughout the race, he remained calm and collected, always strategizing with his team.
Believe it or not…
You can bring these mental game skills into your trading today. All it takes is a few adjustments and you'll be on your way to becoming a more profitable and consistent trader. 
Too many people get into trading with this idea of getting rich quick without any effort. As Nathan Bear points out – it's a job and how he feeds his family.
You can't approach trading with a lackadaisical attitude. Corey didn't just decide to pop onto the NASCAR circuit one day after doing 90 mph on the freeway. He spent years honing his skills, working on his craft.
The number one way traders keep on their game is… a trade journal! This simple, easy instrument is the great arbiter of truth. When you log your trades honestly, your journal gives you a straightforward assessment. No other tool will tell the weaknesses and opportunities faster and clearer than your log.
If that's not enough, get a second opinion. Lean on friends and other traders to help you evaluate your work. They'll be able to give you a fresh perspective on what you think is true and what is ACTUALLY going on.
Base hits add up
NASCAR's grueling pace keeps drivers in their seats, tense at the wheel, whipping around the track at over 200 mph for hours at a time. The slightest miscalculation could be the difference between winning and, in some cases, death.
Yet, like trading, most of it comes down to a few big wins for many folks. You build up the base hits over time. This tests your patience and determination as you grind it out. Stay focused or you can find yourself in a hole quickly.
Beware the black swan
When you least expect it (and sometimes when you do), one small wreck leads to carnage that scatters victims across the track. Sound like any market crashes you know?
Look, I know it's tough to keep your head in the game with base hits and still be prepared for the big blow up. Some traders make their entire year off such events.
That's why you need a routine.
Weekly, daily, and even intraday routines help you stay on track when your energy is down. What starts as routine becomes habit. Good habits make the work easier and more consistent.
Any routine you develop should include the following at a minimum:
Review of your current strategy

– Understand what signals you need to enter and exit trades.

Trade review –

Gather all your recent trades and make sure that you're staying on task. If you find that you're deviating from your strategy, come up with a plan to get yourself back on track with clear timelines and milestones.

Market assessment

– Look at the broader market and forecast what it will do. You don't have to get it right all the time. But you should have an opinion.
Capital risk –

Always make sure you understand your situation. The last thing you want to do is have no money to invest when you find that prime opportunity.
Feel free to add anything that gets you into the 'zone.' The idea is that you regularly reaffirm your strategy and your commitment. If you ever feel it wavering, take a break. There's nothing wrong with stepping back for a minute.

Push your edge
When you know you've got the goods – take advantage of it! Sometimes I come across setups that I know have a +80% chance of success. You bet I'll push more capital into those trades.
Corey knew this when he skated around several accidents and worked through tight windows in others. The risk/reward for making it stood in his favor. His experience and training told him where he needed to go.
Trading works no differently. You rely on your past trades, patterns, and intuition to identify the best spots to push a little extra into the middle. That doesn't mean you go all-in on one trade. But, you can scale up when you have a lot of pieces working in your favor.
See how others implement these concepts
My Bullseye Pick of the week pulls together these same ideas. Looking for my best trade idea, I go through all the charts, scouring for the best setup. These are the ones where I know I have the edge. That's why I am to get 100% or more on each of these trades.