Markets may be closed on Monday, but there's no rest for the active trader. Pundits may be ignoring a potential pandemic…but you won't catch me asleep at the wheel.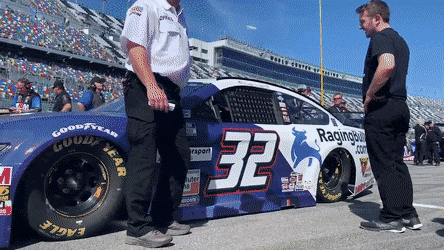 Ladies & gentlemen – We've got a race to win!

And I'm not just talking about the Daytona 500. There's not a lot of time left before markets flip like a pancake and squash all the bulls under its fist.
You're probably saying – 'But Jeff, you already called a top weeks ago that happened. How could there be another one so soon?'
Yeah, I definitely did. But here's the thing – the market tells us what it's going to do not what we want it to. You can't pay for vacations on hope, despite what your parents told you. The real world requires cold, hard cash.
The only way to get those elusive wins is by preparing for the week ahead like you mean it.
Not everyone is participating in the rally
The euphoria of new market highs blinds investors to the reality of what's going on right in front of them. They see the major indexes rallying but don't see what's lying underneath.
While the S&P 500 and the Nasdaq 100 caught everyone's attention, Apple and Amazon decided they had enough. Instead of rallying, Apple hasn't hit a new high since the end of January. Amazon actually fell the last three days.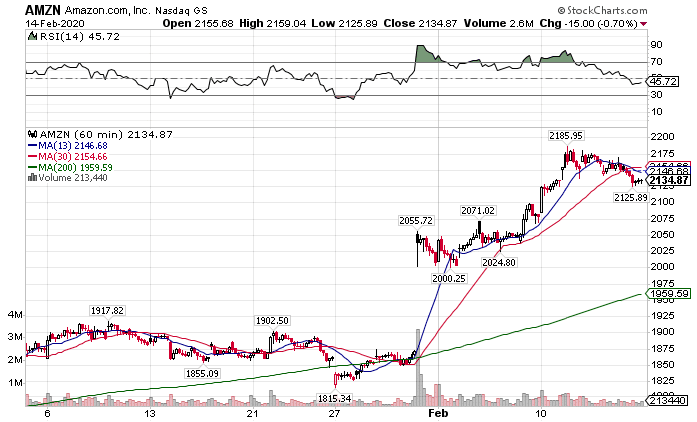 AMZN Hourly Chart
Does this mean we crash to start next week? Hardly. But it's evidence that I can't ignore. Apple especially led the market higher. Without its leadership, I have a tough time seeing things push much further.
Coronavirus continues
How the market continues to shake off a truly devastating outbreak is beyond me. I've heard explanations from algos to ETFs. The fact that infections passed 60,000 with deaths nearing 1,400 and the markets think nothing of it troubles me.
Economists already dropped GDP forecasts for China below 5%, the lowest in decades. Even Elon Musk noted that the disease will impact his business.
We must ask ourselves- what will it take to derail the bulls? 
Confidence in the Fed
So far the Fed has propped up markets with easy money and a commitment to higher inflation. That could change. While we still haven't seen anything near their targets, the Fed minute release this week will give us insight into their thinking.
I don't expect them to pull off the gas anytime soon. But we're starting to see bubbles form in equities and bonds. Tesla already snapped the necks of short sellers. S&P forecasted earnings assume robust growth in 2020 and don't consider any supply chain disruptions from the outbreak.
But the question is what will the Fed do? If all this algo driven, passive ETF investing is holding up equities, who will save it when institutions start to pull the ripcord?
And then there's an election
Statistically, incumbents hold an advantage for reelection, especially with a good economy. Our state of polítics is anything but normal.
We've already seen the anointed front runner falter in favor of a far left candidate and a young midwestern mayor. You may not remember, but markets took huge swings in 2016 leading into and through the election.
Expect volatility 
That is exactly what I expect for the remainder of this year. There is simply too much uncertainty around the future politics of the U.S. and a potential pandemic for things that do anything other than melt up to melt down.
As traders, this creates amazing opportunities to capitalize on market movements. But if you don't know where to look, it could pass you by.
My two sense
Become intimate with one area of the market and a few stocks. Know them like your second skin. At some point they'll present an opportunity. Be patient and wait for those moments.
In poker we called this selective aggression. You don't need to play every hand. But when you see the odds sitting in your favor, push your edge.
Expected earnings dates listed in (…)
Stocks I want to bet against…
NFLX (April 21), AMZN (Apr 23), CRM (Mar 2), AMD (May 5), UBER (Jun 4), GOOGL (May 4), SPCE (Feb 25)
Stocks I want to buy…
CMG (Apr 22), DIS (May 13), MJ (none), UNG (none), XLE (none), WDAY (Feb 27), LK (??), PTON (May 6), TTD (Feb 20), TWLO (May 3), TLT (none), UVXY (none), BYND (Feb 17), PBR (Feb 26), PAYC (May 2), OLED (Feb 20), V (Apr 22), PINS (May 21), CVNA (Feb 26)
This Week's Calendar
Monday, February 17th 
Markets closed for Presidents Day
Tuesday, February 18th  
7:45 AM EST – ICSC Weekly Retail Sales

8:30 AM EST – Empire Manufacturing Index for February

10:00 AM EST – NAHB Housing Market Index for February

4:30 PM EST – API Weekly Inventory Data

Major earnings: Advance Auto Parts Inc (AAP), Bloomin' Brands Inc (BLMN), Ecolab Inc (ECL), Expeditors Intl of Washington (EXPD), Fluor Corp (FLR), JELD-WEN Hldg Inc (JELD), Leidos Hldg Inc (LDOS), TransUnion (TRU), Vonage Hldg Corp (VG), Vulcan Materials (VMC), Wabtec Corp (WAB), Wal-Mart Stores (WMT), Agilent Technologies Inc (A), American Campus Communities (ACC), American Water Works Co Inc (AWK), Brookdale Senior Living Inc (BKD), Concho Resources Inc (CXO), Devon Energy (DVN), Enphase Energy Inc (ENPH), Extrage Space Storage Inc (EXR), Diamondback Energy Inc (FANG), Groupon Inc (GRPN), Herbalife Ltd (HLF), Invitation Homes Inc (INVH), KAR Auction Svcs Inc (KAR), LendingClub Corp (LC), Retail Properties of America (RPAI), Scientific Games Corp (SGMS), Tivo Corp (TIVO), TRI Pointe Grp Inc (TPH), Vornado Realty Trust (VNO), Verisk Analytics Inc (VRSK),
Wednesday, February 19th 
7:00 AM EST – MBA Mortgage Applications Data

8:30 AM EST – Housing Starts, Building Permits, and Producer Price Index for January

10:30 AM EST – Weekly DOE Inventory Data

2:00 PM EST – FOMC Meeting Minutes

Major earnings:  Analog Devices (ADI), Bausch Health Companies Inc (BHC), DISH Network Corp Cl A (DISH), NOW Inc (DNOW), Elanco Animal Health Inc (ELAN), Enable Midstream Partners LP (ENBL), Entergy Corp (ETR), Genesis Energy L.P. (GEL), Genuine Parts (GPC), Owens Corning (OC), Cheesecake Factory (CAKE), Avis Budget Grp (CAR), Coeur Mining Inc (CDE), CyrusOne Inc (CONE), Community Health Sys Inc (CYH), Eversource Energy (ES), Energy Transfer L.P. (ET), Five9 Inc (FIVN), Green Dot Corporation (GDOT), Hyatt Hotels Corporation (H), Warrior Met Coal LLC (HCC), Hi-Crush Inc (HCR), Host Hotels & Resorts Inc (HST), Grand Canyon Education Inc (LOPE), The Mosaic Co (New) (MOS), Realty Income (O), Orasure Technologies (OSUR), Parsley Energy Inc (PE), Pioneer Natural Resources (PXD), Sunstone Hotel Investors Inc (SHO), Synopsys Inc (SNPS), Sun Communities (SUI), Trinity Industries (TRN), Tivity Health Inc (TVTY), Ultra Clean Hldg (UCTT), Williams Companies (WMB), Cimarex Energy (XEC), Zillow Grp Inc Cl A (ZG),
Thursday, February 20th 
8:30 AM EST – Weekly Jobless & Continuing Claims

10:30 AM EST – EIA Natural Gas Inventory Data

Major earnings: Aaron's Inc (AAN), Amer Electric Pwr (AEP), AK Steel Hldg (AKS), Cleveland-Cliffs Inc (CLF), CommScope Hldg Co Inc (COMM), Domino's Pizza (DPZ), eHealth Inc (EHTH), HollyFrontier Corporation (HFC), Hormel Foods Corp (HRL), Henry Schein Inc (HSIC), KBR Inc (KBR), Lexington Realty Trust (LXP), MEDNAX Inc (MD), MFA Finl Inc (MFA), Norwegian Cruise Line Hldg (NCLH), Puma Biotech Inc (PBYI), R1 RCM Inc (RCM), Sprouts Farmers Mkts Inc (SFM), Six Flags Entertainment Corp (SIX), Southern Co Inc (SO), STORE Cap Corp (STOR), Tenneco Inc (TEN), Targa Resources Corp (TRGP), TherapeuticsMD Inc (TXMD), ViacomCBS Inc Cl B (VIAC), Ventas Inc (VTR), Advanced Disposal Svcs Inc (ADSW), Aerie Pharmaceuticals Inc (AERI), Appian Corp Cl A (APPN), Builders FirstSource Inc (BLDR), Boyd Gaming (BYD), Century Aluminum (CENX), Conduent Inc (CNDT), Cabot Oil & Gas Corp (COG), Americold Realty Tr (COLD), CubeSmart (CUBE), Covanta Hldg Corporation (CVA), Dropbox Inc (DBX), DiamondRock Hospitality Co (DRH), Fitbit Inc (FIT), Floor & Decor Hldgs Inc (FND), First Solar Inc (FSLR), Fastly Inc (FSLY), Livent Corp (LTHM), Nabors Industries Inc (NBR), Universal Display Corp (OLED), Pebblebrook Hotel Trust (PEB), SBA Communications'A' (SBAC), Select Medical Hldgs Corp (SEM), TrueCar Inc (TRUE), Texas Roadhouse Inc (TXRH), Vici Pptys Inc (VICI), Zscaler Inc (ZS),
Friday, February 21st
9:30 AM EST – Markit US Manufacturing and Services PMI for February

10:00 AM EST – Existing Homes Sales Janaury

1:00 PM EST – Baker Hughes Rig Count

Major earnings:  Colfax Corporation (CFX), Cinemark Hldg Inc (CNK), Deere & Co (DE), HMS Hldg (HMSY),