If you didn't feel something watching Friday's market action, you might want to check your pulse to see if you're still alive.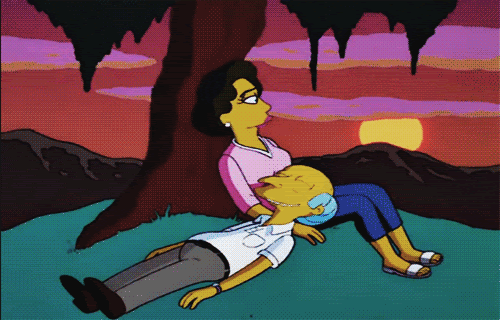 The days of calm markets are over!
Even though I warned everyone to watch for a top nearly two weeks ago, people still got caught with their pants down. 600 points in the Dow makes even the toughest traders weep when they're on the wrong side of the trade.
And let me tell you something…this is just the beginning!
This market moved from a buy the dip to a sell the rip seemingly overnight. I positioned myself ahead of time with a litany of call spreads that paid out nicely from Friday's drop.

Facebook gave me gold to work with after their earnings fiasco!
Unfortunately for me, even the right idea and the right timing doesn't always work when you apply it to the wrong stocks.
That's why I focus so much of my teachings in Total Alpha on risk management. My gold trades buoyed my portfolio while I cut loose a bunch of trades for less than maximum loss.
With China returning from the Lunar New Year celebration and officials bracing for a Monday selloff, the big question is – What's Next??!!
A Day That Will Live In Infamy
I'd be remiss if I didn't start by discussing the market action that ended last week. This wasn't just a normal down day…it was the worst in 6 months. And… it came on the last day of the month!
February's haven't treated investors well since the Great Recession. They aren't the worst performing months, but they are one of the most volatile. The comparison that many folks made for January was the start of 2018. And let me tell you… February 2018 sucked!
We need to unpack the stories behind the dive. Not because they necessarily caused the turnaround. But, they'll tell us which areas are the most likely to feel investor wrath.
Coronavirus Impact
Nothing takes more precedent than a potential global pandemic. What started as a potential problem has exploded into +10,000 infected and over 250 dead. To give you some context, SARS infected 8,096 people worldwide and killed 774 people between 2002-2003. That's a 9.6% fatality rate compared to 2.2%.
So why is everyone so freaked out?
Two major reasons. First, the coronavirus is spreading faster than SARS, as we now have more cases compared to the entire SARS epidemic. Mathematical models suggest that 75,000 people could have been infected in Wuhan.
Second, the economic impact of the reactions. China wasn't nearly the world player in 2003 it is today. Airlines already cancelled flights, along with the U.S. and other governments implementing travel restrictions.
China's growth had already slowed substantially, with GDP coming in at 6% growth, the lowest in over a decade. Estimates now think China's 5.9% project could come down by 0.5%-1.2%.
My Take
More is being done by media and governments to sensationalize the issue than it actually warrants at the moment. Yes, these diseases are extremely serious. However, most of the reactions lack context.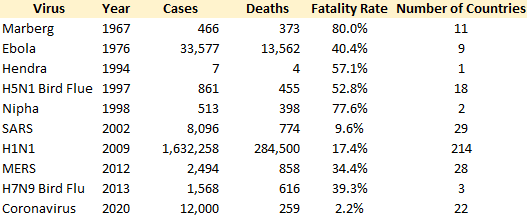 This year's flu season estimates show 19 million cases, 180,000 hospitalizations and 10,000 deaths in the U.S. Worldwide, it causes 3m-5m cases every year, killing up to 650,000 people according to the World Health Organization. The Ebola outbreak in West Africa had a 90% fatality rate, killing more than 700 people. Swine flu infected as many as 200m people worldwide, and killed 358 children
At-risk individuals such as children and older persons have a higher likelihood of contracting and dying from the coronavirus.
Governments have much better quarantine controls than they did even a decade ago.
However, that doesn't mean the market won't be hit hard. Airlines cutting flights means idle aircraft and lower revenue. Lack of movement means lack of trade. The cascading effect of this could easily cause a pure market meltdown.
And with the Fed already stepping on the gas, they won't have any bullets to fire at any problems.
Short-term, nothing will be spared. Medium to long-term, U.S focused stocks will likely show more strength than multinationals.
Brexit & Impeachment
And on a lighter note, Britain finally started to exit the E.U. while Trump's impeachment looks to be closing rather quickly. Both are serious issues that might impact markets more at other points. For now, they're just headlines.
Data I'll Be Watching
While I'd normally focus on the jobs numbers this week, I'll be keenly watching for any statements from companies about the potential impact of the coronavirus. Starbucks already warned of store closures, and somehow Apple thinks they're immune. I expect we'll hear more from companies as the month drags on.
Expected earnings dates listed in (…)
Stocks I want to bet against…
NFLX (April 21), AMZN (Jan 30), FB (Jan 29), CRM (Mar 2), AMD (May 5), HUBS (Feb 12), SPCE (Feb 25), TLT (none), UBER (Feb 6), BYND (??)
Stocks I want to buy…
CMG (Feb 4), DIS (Feb 4), MJ (none), CVNA (Feb 26), UVXY (none), STZ (April 2), UNG (none), TSN (Feb 6), XLE (none), WMT (Feb 18), BA (Jan 29), WDAY (Feb 27), LK (??), PTON (Feb 5), BUD (Feb 27), BKNG (Feb 26), HON (Jan 31), WORK (Mar 4), TTD (Feb 20), TWLO (Feb 5), ULTA (Mar 12)
Want to capitalize on crashing stocks?
We've got a great package lined up for you at  Total Alpha.
This Week's Calendar

Monday, February 3rd 
9:45 AM EST – Markit US Manufacturing Purchasing Manager Index, January

10:00 AM EST – Construction Spending December

Major earnings: Affiliated Managers Group (AMG), Catalent (CTLT), ON Semiconductor Corp (ON), Sysco Systems (SYY), Alexandria R.E. Equities (ARE), Google (GOOGL), Hartford Finl Svcs Grp (HIG), Harmonic Inc (HLIT), Hexcel Corp (HXL), Leggett & Platt (LEG)

Tuesday, February 4th  
7:45 AM EST – ICSC Weekly Retail Sales

10:00 AM EST – Factory Orders for December Final

10:00 AM EST – Durable Goods Orders December Final

4:30 PM EST – API Weekly Inventory Data

Major earnings: Aramark (ARMK), Allegheny Technologies (ATI), Anixter Intl (AXE), Clorox Co (CLX), Cummins Inc (CMI), Centene Corp (CNC), ConocoPhillips (COP), Emerson Electric Co (EMR), Entegris Inc (ENTG), Eaton Corp (ETN), Helmerich & Payne (HP), L3Harris Technologies Inc (LHX), Lumentum Hldgs Inc (LITE), McKesson Corp (MCK), MGIC Inv (MTG), Pitney Bowes Inc (PBI), Royal Caribbean Cruises (RCL), Ralph Lauren Corp. (RL), Sirius XM Hldgs Inc (SIRI), Simon Ppty Grp (SPG), Seagate Tech (STX), Vishay Intertech (VSH), Waddell & Reed Financial Inc (WDR), Zimmer Biomet Hldgs Inc (ZBH), AFLAC Inc (AFL), Allstate Corp (ALL), Boot Barn Hldgs Inc (BOOT), Crown Hldg (CCK), CDK Glbl Inc (CDK), Cerner Corp (CERN), Disney (Walt) Co (DIS), Amdocs Ltd (DOX), 8×8 Inc (EGHT), Ford Motor (F), Fiserv Inc (FISV), Gilead Sciences (GILD), Genworth Finl Inc (GNW), Inphi Corporation (IPHI), KLA Corp (KLAC), Kennametal Inc (KMT), Knowles Corporation (KN), Microchip Tech (MCHP), MDU Res Grp Inc (MDU), Match Grp Inc (MTCH), Neurocrine Biosciences (NBIX), New Relic Inc (NEWR), O-I Glass Inc (OI), Olin Corp (OLN), Plains All American Pipeline (PAA), Plains GP Hldgs L.P Cl A (PAGP), Plantronics Inc (PLT), Prudential Finl (PRU), Snap Inc (SNAP), Tenable Holdings Inc (TENB), Unum Grp (UNM), Viavi Solutions Inc (VIAV), Zayo Grp Hldgs Inc (ZAYO)

Wednesday, February 5th 
7:00 AM EST – MBA Mortgage Applications Data

8:15 AM EST – ADP Employment January

8:30 AM EST – Trade Balance for December

9:45 AM EST – Markit US Services Purchasing Manager Index January

10:00 AM EST – ISM Non-Manufacturing Index for January

10:30 AM EST – Weekly DOE Inventory Data

Major earnings: Ametek, Inc (AME), Boston Scientific Corporation (BSX), Peabody Energy Corp (BTU), The Carlyle Grp Inc (CG), Cincinnati Finl (CINF), Coty Inc (COTY), DTE Energy (DTE), Energizer Hldgs Inc (ENR), Twenty-First Century Fox Inc A (FOXA), General Motors Co (GM), Humana Inc (HUM), Merck & Co (MRK), NuStar Energy LP (NS), Performance Food Grp Co (PFGC), Summit Matrials Inc (SUM), Timken Co (TKR), Taylor Morrison Home Corp (TMHC), ANGI Homeservices Inc CL A (ANGI), Avalonbay Communities (AVB), Ceridian HCM Holding Inc (CDAY), Cognizant Tech Solutions'A' (CTSH), Cousins Properties (CUZ), e l f Beauty Inc (ELF), FireEye Inc (FEYE), Flowers Foods Inc (FLO), FMC Corp (FMC), Glue Mobile Inc (GLUU), GoPro Inc Cl A (GPRO), GrubHub Inc (GRUB), Hillenbrand Inc Com (HI), IAC/InterActive Corp (IAC), iRobot Corporation (IRBT), Lincoln Natl Corp (LNC), Metlife Inc (MET), Nuance Communications Inc (NUAN), Paycom Software Inc (PAYC), Qualcomm Inc (QCOM), LiveRamp Holdings (RAMP), Radian Grp (RDN), Royal Gold Inc (RGLD), Sonos Inc (SONO), Twilio Inc Cl A (TWLO), Two Harbors Inv Corp (TWO), Zynga Inc Cl A (ZNGA)

Thursday, February 6th 
8:30 AM EST – Weekly Jobless & Continuing Claims

8:30 AM EST – Unit Labor Costs & Nonfarm Productivity Q4

10:30 AM EST – EIA Natural Gas Inventory Data

Major earnings: Abiomed, Inc (ABMD), Alnylam Pharmaceuticals (ALNY), Becton, Dickinson (BDX), BGC Partners Inc (BGCP), Ball Corp (BLL), Bristol-Myers SQUIBB (BMY), Cardinal Health Inc (CAH), CDW Corp (CDW), Cigna Corp (CI), Dunkin' Brands Grp Inc (DNKN), Lauder (Estee) Co (EL), Hain Celestial Grp Inc (HAIN), Intercontinental Exchange Grp (ICE), Kellogg Co (K), KEMET Corp. (KEM), Macerich Co (MAC), Meredith Corp (MDP), New Jersey Resources (NJR), New York Times'A' (NYT), Old Dominion Freight Line (ODFL), Philip Morris Intl Inc (PM), Patterson-UTI Energy (PTEN), Regeneron Pharmaceuticals (REGN), Spirit Airlines Inc (SAVE), S&P Glbl Inc (SPGI), Teradata Corp (TDC), Tapestry Inc (TPR), Tyson Foods 'A' (TSN), Twitter Inc (TWTR), Uber Technologies Inc (UBER), Vista Outdoor Inc (VSTO), World Wrestling Entr'A' (WWE), Xylem, Inc. (XYL), Yum! Brands Inc (YUM), Activision Blizzard Inc (ATVI), CBL & Associates Prop (CBL), DXC Technology Company (DXC), Encompass Health Corp (EHC), Fleetcor Technologies Inc (FLT), ForeScoutTech Inc (FSCT), Fortinet Inc (FTNT), Fortive Corp (FTV), GENPACT LIMITED (G), Motorola Inc (MSI), Nortonlifelock Inc (NLOK), National Oilwell Varco Inc (NOV), Newpark Resources (NR), News Corp Cl A (NWSA), Pinterest Inc (PINS), Post Hldg Inc (POST), Seattle Genetics (SGEN), Synaptics Inc (SYNA), Take-Two Interactive Software (TTWO), 2U Inc (TWOU), Zendesk Inc (ZEN),

Friday, February 7th 
8:30 AM EST – Jobs Report January

10:00 AM EST – Wholesale Inventories December

1:00 PM EST – Baker Hughes Rig Count

Major earnings: AbbVie Inc (ABBV), CBOE Glbl Mkts Inc (CBOE), Domtar Corp (UFS)