Earnings are hitting us fast and hard this week.
Netflix barely made any noise… while IBM (aka Big Blue) finally stopped its five-quarter earnings slide—gaining 3.39% and closing at $143.89.
However, if you've been following the market over the last few weeks then you know its become the Tesla show—as it now inches closer to $600!!!
Don't laugh… but if this continues any much longer… We'll soon be calling Elon, the richest man in the world.
But you know what?
You don't have to be the CEO of Tesla to profit off Tesla's epic rise.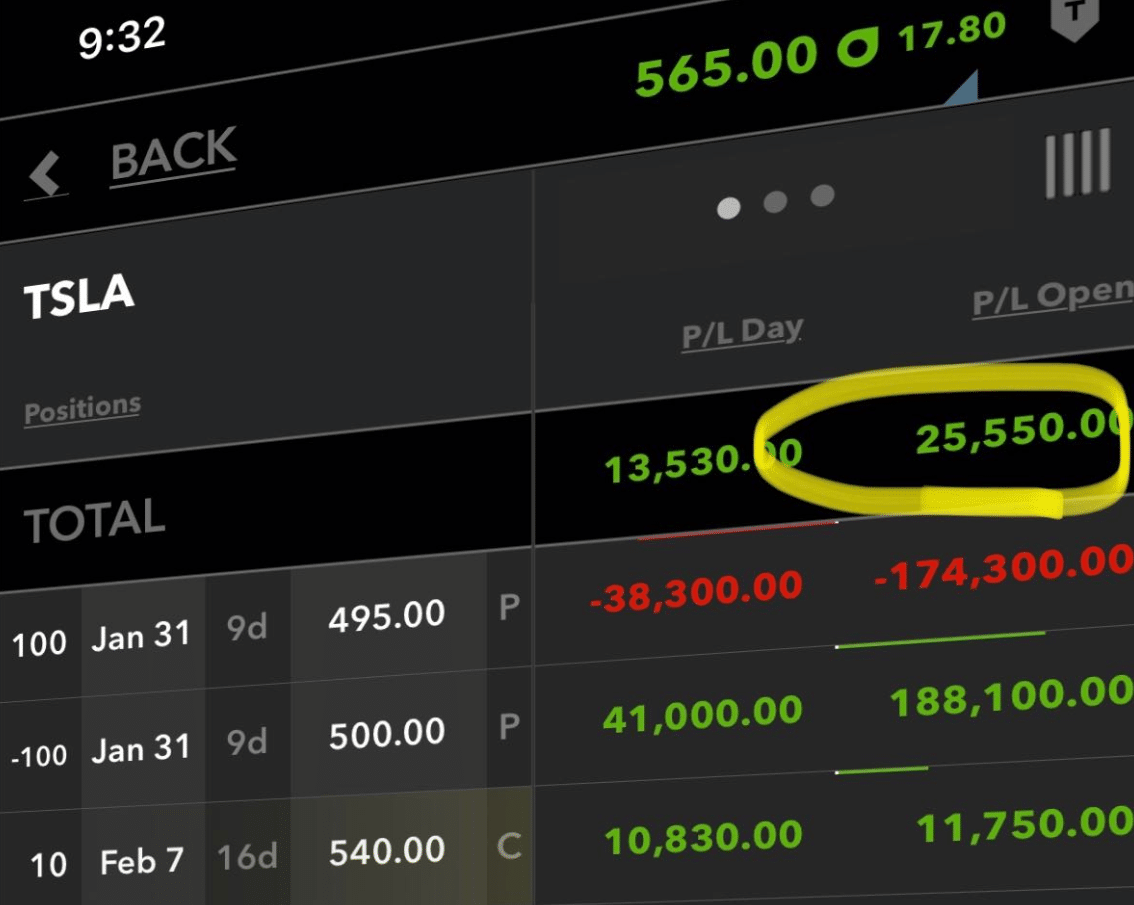 My Options Master Class concludes tonight at 8 PM ET. 
But don't fret class… there's still plenty of spots to capture big gains. The key is knowing where to look…
Charles Dickens couldn't write a better 'Tale of Two Markets.' The big stocks in the S&P 500 and the Nasdaq 100 continue to remain strong and light up the boards. At the same time, the Russell 2000 looks exceptionally weak, with the Dow delivering a slightly better performance.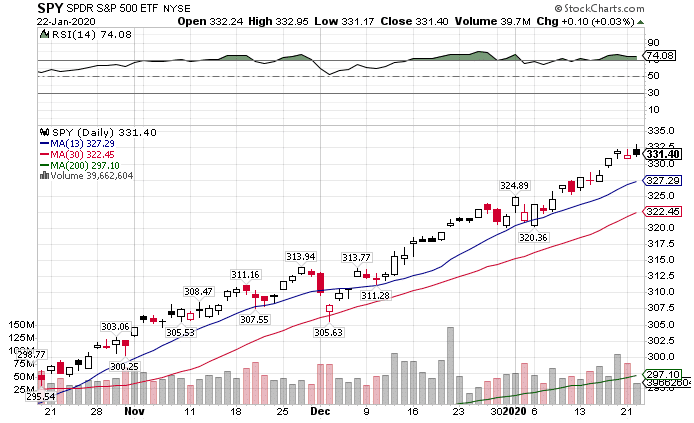 SPY Daily Chart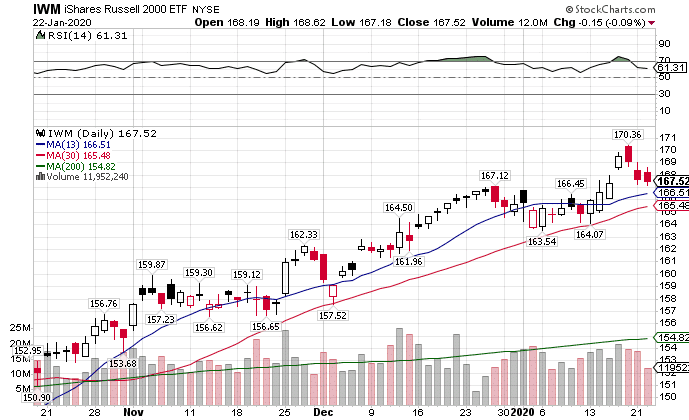 IWM Daily Chart

What I find interesting is the inability for the financials to break any higher. Tech led last year's rally and continues to go full throttle. Yet the XLF can't seem to break out of its current trading range.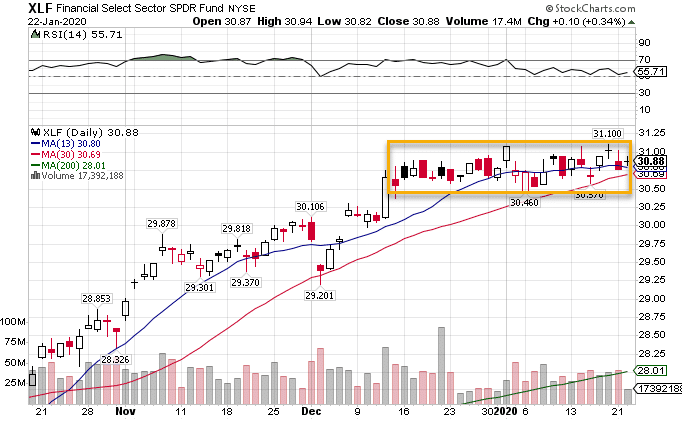 XLF Daily Chart

Many of the banks reported decent earnings. But, they highlighted the low interest rates hammering the net interest margin incomes. While some can pick up revenues through other avenues, a lot of the smaller ones simply can't.
As a side note, when banks can't earn money on normal operations, they start diving into murky waters. Last time, it led to the Great Recession.
Closer to a Top Than a Bottom
Thanks captain obvious.
But seriously… I pointed out signs the market wasn't healthy last week. These same signals still persist. But now, I'm seeing some additional evidence.
Let's start with the standard safety trades of gold and bonds. Bonds typically trade inverse to stocks. So when bonds go up, stocks go down. Same thing with gold, but to a lesser degree.
Thing is, if this was a new bull market, we'd be seeing money flow out of these areas and into equities. Except we're not.
Bonds made a double bottom on the daily chart and are poised to break the trendline resistance that's held them back since August.
TLT Daily Chart

Should the TLT start closing above that resistance and turn it into support, that will be the first clue that things are about to downshift in stocks.
Gold simply isn't falling. Even after it's monster run, it looks like it's consolidating, almost like a stock at its 52-week highs.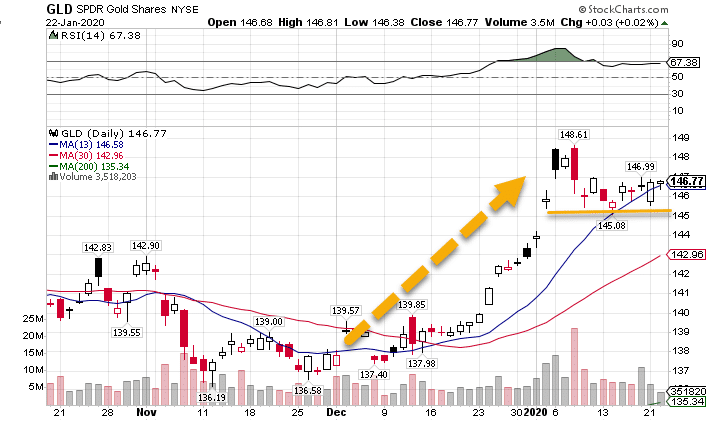 GLD Daily Chart

Similarly, a strong dollar usually signals lower equity prices. Right now, the dollar is about to make a similar move as bonds – closing above the trendline resistance.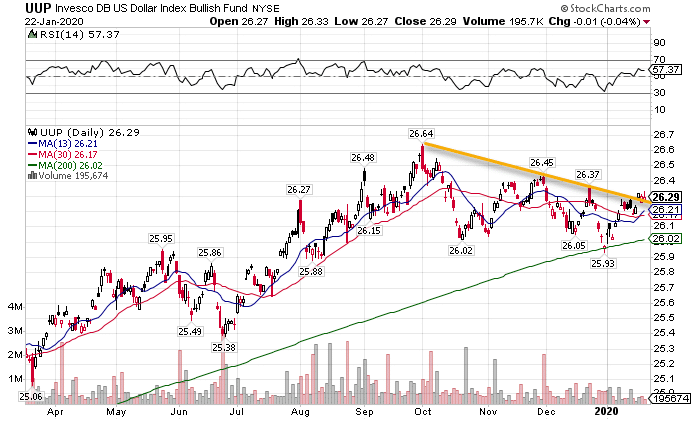 UUP Daily Chart

The strength in these safety trades tells me that we're getting a good fakeout on this last market rally.
Keep an Eye on Crude
Oil prices haven't fared well the last week or so (though not nearly as bad as natural gas). However, crude looks like it wants to close in this gap area before making a bounce.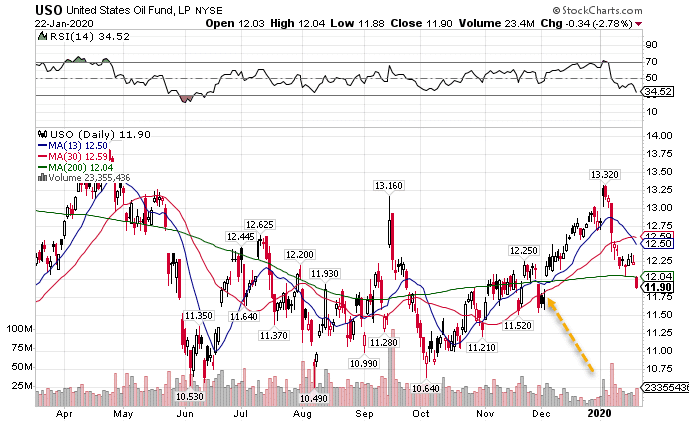 USO Daily Chart

I don't think the run in crude is over. Once it hits that area, if it bounces hard, then I expect to see much higher prices. Otherwise, it may just hang around that price for a while.
Volatility Continues to Hold Its Own
If the market was really just getting started, I'd expect volatility to collapse. However, not only has volatility held its ground, it appears to be building a base.
VIX Daily Chart

Once the VIX hit the support, it aimed its sights higher. Today it closed at the 13-period moving average. If we start to see it close well into the $13 range, then I think that spells the beginning of the end for equities.
However, the one hold up is the VVIX, which measures demand on VIX options. It hasn't moved much. Normally, this is a reliable leading indicator, whose price jumps preceed market downturns.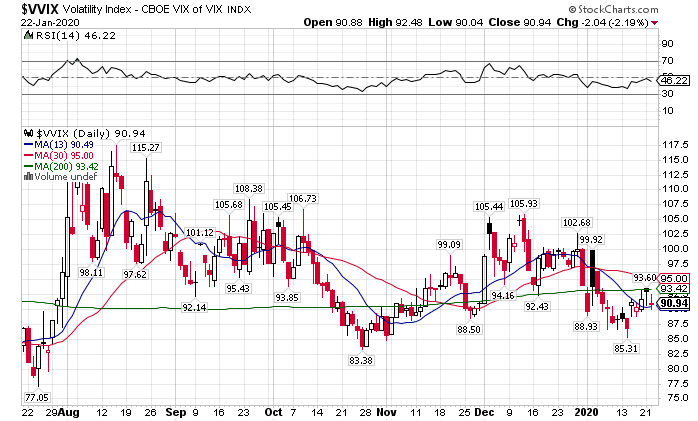 VVIX Daily Chart

So it's sort of a mixed bag at the moment. I'll gain more confidence in a market reversal if I see price start to pick up in the VVIX.

Finding The Last Bit of Profits
Outside of earnings, I think there are a handful of stocks that present some nice opportunities. So, here is a list of the ones I'm looking at for the remainder of the week.
On watch…
Bearish
NFLX, AMZN, AAPL, FB, CRM, AMD, HUBS, TEAM, AYX, TWLO, NOW
Bullish
BIIB, CMG, DIS, MJ, TLT, CVNA, PLNT, UVXY, STZ, UNG, TSN, BYND, XLE, WMT, BA, WDAY

Want to know how to trade these? Check out Total Alpha by clicking here.