The holidays are almost upon us— and most traders have already left for relatives' houses or warmer climates.
Even with the truncated week, there's still a bevy of opportunities, you just need to know where to look, and not be scared to play in the mud.
I expect trading to be sloppy due to lower trading volumes, but this is where pros like myself—FEAST.
It's those… quiet, no one is expecting any type of action moments… when… 
I step into trades like BIIB and make $71,000 in under an hour in my Total Alpha Portfolio!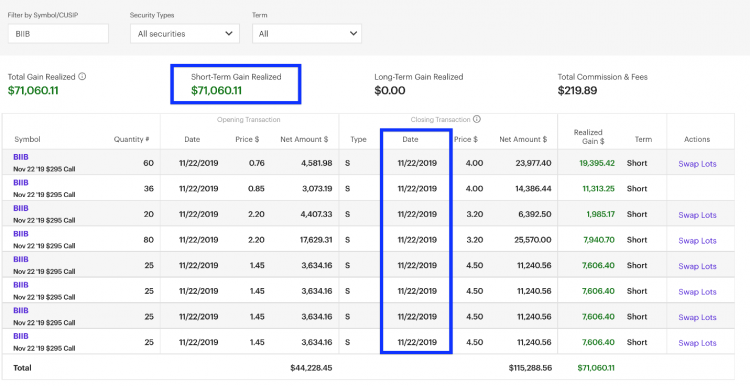 Quiet markets actually open up opportunities wide enough to flat a 747 Max through… when they fix it…
So before you bust out the eggnog and pretend like you didn't regift the salad spinner, take a moment to pick up a trade or two.

With impeachment locked up, U.S. politicians head home. President Trump flies to Mar-a-Lago for a two-week stint, hoping to surround himself with warmer relations. Don't be surprised if the solitude actually lays out a litany of tweets. However, they'll be unlikely to move markets.
The U.S. governmental dysfunction won't write its next chapter until January. In the interim, there's sure to be lots of speculation and headlines but no real news. Don't take anything too seriously as markets have largely shrugged off anything without substance.
Budget deals passed avoiding a shutdown, USMCA will replace NAFTA in the coming months. That gives businesses some certainty even if they have to clarity on the next president or the end of the trade war.
Speaking of trade
China and the U.S. agreed to a 'phase 1' deal that begins the flow of agriculture but does little to tackle major areas of concern. It did, however, avoid an increase in tariffs, and halved the 15% tariffs implemented September 1st.
China will commit to buying $40 billion in agricultural goods. In 2017 the bought $24 billion. That would represent a significant increase. U.S. officials said there were specific numbers agreed to with enforcement mechanisms. Additionally, China agreed to increase purchases of U.S. goods and services by about $200 billion within two years.
Although currency items were discussed, there is no agreement yet on intellectual property theft or general business relations with China, a key sticking point. And, the details of the deal have been kept out of the media, giving businesses little until actual changes occur.
But, with the poultry ban lifted, companies like Tyson Foods (TSN) and Pilgrims Pride (PPG) stand to do quite well.
Q3 earnings surpassed a low bar
Initial estimates called for declines in Q3 earnings around 3%-4%. Bucking analysts, S&P 500 companies delivered a -0.3% decline and a 3.8% growth in revenue. If you excluded energy, earnings would have grown at 2.2%. Analysts expect Q4 earnings to decline by 1.3%. If that happens, that would be the first time we've seen four quarters of consecutive earnings declines since 2015.
Brexit saga continues
You might have thought that Brexit was done and over with. Nope. Fresh off his victory, Boris Johnson puffed up his chest at the European Union, threatening to leave without a trade deal in place. As you might expect, investors didn't take that well.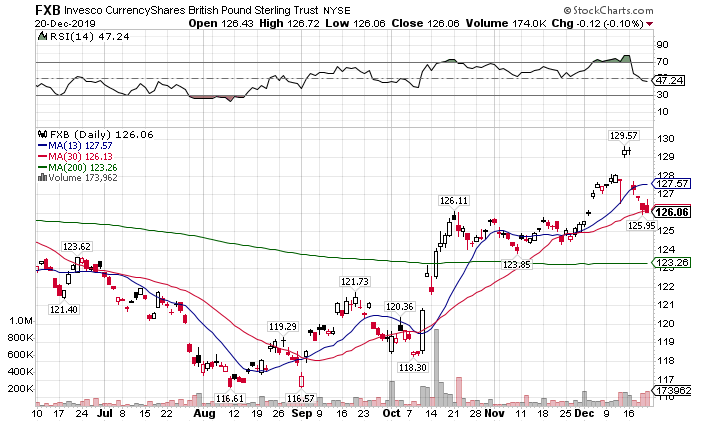 FXB British Pound Sterling Trust daily chart
That opened up a window for pullbacks after the European markets took their latest run.

Data I'm watching
Durable goods orders come out Monday, giving us a look at how well large expenditures are coming along, as well as how bad the 747 Max problems are plaguing production. We have shortened trading on the 24th with markets closed on Wednesday for Christmas.
And in case you're curious… no earnings this week.
Keep an eye out for volatility trades and window dressing as funds look to hedge the latest run and make their portfolios look better. Light volume typically means more upside. But don't be surprised if we get some crazy movements.
On watch…

Call spreads
NFLX, AMZN, AAPL, TEAM, FB, CVNA, AMD, CRM

Put spreads
TWTR, WYNN, FANG, EXAS, TPX, BIIB, COST, NKE, TSLA, ULTA, ZS, CMG, SMG, IWM, GOGO, AMZN, HUBS, DIS, MTCH, MJ, AYX

Want even more trade ideas?
Click here to learn more about Total Alpha

Next Week's Calendar
Monday, December 23rd 
8:30 AM EST – Durable Goods Orders November

10:00 AM EST – New Home Sales
Tuesday, December 24th  
10:00 AM EST – Richmond Fed Manufacturing for December

Markets close early at 1:00  PM EST
Wednesday, December 25th
Thursday, December 26th
8:30 AM EST – Weekly Jobless & Continuing Claims

10:30 AM EST – Weekly EIA Natural Gas Inventories
Friday, December 27th
1:00 PM EST – Baker Hughes Weekly Rig Count