I hope you used the holiday break to get some R&R— because we've got an exciting week of trading coming up, as there are several economic and political events you need to know about to be prepared.
Now, if you didn't spend all your time surfing the web for deals last week, then you probably noticed some warning signs in the market.
I know I did… And you know what else?
I expect we get answers to some of the burning questions traders have had about this market—real soon.
We're seeing record shorts in volatility which SHOULD scare traders and investors.
Sure you can climb a wall of worry…but not forever. At some point, the devil comes calling.
But I've got some great trades to cash in on volatility in my Total Alpha Portfolio.
Is it about to become a news-driven market again?
Right now the media is focused on impeachment and trade wars— but North Korea popped up in the background, firing off short-range missiles.
Ohh, and the UK  is going back to the polls to try to pull themselves out of their sticky wicket.
There is a lot to cover before we head into Monday's action.
That said, I've got the upcoming economic and corporate schedule lined up for you, as well as, some important charts to watch— and trade ideas I may move on.
The only good news we might pick up this week would be some resolution on the 'Phase 1' trade deal. China's economy is getting absolutely obliterated by the trade war. Industrial profits are down nearly double digits year over year.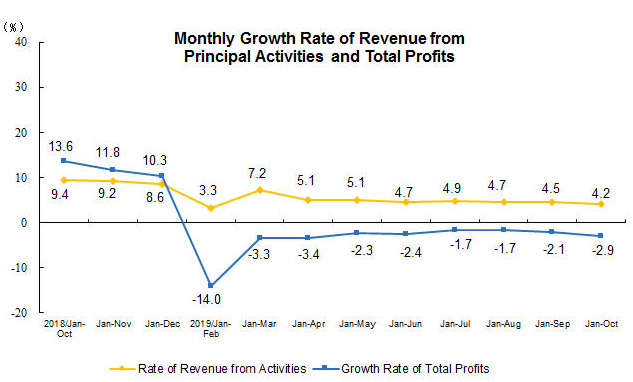 Source: National Bureau Statistics of China

However, they saw a surprise uptick in their PMI to close out last week. Factory activity moved back into expansion on the back of government stimulus.
Many economists suggest China's government needs to get aggressive with stimulus, even if it means significant debt. The U.S. blunted much of the impact by switching to other low-cost countries like Vietnam and Indonesia.
China needs a stronger economy to maintain leverage in the trade negotiations. So far, they balked at any specific agricultural purchase amounts. Markets tend to ignore the headlines, only searching for actions.
The December 15th tariff deadline hangs overhead. China doesn't believe Trump would raise tariffs on goods sold during Christmas. Yet, there's still plenty of time for the administration to hold the line and resolve the issue long before the elections.
Congress and the White House passed a resolution that ruffles China's feathers. The documents effectively lend support to Hong Kong protestors at the expense of the central government. That adds another twist to say the least.
The Brexit that never ends
December also marks the UK going to the polls, yet again, to elect their government. They continue to struggle to coalesce around a Brexit deal that satisfies hardliners and moderates.

At least Boris Johnson's made clear his desire to steer the country towards an exit. The leading opposition Labour Party, under Jeremy Corbyn, hasn't articulated their stance. It's left things in a perpetual state of limbo that never seems to end.
Elections come December 11th, with the next exit deadline extended to January 31st, 2020.
Dysfunctional U.S. government trudges forward
U.S. politics decided not to allow the world to upstage our lunacy. Every week we get another Democratic presidential candidate along with a complete lack of traction in the U.S. government.

Yet, we might actually see movement on the North American trade deal before Christmas. That would at least solidify some win this year. Otherwise, we're left with some 400 bills that passed the house that has yet to be taken up by the senate.
Instead we're focused on an impeachment battle that enters a new phase. The judiciary committee formally takes impeachment into the same areas as Clinton and Nixon. From there, it's still unclear whether the house does vote to impeach.
Afterward, we have no idea whether the senate will draw out the process or make it quick and concise. At this point most people are jaded and no longer pay attention to the daily headlines. Like the trade deal, they only focus on actual outcomes.
Data to watch

I'll again be watching natural gas and crude oil inventories. Natural gas continues to collapse after a quick multi-week rise on hope. The low prices pressure energy company margins. We won't see natural gas prices rise in a meaningful way until inventories start to drop below seasonal averages.
Consumer spending continues to be the one bright spot in a muddled economy. I'll be looking at any possible green shoots in construction spending, ISM manufacturing and non-manufacturing numbers, factory orders, and durable goods orders.
Want even more trade ideas?
Click here to learn more about Total Alpha
On watch…
Call spreads
NFLX, IWM, AMZN, TEAM, FB, CVNA, AAPL, AMD, ROKU
Put spreads
TWTR, DIS, WYNN, SHAK, FANG, EXAS, TPX, BIIB, COST, NKE, TSLA, ULTA, ZS, CMG
Next Week's Calendar
Monday, December 2nd
9:45 AM EST – Markit US Manufacturing November Purchasing Manufacturers Index (PMI) – Looking to see whether manufacturers are showing any life

10:00 AM EST – November ISM Manufacturing

10:00 AM EST – Construction Spending Month Over Month – Any pickup from housing shortages?

Major earnings: URI (United Rentals)
Tuesday, December 3rd
7:45 AM EST – ICSC Weekly Retail Sales – How did black Friday do?

4:30 PM EST – API Weekly Inventory Data

Major Earnings: Lands End (LE)

Other Notable Events – November Auto Sales
Wednesday, December 4th
7:00 AM EST – MBA Mortgage Applications

10:00 AM EST – ISM Non-Manufacturing November – A look at the non-manufacturing sector activity

10:30 AM EST – Weekly DOE Inventory Data – I want to see if inventory comes in lower than expectations again

Major earnings: Five Below (FIVE), Tilly's (TLYS), Slack (WORK)
Thursday, December 5th
10:00 AM EST – Factory Orders for October – Is the trade war hurting U.S. manufacturers?

10:00 AM EST – Final Durable Goods Orders for October – Can industry make a comeback?

10:30 AM EST – Weekly EIA Natural Gas Inventories – Any drawdown?

Major earnings: Dollar General (DG), Kroger (KR), The Michaels Company (MIK), Cloudera (CLDR), Docusign (DOCU), Okta Inc (OKTA), Ulta (ULTA), Zoom Video Communications (ZM)
Friday, December 6th
8:30 AM EST – Unemployment Rate & Average Hourly Earnings for November

1:00 PM EST – Baker Hughes Weekly Rig Count

Major earnings: Big Lots (BIG)